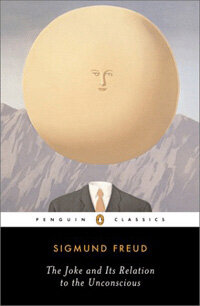 000
01035camuu2200301 a 4500
001
000045677434
005
20111114101309
008
111111s2003 nyu b 000 0 eng d
010

▼a

2003043314
020

▼a

0142437441
035

▼a

(KERIS)REF000006991857
040

▼a

DLC

▼c

DLC

▼d

DLC

▼d

211009
041

1

▼a

eng

▼h

ger
050

0

0

▼a

PN6149.P5

▼b

F6813 2003
082

0

0

▼a

155.2/32

▼2

22
084

▼a

155.232

▼2

DDCK
090

▼a

155.232

▼b

F889wEc
100

1

▼a

Freud, Sigmund,

▼d

1856-1939.
240

1

0

▼a

Witz und seine Beziehung zum Unbewussten.

▼l

English
245

1

4

▼a

The joke and its relation to the unconscious /

▼c

Sigmund Freud ; translated by Joyce Crick ; with an introduction by John Carey.
260

▼a

New York, N.Y., U.S.A. :

▼b

Penguin Books,

▼c

2003.
300

▼a

xlii, 229 p. ;

▼c

20 cm.
504

▼a

Includes bibliographical references.
650

0

▼a

Wit and humor

▼x

Psychological aspects.
650

0

▼a

Subconsciousness.
700

1

▼a

Crick, Joyce.
945

▼a

KLPA
---
Holdings Information
No.
Location
Call Number
Accession No.
Availability
Due Date
Make a Reservation
Service

No.

1

Location

Main Library/Western Books/

Call Number

155.232 F889wEc

Accession No.

111647899

Availability

Available

Due Date

Make a Reservation

Service
Contents information
Book Introduction
------------Book Description-------------
Why do we laugh? The answer, argued Freud in this groundbreaking study of humor, is that jokes, like dreams, satisfy our unconscious desires. The Joke and Its Relation to the Unconscious explains how jokes provide immense pleasure by releasing us from our inhibitions and allowing us to express sexual, aggressive, playful, or cynical instincts that would otherwise remain hidden. In elaborating this theory, Freud brings together a rich collection of puns, witticisms, one-liners, and anecdotes, which, as Freud shows, are a method of giving ourselves away.

Translated by Joyce Crick.
Introduction by John Carey.


Information Provided By: :

Author Introduction
지크문트 프로이트
(지은이)
마르크스, 니체와 함께 현대 3대 혁명 사상가다. 프로이트는 의식 일변도의 심리학을 해체하고 종래에는 은폐되었던 무의식의 세계를 들추어냄으로써 의식과 무의식의 균형을 추구하고 건강한 정신 상태를 되찾으려고 노력했다. 1856년 5월 6일 모라비아의 프라이베르크에서 유대인 부모 사이에서 태어났다. 김나지움과 빈 대학 의학부에서 학업성적이 타의 추종을 불허하는 출중한 학생이었다. 대학에서 브뤼케 교수의 지도를 받으면서 해부학과 생리학에 심취했다. 1885년 파리 살페트리에르 병원장 샤르코 밑에서 장학생으로 약 5개월간 연구하면서 히스테리와 최면술에 특히 관심을 가졌는데, 이것은 장차 정신분석학을 창안하는 데 매우 중요한 동기가 된다. 1886년 프로이트는 마르타 베르나이스와 결혼했으며, 개인 병원을 개원하고 신경증 환자들을 치료하기 시작했다. 프로이트는 치료와 동시에 정신 신경증에 관한 많은 자료들을 수집하고 논문을 발표했다. 그는 ≪꿈의 해석≫과 ≪정신분석학 입문 강의≫ 등 두 권의 방대한 저서를 출판하면서 심리학을 넘어서 메타심리학으로서의 정신분석학이라는 새로운 분야를 독자적으로 창안하게 되었다. 1906년에는 카를 구스타프 융이 프로이트 정신분석학의 신봉자가 되었으나 1914년 융은 프로이트의 리비도 이론이나 오이디푸스 콤플렉스 이론에 반대해 프로이트와의 결별을 선언한다. 그러나 프로이트는 자신의 정신분석학을 계속해서 연구하면서 ≪쾌락 원리의 저편≫(1920), ≪자아와 이드≫(1923), ≪환상의 미래≫(1927), ≪문화에서의 불안≫(1930) 등을 출판했다. 1938년 프로이트는 딸 아나 프로이트와 함께 히틀러의 유대인 박해를 피해 런던으로 망명했다. 1923년부터 1939년 죽을 때까지 16년 동안 서른세 번에 걸친 구강암 수술을 받으면서도 끊임없이 연구와 저술에 온 생애를 바쳤다.
존 캐리
()
옥스퍼드대학 영어영문학과 교수로 재직하고 있으며, 비평가, 출판평론가 및 방송인 등 여러 방면으로 활발히 활동하고 있다. 시인 존 던, 에밀리 디킨슨, 소설가 윌리엄 새커리에 관한 연구서를 포함한 많은 저서가 있고, 최근의 저술로는 『지식인과 대중The Intellectuals and the Masses』이 있다. 영국 페이버 사에서 출간한 원전 시리즈(The Faber book)로 잘 알려진 그는, 바다출판사에서 출간한 『지식의 원전(The Faber book of Science)』으로 국내에 소개가 되었고, 이 외에도 유토피아 관련 선집인 『The Faber book of Utopias』 등을 엮었다.
Information Provided By: :