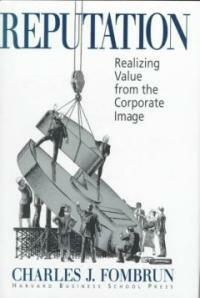 000
00864camuu2200265 a 4500
001
000045672773
005
20111021144355
008
111021s1996 maua b 001 0 eng d
010

▼a

95020172
020

▼a

0875846335
035

▼a

(KERIS)REF000014735698
040

▼a

DLC

▼c

DLC

▼d

DLC

▼d

211009
050

0

0

▼a

HD59.2

▼b

.F66 1996
082

0

0

▼a

659.2

▼2

22
084

▼a

659.2

▼2

DDCK
090

▼a

659.2

▼b

F672r
100

1

▼a

Fombrun, Charles J.
245

1

0

▼a

Reputation :

▼b

realizing value from the corporate image /

▼c

Charles J. Fombrun.
260

▼a

Boston, Mass. :

▼b

Harvard Business School Press,

▼c

c1996.
300

▼a

x, 441 p. :

▼b

ill. ;

▼c

25 cm.
504

▼a

Includes bibliographical references (p. [401]-416) and index.
650

0

▼a

Corporate image.
650

0

▼a

Corporate image

▼x

Case studies.
945

▼a

KLPA
---
Holdings Information
No.
Location
Call Number
Accession No.
Availability
Due Date
Make a Reservation
Service

No.

1

Location

Main Library/Western Books/

Call Number

659.2 F672r

Accession No.

111644493

Availability

Available

Due Date

Make a Reservation

Service

No.

2

Location

Main Library/Western Books/

Call Number

659.2 F672r

Accession No.

511050505

Availability

Available

Due Date

Make a Reservation

Service
Contents information
Author Introduction
찰스 J. 폼브런
(지은이)
뉴욕 대학교 스턴 비즈니스 스쿨의 명예교수이며, 기업 평판에 대한 연구와 측정, 평가를 전문으로 하는 사설 연구기관인 "평판연구소"의 대표이사다. 그리고 콜롬비아 대학교, 와튼 스쿨과 뉴욕 대학교에서 최고경영자 과정을 운영하고 가르쳤다. 전 세계의 기업을 대상으로 평판관리와 조직변화의 문제에 대하여 컨설팅하였으며, ≪기업평판 리뷰≫의 공동 설립자다. 폼브런 박사는 유명 저널에 100편 이상의 논문을 기고하였으며, 저서로 Leading Corporate Change, Reputation: Realizing Value from the Corporate Image, The Advice Business: Essential Tools and Models for Management Consulting 등이 있다.
Information Provided By: :

Table of Contents
Introduction: why reputations matter. Part 1 The hidden value of a good reputation: going for the gold; what''s in a name?; enlightened self-interest; reputational capital; the Midas touch; shaping consistent images; of pageants and horse races; managing reputation. Part 2 The ups and downs of reputation: fashion''s ins and outs; the MBA academies under siege; so you want a new identity; pitching arm and hammer; the deal-makers; doing good, the Morgan way; song of Solomon. Conclusion: the burden of celebrity.