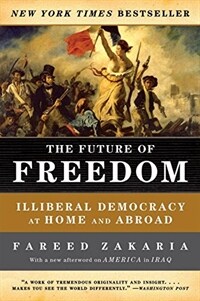 000
01097camuu2200289 a 4500
001
000045670069
005
20111006145518
008
111006s2007 nyu b 001 0 eng d
010

▼a

2009294335
020

▼a

9780393331523
035

▼a

(KERIS)REF000015287832
040

▼a

DLC

▼c

DLC

▼d

DLC

▼d

211009
050

0

0

▼a

JC423

▼b

.Z35 2007
082

0

0

▼a

321.8

▼2

22
084

▼a

321.8

▼2

DDCK
090

▼a

321.8

▼b

Z21fa
100

1

▼a

Zakaria, Fareed.
245

1

4

▼a

The future of freedom :

▼b

illiberal democracy at home and abroad /

▼c

Fareed Zakaria ; [with a new afterword].
260

▼a

New York :

▼b

W.W. Norton & Co.,

▼c

c2007.
300

▼a

301 p. ;

▼c

21 cm.
504

▼a

Includes bibliographical references (p. 271-281) and index.
505

0

▼a

The democratic age -- A brief history of human liberty -- The twisted path -- Illiberal democracy -- The Islamic exception -- Too much of a good thing -- The death of authority -- The way out.
650

0

▼a

Democracy.
650

0

▼a

Liberty.
650

0

▼a

Political science

▼x

Philosophy.
945

▼a

KLPA
---
Holdings Information
No.
Location
Call Number
Accession No.
Availability
Due Date
Make a Reservation
Service

No.

1

Location

Main Library/Western Books/

Call Number

321.8 Z21fa

Accession No.

111643894

Availability

Available

Due Date

Make a Reservation

Service
Contents information
Book Introduction
민주주의의 위기는 어디에서 오는가? 이 책은 "민주주의의 과잉"에서 그 원인을 찾는다. 지은이는 "지나친 민주화가 '자유주의'를 잠식한다"는 자신의 의견을 세계 여러 나라의 역사를 통해 경험적으로 증명하며, 이로부터 안정된 민주주의의 실현을 위해 필요한 조건들을 논한다.

지은이가 정의하는 민주주의란 '경제적 기반을 갖춘 사회에서 법의 지배에 바탕하여 시민의 자유를 보장받는 상태' 정도로 볼 수 있고, 따라서 논의 역시 이같은 '민주주의'의 실현에 방해가 되는 조건들을 경험적으로 분석하는 것으로 채워져있다.

This book examines how democracy has changed our politics, economics, and social relations. It challenges us to put human liberty above the alter of democracy at home and abroad. The new afterword discusses building a sustainable democracy in Iraq.
Information Provided By: :

Author Introduction
파리드 자카리아
(지은이)
예일대를 졸업하고 하버드대에서 정치학 박사학위를 받았다. 국제정치 전문지 《포린 어페어스》의 최연소 편집장과 《뉴스위크》 편집장을 역임하며 권위 있는 미 시사주간지 《네이션》이 '차세대 키신저'로 지목할 만큼 국제정치에 대한 탁월한 안목으로 주목받았다. 21세기에 가장 중요한 외교정책 자문가 가운데 한 명으로 꼽히며 현재 CNN의 간판 국제정세 프로그램인 「파리드 자카리아 GPS」를 진행하고 있다. 저서로 『하버드 학생들은 더 이상 인문학을 공부하지 않는다』 『흔들리는 세계의 축』 『자유의 미래』, 『From Wealth to Power(부에서 권력으로)』, 『The American Encounter(미국과의 조우)』 등이 있다. 그의 저작에 대해 헨리 키신저는 "가장 뛰어난 젊은 저술가인 자카리아는 서방의 헌정주의가 세계 질서에 미치는 영향에 대해 놀랍고도 의미심장한 책을 내놓았다"(-『자유의 미래』)라고 평했으며 『스티브 잡스』의 작가 월터 아이작슨은 "자카리아는 언제나 국제 정세에 대한 탁월한 분석을 제시해 왔다. 중요한 사실은 그의 분석이 늘 정확했다는 점이다."(-『흔들리는 세계의 축』)라는 찬사를 보냈다.
Information Provided By: :