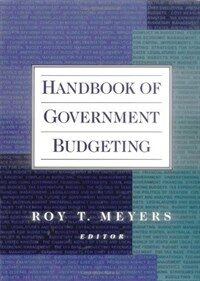 000
01095camuu2200313 a 4500
001
000045668482
005
20110927172247
008
110927s1999 caua bf 001 0 eng d
010

▼a

98040393
020

▼a

0787942928
035

▼a

(KERIS)REF000005071749
040

▼a

DLC

▼c

DLC

▼d

DLC

▼d

211009
043

▼a

n-us---
050

0

0

▼a

HJ2051

▼b

.H338 1999
082

0

0

▼a

352.4/8/0973

▼2

22
084

▼a

352.480973

▼2

DDCK
090

▼a

352.480973

▼b

H236
245

0

0

▼a

Handbook of government budgeting /

▼c

Roy T. Meyers, editor.
250

▼a

1st ed.
260

▼a

San Francisco :

▼b

Jossey-Bass Publishers,

▼c

c1999.
300

▼a

xxxii, 766 p. :

▼b

ill. ;

▼c

24 cm.
490

1

▼a

The Jossey-Bass nonprofit & public management series
504

▼a

Includes bibliographical references and indexes.
650

0

▼a

Budget

▼z

United States

▼x

Handbooks, manuals, etc.
650

0

▼a

Fiscal policy

▼z

United States

▼x

Handbooks, manuals, etc.
700

1

▼a

Meyers, Roy T.
830

0

▼a

Jossey-Bass nonprofit and public management series.
945

▼a

KLPA
---
Holdings Information
No.
Location
Call Number
Accession No.
Availability
Due Date
Make a Reservation
Service

No.

1

Location

Main Library/Western Books/

Call Number

352.480973 H236

Accession No.

111643177

Availability

Available

Due Date

Make a Reservation

Service
Contents information
Table of Contents
AN OVERVIEW OF GOVERNMENT BUDGETING.
 
 Features of the Budgetary Process (J. McCaffery).
 
 Understanding the Role of Conflict in Budgeting (I. Rubin).
 
 Financial Management Reform in the Federal Government (L. Jones & J. McCaffery).
 
 Budgetary Management in the United States and in Australia, New Zealand, and the United Kingdom (A. Premchand).
 
 CREDIT MARKETS, THE ECONOMY, AND BUDGET BALANCING.
 
 Understanding and Using Government Financial Statements (J. Engstrom).
 
 The Changing World of State and Local Debt Finance (M. Hackbart & J. Ramsey).
 
 State and Local Government Budgeting: Coping with the Business Cycle (M. Wolkoff).
 
 The Federal Budget and Economic Management (V. Ooms, et al.).
 
 The Rhetoric and Reality of Balancing Budgets (N. Caiden).
 
 TAXATION IN BUDGETING.
 
 The Major Tax Bases (J. Gravelle).
 
 Addressing Tax Expenditures in the Budgetary Process (B. Davie).
 
 Practical Methods for Projecting Revenues (S. Bretschneider & W. Gorr).
 
 The Politics of Taxation (S. Pollack).
 
 THE INFORMATIONAL FOUNDATIONS OF BUDGETING.
 
 The Bases of Accounting for Budgeting and Financial Reporting (J. Chan).
 
 Cost Measurement and Analysis (F. Thompson).
 
 Information Technology for Financial Management (R. Miranda).
 
 BUDGETING BY INSTITUTIONS.
 
 Preparing Agency Budgets (J. Rogers & M. Brown).
 
 Examining Budgets for Chief Executives (B. White).
 
 Legislatures and Budgeting (R. Meyers).
 
 Courts and Fiscal Decision Making (P. Cooper).
 
 POLITICS, MANAGEMENT, AND ANALYSIS IN BUDGETING.
 
 Cutback Budgeting (J. Savage & H. Schwartz).
 
 Strategies for Spending Advocates (R. Meyers).
 
 Budget Implementation (R. Handrick & J. Forrester).
 
 Performance-Based Budgeting (P. Joyce).
 
 Analytical Techniques for Budgeting (M. Mandell).
 
 BUDGETING OVER TIME FOR LARGE AMOUNTS.
 
 Budgeting for Capital Improvements (R. Bland & W. Clarke).
 
 Budgeting for Entitlements (J. White).
 
 Budgeting for Contingent Losses (M. Phaup & D. Torregrosa).
 
 Conclusion.
 
 The Future of Government Budgeting (R. Meyers).
Information Provided By: :