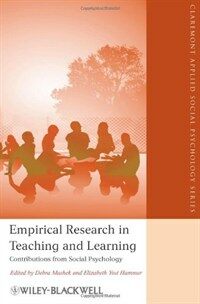 000
04162camuu2200325 a 4500
001
000045667084
005
20110921153015
008
110921s2011 maua b 001 0 eng d
010

▼a

2010042202
020

▼a

9781444337198
035

▼a

(KERIS)REF000016085390
040

▼a

DLC

▼c

DLC

▼d

DLC

▼d

211009
050

0

0

▼a

HM1033

▼b

.E534 2011
082

0

0

▼a

302.071/1

▼2

22
084

▼a

302.0711

▼2

DDCK
090

▼a

302.0711

▼b

E55
245

0

0

▼a

Empirical research in teaching and learning :

▼b

contributions from social psychology /

▼c

edited by Debra Mashek and Elizabeth Yost Hammer.
260

▼a

Malden, MA :

▼b

Wiley-Blackwell,

▼c

2011.
300

▼a

xii, 187 p. :

▼b

ill. ;

▼c

24 cm.
490

1

▼a

Claremont applied social psychology series
504

▼a

Includes bibliographical references and index.
505

8

▼a

Machine generated contents note: Preface (Debra Mashek & Elizabeth Yost Hammer). -- Chapter 1: How can social psychology galvanize teaching and learning? (Regan A. R. Gurung & Kathleen C. Burns). -- Chapter 2: A social look at student-instructor interactions (Janie H. Wilson, Karen Z. Naufel, & Amy A. Hackney). -- Chapter 3: Self-Construal, culture and diversity in higher education (Shelva Paulse Hurley & Eric Alexander Hurley). -- Chapter 4: Unintentional prejudice and social psychology's lessons for cross-racial teaching (Elliott D. Hammer). -- Chapter 5: Relationships that support student autonomy and engagement (Johnmarshall Reeve). -- Chapter 6: Achievement is an attitude: The importance of help seeking attitudes when predicting academic achievement (Jessica Clevering, Shelley DeFord, Tasia Yamamura & Debra Mashek). -- Chapter 7: Applying the science of learning to the art of teaching (Diane F. Halpern & Clayton L. Stephenson). -- Chapter 8: Which strategies best enhance teaching and learning in higher education? (John Hattie). -- Chapter 9: Understanding faculty reluctance to assess teaching and learning: A social psychological perspective (Dana S. Dunn, Maureen A. McCarthy, Suzanne C. Baker, Jane S. Halonen, Stacy Boyer). -- Chapter 10: Applying social psychology in the college classroom: Teachers and learners need (your) scholarship (Randolph A. Smith).
520

▼a

"Empirical Research in Teaching and Learning: Contributions from Social Psychology draws upon the latest empirical research and empirical-based theories from social psychology to inform the scholarship of teaching and learning. Provides an accessible theoretical grounding in social psychological principles and addresses specific empirical evidence drawn from teaching and learning contexts. Features concrete strategies for use in the classroom setting. Includes contributions from experts in both social psychology and the scholarship of teaching and learning"--

▼c

Provided by publisher.
520

▼a

"Social psychology has always offered interesting insights into the form and function of teaching and learning. Yet emerging research has shown that social psychology is now perfectly poised to play a much greater role in the future of higher education -- both in optimizing teaching and enhancing student learning. Drawing upon the very latest empirical research and empirical-based theories, Empirical Research in Teaching and Learning presents a series of practical strategies and concrete tools from the field of social psychology for enhancing teaching and learning. After providing an accessible theoretical grounding in social psychological principles, chapters reveal how this theoretical lens informs our understanding of teaching and learning, address specific empirical evidence drawn from teaching and learning contexts, and offer concrete strategies for translating this evidence "on the ground." This book represents an important and much-needed resource for all who are interested in enhancing teaching and learning in the higher education setting"--

▼c

Provided by publisher.
650

0

▼a

Social psychology

▼x

Study and teaching.
700

1

▼a

Mashek, Debra J.
700

1

▼a

Hammer, Elizabeth Yost.
830

0

▼a

Claremont applied social psychology series.
945

▼a

KLPA
---
Holdings Information
No.
Location
Call Number
Accession No.
Availability
Due Date
Make a Reservation
Service

No.

1

Location

Main Library/Western Books/

Call Number

302.0711 E55

Accession No.

111642257

Availability

Available

Due Date

Make a Reservation

Service
Contents information
Table of Contents
Preface (Debra Mashek & Elizabeth Yost Hammer).  

Chapter 1: How can social psychology galvanize teaching and learning? (Regan A. R. Gurung & Kathleen C. Burns).

 

Chapter 2: A social look at student-instructor interactions (Janie H. Wilson, Karen Z. Naufel, & Amy A. Hackney).

 

Chapter 3: Self-Construal, culture and diversity in higher education (Shelva Paulse Hurley & Eric Alexander Hurley).

 

Chapter 4: Unintentional prejudice and social psychology's lessons for cross-racial teaching (Elliott D. Hammer).

 

Chapter 5: Relationships that support student autonomy and engagement (Johnmarshall Reeve).

 

Chapter 6: Achievement is an attitude: The importance of help seeking attitudes when predicting academic achievement (Jessica Clevering, Shelley DeFord, Tasia Yamamura & Debra Mashek).

 

Chapter 7: Applying the science of learning to the art of teaching (Diane F. Halpern & Clayton L. Stephenson).

 

Chapter 8: Which strategies best enhance teaching and learning in higher education? (John Hattie).

 

Chapter 9: Understanding faculty reluctance to assess teaching and learning: A social psychological perspective (Dana S. Dunn, Maureen A. McCarthy, Suzanne C. Baker, Jane S. Halonen, Stacy Boyer).

 

Chapter 10: Applying social psychology in the college classroom: Teachers and learners need (your) scholarship (Randolph A. Smith).
Information Provided By: :