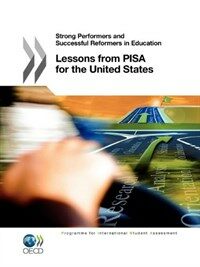 000
02918namuu22002891a 4500
001
000045657643
005
20110721154725
008
110719s2011 fr ab b i000 eng d
020

▼a

9789264096653 (pbk.)
020

▼a

9264096655 (pbk.)
040

▼d

211009
082

0

4

▼a

371.2

▼2

22
090

▼a

371.2

▼b

sp
245

0

0

▼a

Strong performers and successful reformers in education :

▼b

Lessons from Pisa for the United States.
246

3

0

▼a

Lessons from PISA for the United States
260

▼a

Paris :

▼b

OECD,

▼c

2011.
300

▼a

256 p. :

▼b

ill., maps ;

▼c

27 cm.
504

▼a

Includes bibliographical references.
505

0

▼a

Introduction -- Viewing education in the United States through the prism of PISA -- Ontario, Canada: reform to support high achievement in a diverse context -- Shanghai and Hong Kong: two distinct examples of education reform in China -- Finland: slow and steady reform for consistently high results -- Japan: a story of sustained excellence -- Singapore: rapid improvement followed by strong performance -- Brazil: encouraging lessons from a large federal system -- Germany: once weak international standing prompts strong nationwide reforms for rapid improvement -- Vignettes on education reforms: England and Poland -- Lessons for the United States.
520

▼a

"US President Obama has launched one of the world' most ambitious education reform agendas. Under the heading 'Race to the Top', this agenda encourages US states to adopt internationally benchmarked standards and assessments that prepare students for success in college and the workplace: recruit, develop, reward, and retain effective teachers and principals; build data systems that measure student success; and inform teachers and principals how they can improve their practices and turn around their lowest-performing schools. But what does the 'top' look like internationally? How have the countries at the top managed to achieve sustained high performance or to significantly improve their performance? The OECD Programme for International Student Assessment (PISA) provides the world's most extensive and rigorous set of international surveys assessing the knowledge and skills of secondary school students. This volume combines an analysis of PISA with a description of the policies and practices of those education systems that are close to the top or advancing rapidly, in order to offer insights for policy from their reform trajectories."--Publisher description.
610

2

0

▼a

Programme for International Student Assessment.
650

0

▼a

Educational evaluation

▼z

United States.
650

0

▼a

Educational tests and measurements

▼x

Social aspects

▼z

United States.
650

0

▼a

School improvement programs

▼z

United States.
710

2

▼a

Programme for International Student Assessment.
710

2

▼a

Organisation for Economic Co-operation and Development.
---
Holdings Information
No.
Location
Call Number
Accession No.
Availability
Due Date
Make a Reservation
Service

No.

1

Location

Centennial Digital Library/OECD/

Call Number

371.2 sp

Accession No.

181602096

Availability

Loan can not(reference room)

Due Date

Make a Reservation

Service