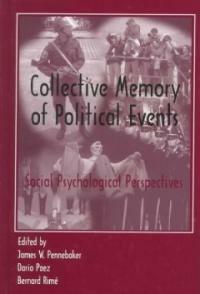 000
01088camuu2200313 a 4500
001
000045654208
005
20110622102234
008
110622s1997 njua b 001 0 eng d
010

▼a

96029389
020

▼a

0805821821 (c : alk. paper)
035

▼a

(KERIS)REF000013019413
040

▼a

DLC

▼c

DLC

▼d

DLC

▼d

211009
050

0

0

▼a

BF378.S65

▼b

C65 1997
082

0

0

▼a

153.1/3

▼2

22
084

▼a

153.13

▼2

DDCK
090

▼a

153.13

▼b

C697
245

0

0

▼a

Collective memory of political events :

▼b

social psychological perspectives /

▼c

edited by James W. Pennebaker, Dario Paez, Bernard Rime.
260

▼a

Mahwah, N.J. :

▼b

Lawrence Erlbaum Associates,

▼c

1997.
300

▼a

xi, 303 p. :

▼b

ill. ;

▼c

24 cm.
504

▼a

Includes bibliographical references and indexes.
650

0

▼a

Memory

▼x

Social aspects.
650

0

▼a

Autobiographical memory.
650

0

▼a

Collective memory

▼x

Political aspects.
650

0

▼a

Social psychology.
700

1

▼a

Pennebaker, James W.
700

1

▼a

Paez, Dario.
700

1

▼a

Rime, Bernard.
945

▼a

KLPA
---
Holdings Information
No.
Location
Call Number
Accession No.
Availability
Due Date
Make a Reservation
Service

No.

1

Location

Main Library/Western Books/

Call Number

153.13 C697

Accession No.

111632279

Availability

Available

Due Date

Make a Reservation

Service
Contents information
Author Introduction
제임스 W. 페니베이커
(엮은이)
글쓰기와 건강의 관계 연구에서 세계적으로 인정받는 전문가이다. 그동안 심리적 외상 경험, 표현적 글쓰기, 자연언어 사용, 그리고 신체적?심리적 건강과의 관계를 연구해 왔으며 글쓰기/말하기 훈련을 통해 신체적 건강과 작업능력이 향상된다는 것을 밝혀냈다. 최근에는 실생활에서의 언어와 감정 간의 관계에 주안점을 두고 사람들이 사용하는 언어는 그들의 인격과 사회의 관계를 강력히 반영한다는 것을 연구하고 있다. 오스틴의 텍사스 대학에서 1977년 심리학으로 박사학위를 받은 이후 현재 동대학 심리학과 학과장으로 재직하고 있다. 『털어놓기와 건강』(Opening Up)을 비롯해 9권의 책을 냈고(저술 및 편저), 250편 이상의 논문을 발표했다. '성격과 사회 심리학회'(Society of Personality and Social Psychology)로부터 공로상과 우수저술상을 수상하였고, 이 외에도 미국심리학회(American Psychological Association)를 비롯한 여러 심리학 분야에서 공로를 인정받아 수많은 상을 수상했다.
Information Provided By: :

Table of Contents
Contents: J.W. PennebakerIntroduction. Part I:The Life of Collective Memories. J.W. Pennebaker, B.L. Banasik, On the Creation and Maintenance of Collective Memories: History as Social Psychology. M.A. Conway, The Inventory of Experience: Memory and Identity. H. Schuman, R.F. Belli, K. Bischoping, The Generational Basis of Historical Knowledge. J. Igartua, D. Paez, Art and Remembering Traumatic Collective Events: The Case of the Spanish Civil War. N.H. Frijda, Commemorating. Part II:Social and Emotional Processes of Collective Memories. B. Rimé, V. Christophe, How Individual Emotional Episodes Feed Collective Memory. D. Paez, N. Basabe, J.L. Gonzalez, Social Processes and Collective Memory: A Cross-Cultural Approach to Remembering Political Events. G.D. Gaskell, D.B. Wright, Group Differences in Memory for a Political Event. C. Finkenauer, L. Gisle, O. Luminet, When Individual Memories Are Socially Shaped: Flashbulb Memories of Sociopolitical Events. G. Bellelli, M.A.C. Amatulli, Nostalgia, Immigration, and Collective Memory. Part III:The Construction, Distortion, and Forgetting of Collective Experiences. E. Lira, Remembering: Passing Back Through the Heart. L. Íñiguez, J. Valencia, F. Vázquez, The Construction of Remembering and Forgetfulness: Memories and Histories of the Spanish Civil War. J. Marques, D. Paez, A.F. Serra, Social Sharing, Emotional Climate, and the Transgenerational Transmission of Memories: The Portuguese Colonial War. R.F. Baumeister, S. Hastings, Distortions of Collective Memory: How Groups Flatter and Deceive Themselves.
Information Provided By: :