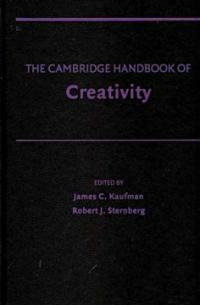 000
00000cam u2200205 a 4500
001
000045650621
005
20230926165228
008
100111s2010 nyuad b 001 0 eng
010

▼a

2010000993
020

▼a

9780521513661 (hbk.)
020

▼a

9780521730259 (pbk.)
035

▼a

(KERIS)BIB000012257465
040

▼a

242014

▼c

242014

▼d

242014

▼d

244002

▼d

211009
082

0

0

▼a

153.35

▼2

22
084

▼a

153.35

▼2

DDCK
090

▼a

153.35

▼b

C178
245

0

4

▼a

The Cambridge handbook of creativity /

▼c

edited by James C. Kaufman, Robert J. Sternberg.
260

▼a

New York :

▼b

Cambridge University Press,

▼c

c2010.
300

▼a

xvii, 489 p :

▼b

ill., charts ;

▼c

26 cm.
490

0

▼a

Cambridge handbooks in psychology
504

▼a

Includes bibliographical references and index.
650

0

▼a

Creative ability.
700

1

▼a

Kaufman, James C.
700

1

▼a

Sternberg, Robert J.,

▼d

1949-

▼0

AUTH(211009)126576.
---
Holdings Information
No.
Location
Call Number
Accession No.
Availability
Due Date
Make a Reservation
Service

No.

1

Location

Sejong Academic Information Center/Humanities 1/

Call Number

153.35 C178

Accession No.

151300232

Availability

Available

Due Date

Make a Reservation

Service
Contents information
Author Introduction
로버트 스턴버그
(엮은이)
前 와이오밍대학교 총장. 미국의 뇌신경과학 및 인지심리학의 권위 있는 심리학자이다. 미국심리학회, 국제인지심리교육 협회 등의 회장을 역임했다. 1,500편 이상의 글을 썼으며, 세계적으로 가장 많이 인용되는 심리학자에 속한다.
James C.Kaufman
(엮은이)
캘리포니아 주립대학교 심리학과 교수이자 미국 캘리포니아 주 샌버너디노에서 학습연구소를 운영하고 있다. 그의 연구는 창의성을 기르고 촉진하는 문제에 광범위하게 초점을 두고 있다. 그는 창의성의 구조와 평가 교실에서의 창의성 증진, 일상적 창의성, 타당한 창의성의 역할 등에 특별히 더 관심을 두고 있다. 또한 지능, 성격, 동기 그리고 사고의 틀과 연결된 주제에 흥미를 기울여 왔다. Kaufman은 Creativity 101, Essentials of Creativity Assessment(Jonothan Plucker, John Baer와 공저, International Handbook of Creativity(Robert Strenberg와 공저, Applied Intelligence(Robert Sternberg, Elena Grigorenko와 공저 등 16권의 저서가 있고, 그의 연구는 CNN, NPR, The New York Times, Los Angeles Times, The New Yorker 및BBC의 방송과 기사를 통해 소개되었다. 그는 또한 Psychology Assessment와Journal of Creative Behavior, Psychology of Aesthetics의 편집위원이다. 2003년에 미국심리학회(APA's Division 10)로부터 Daniel E. Berlyne 상을, 그리고 2008년에는 National Association of Gifted Children으로부터 E. Paul Torrance 상을 수여했으며 2009년에는 Western Psychological Association으로부터 Early Career Research 상을 받았다.
Information Provided By: :

Table of Contents
Part I. Basic Concepts: 1. Creativity research: a historical view Mark A. Runco and Robert S. Albert; 2. Theories of creativity Aaron Kozbelt, Ronald A. Beghetto and Mark A. Runco; 3. Assessment of creativity Jonathan A. Plucker and Matthew C. Makel; 4. The roles of creativity in society Seana Moran; Part II. Diverse Perspectives on Creativity: 5. Cognition and creativity Thomas B. Ward and Yuliya Kolomyts; 6. The function of personality in creativity: the nature and nurture of the creative personality Gregory J. Feist; 7. How does a visual artist create an artwork? Paul J. Locher; 8. Organizational creativity: a systems approach Gerard J. Puccio and John F. Cabra; 9. Creativity in highly eminent individuals Dean Keith Simonton; 10. Everyday creativity: process and way of life ? four key issues Ruth Richards; 11. The neurobiological foundation of creative cognition Allison B. Kaufman, Sergey A. Kornilov, Adam S. Bristol, Mei Tan and Elena L. Grigorenko; 12. Developmental approaches to creativity Sandra W. Russ and Julie A. Fiorelli; 13. Educational creativity Jeffrey K. Smith and Lisa F. Smith; 14. Cross cultural perspectives on creativity Todd Lubart; 15. Evolutionary approaches to creativity Liane Gabora and Scott Barry Kaufman; 16. Functional creativity: 'products' and the generation of effective novelty David Cropley and Arthur Cropley; Part III. Contemporary Debates: 17. Is creativity domain specific? John Baer; 18. The creativity-motivation connection Beth A. Hennessey; 19. Individual and group creativity R. Keith Sawyer; 20. Creativity and mental illness Paul J. Silvia and James C. Kaufman; 21. The relationship between creativity and intelligence Kyung Hee Kim, Bonnie Cramond and Joyce VanTassel-Baska; 22. Divergent thinking, creativity, and ideation Mark A. Runco; 23. Creativity in the classroom Ronald A. Beghetto; Part IV. Conclusion: 24. Constraints on creativity: obvious and not so obvious Robert J. Sternberg and James C. Kaufman.
Information Provided By: :