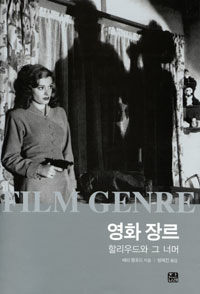 000
00939camcc2200313 c 4500
001
000045638843
005
20110405201112
007
ta
008
110404s2010 ulka b 001c kor
020

▼a

9788955661040

▼g

94330
020

1

▼a

9788985367769(세트)
035

▼a

(KERIS)BIB000012060528
040

▼a

211023

▼c

211023

▼d

211023

▼d

244002

▼d

211009
041

1

▼a

kor

▼h

eng
082

0

0

▼a

791.43/6

▼2

22
085

▼a

791.436

▼2

DDCK
090

▼a

791.436

▼b

2010
100

1

▼a

Langford, Barry

▼0

AUTH(211009)110998
245

1

0

▼a

영화 장르 :

▼b

할리우드와 그 너머 /

▼d

배리 랭포드 지음 ;

▼e

방혜진 옮김
246

1

9

▼a

Film genre :

▼b

Hollywood and beyond
260

▼a

서울 :

▼b

한나래,

▼c

2010
300

▼a

550 p. :

▼b

삽화 ;

▼c

23 cm
440

0

0

▼a

한나래 시네마 시리즈 ;

▼v

30
504

▼a

참고문헌(p. 463-487)과 색인수록
650

0

▼a

Film genres
700

1

▼a

방혜진,

▼e

역
900

1

0

▼a

랭포드, 배리,

▼e

저
945

▼a

KLPA
---
Contents information
Book Introduction
영화 장르의 역사를 상세히 설명하며, 영화 장르에서의 최근 경향과 그것이 일으킨 비평 논쟁에 대한 포괄적인 개론을 제공한 책이다.

책은 서부극, 뮤지컬, 전쟁 영화, 갱스터 영화 같은 고전 장르부터, 최근의 신체 호러 영화와 홀로코스트 영화, 그리고 액션 블록버스터에 이르기까지, 각각의 장르들을 독립적으로, 또한 장르들 간의 경계를 넘나들며 폭넓게 다룬다. 또한, '장르'를 하나의 고정된 실체가 아니라, 끊임없이 진화하는 현상으로서 규명하고, 이를 통해 독자들은 장르에 대한 기존 관념에 질문을 던지고 이를 발전시킬 수 있을 것이다.
장르, 영화 이해의 출발점
엄격한 장르 구분이 더 이상 통용되지 않는 오늘날에도 '장르' 개념과 그에 대한 논의는 중요하다. '영화 장르'가 어쩌면 과거의 것일 수 있는 반면, '장르 영화'는 오늘날 감독과 관객에게 더더욱 중요한 길잡이가 되고 있는 까닭이다. 즉 엄격한 의미의 장르가 더 이상 존재하지 않는다는 사실이 장르라는 범주 자체의 효용성을 무화시키지는 않는다는 것, 도리어 장르의 융합과 변형이 그 어느 때보다 빈번하게 이뤄지는 포스트고전 장르 시대에 장르는 서사와 이미지를 축조하고 해석하기 위한 기초 단위로서 기능한다는 것이다. 따라서 영화를 둘러싼 담론과 이론 측면에서도 장르의 중요성은 새로이 조명될 수 있다. 이는 장르 정의 자체에 대한 재고찰로부터 출발하여, 각각의 장르 재구성 작업에서 드러나는 서로 다른 이론들의 입장 차이가 곧 오늘날 영화 담론에 있어 첨예한 논쟁을 불러일으키기 때문인데, 바로 이러한 이유들로, 영화학에 있어 장르론의 필요성은 그 어느 때보다 중요하다.
이 책은 영화 장르의 역사를 상세히 설명하며 영화 장르에서의 최근 경향과 그것이 일으킨 비평 논쟁에 대한 포괄적인 개론을 제공한다. 서부극, 뮤지컬, 전쟁 영화, 갱스터 영화 같은 고전 장르부터, 최근의 신체 호러 영화와 홀로코스트 영화, 그리고 액션 블록버스터에 이르기까지, 각각의 장르들을 독립적으로, 또한 장르들 간의 경계를 넘나들며 폭넓게 다룬다. 이 책은 '장르'를 하나의 고정된 실체가 아니라, 끊임없이 진화하는 현상으로서 규명한다. 이를 통해 독자들은 장르에 대한 기존 관념에 질문을 던지고 이를 발전시킬 수 있을 것이다.

이 책의 특징
이 책은 멜로드라마를 하나의 장르로 보기보다는 '장르'에 앞서는 것으로, 즉 하나의 '양상'으로 설정하는 것에서 논의를 시작한다. 이어서, 서부극, 뮤지컬, 전쟁 영화, 갱스터 영화 같은 '고전적 패러다임'을 재구성하고, '과도기' 판타지로 호러와 SF 영화, '포스트고전 장르'로 필름 느와르와 액션 블록버스터를 분석하며, 특히 다큐멘터리와 홀로코스트, 포르노그래피 등 일반적으로 장르로 인정받지 못하는 것들을 위한 장을 따로 마련함으로써 독창적이고도 체계적인 장르 개관을 구축한다.
각 장 역시 단선적인 서술 방식에서 벗어나 역동적인 상호 교차가 이뤄지는데, 가령 3장 '서부극'은 '장르와 역사'라는 부제에 걸맞게, '서부극의 역사들,' '역사의 서부(극),' '서부극들의 역사,' '역사 속의 서부극'으로 전개되는 식이다. 물론 각 장르의 끝부분마다 '할리우드 너머'와 '사례 연구'를 배치해 놓은 것 역시 이 책의 빼놓을 수 없는 장점이다.
특히 '할리우드와 그 너머'라는 부제가 보여주듯, 이 책이 장르의 문제를 비단 할리우드 영화만의 것이 아니라 전 지구적인 제작 및 소비의 관점에서 다루고 있다는 점이다. 이처럼 할리우드 장르의 역사를 치열하게 파고들면서도 '그 너머'의 차이점들과 변형들을 놓치지 않는다는 것, 요컨대 '그 너머'란 글귀로 대변되는 그 열린 자세야말로 바로 이 책의 핵심 지향점이다. 따라서 이 책을 읽는 독자는 그저 기존의 장르 역사와 이론들을 답습하는 것이 아니라, 상반되는 주장들과 논쟁들 속에서 영화 담론의 비판적 생산에 참여하게 된다.
Information Provided By: :

Author Introduction
배리 랭포드
(지은이)
퀸즈 대학과 케임브리지 대학에서 영문학을 전공하고 컬럼비아 대학 비교문학과에서 박사 학위를 받았다. 현재 런던 대학 로열 할러웨이의 영화학과 교수이다. 비판 이론, 영화와 TV에서의 홀로코스트 재현, 대중 문화 이론, 포스트모더니즘, 포스트고전 할리우드, 영화 장르 등을 주로 연구하며, 최근에는 크라카우어/벤야민/홀로코스트, 수정주의 서부극, 도시의 묵시록과 미셸 드 세르토의 이론, TV 시트콤의 정치적 무의식 등에 관한 글을 쓰고 있다. 책으로는 <홀로코스트 문학과 영화 가르치기 Teaching Holocaust Literature and Film>(공저), <포스트고전 할리우드: 1945년 이후의 역사, 영화 양식, 이데올로기 Post-Classical Hollywood: History, Film Style, and Ideology since 1945>의 출간을 앞두고 있다.
방혜진
(옮긴이)
비평가. 영상과 퍼포먼스를 연구하고 전시-바깥으로부터 예외적-전시 상황을 탐구한다. 기획한 전시/프로젝트로 『시체이거나 영광이거나: 내러티브×픽션×아카이브』, 『EX-EXHIBITION: 장면정면전면직면』, 『인식장애극장』, 『¡No Dance!』 등이 있다. 국립현대무용단의 「우회공간」을 만들고 남산예술센터 상임 드라마투르그를 역임하는 등 여러 기관 및 작가와 다양한 방식으로 협업했다.
Information Provided By: :

Table of Contents

목차
머리말 = 7
01 누가 장르를 필요로 하는가? = 13
02 장르 이전 : 멜로드라마 = 57
1부 고전적 패러다임 
 03 서부극 : 장르와 역사 = 95
 04 뮤지컬 : 장르와 형식 = 141
 05 전쟁/전투 영화 : 장르와 국가 = 179
 06 갱스터 영화 : 장르와 사회 = 225
2부 과도적 판타지 
 07 호러 영화 = 265
 08 SF 영화 = 303
3부 포스트고전 장르들 
 09 필름 느와르 = 347
 10 액션 블록버스터 = 387
 11 장르: 틀 깨기 = 427
 12 결론: 트랜스 장르? = 453
참고문헌 = 463
옮긴이의 말 = 489
찾아보기 = 493