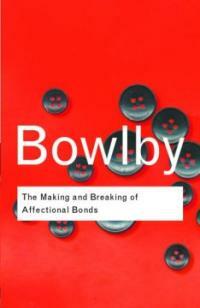 000
01786camuu2200373 a 4500
001
000045634655
005
20110314190544
008
110314r20051979enk b 001 0 eng d
010

▼a

2005020488
020

▼a

0415354811 (pbk.)
035

▼a

(KERIS)REF000011846460
040

▼a

DNLM/DLC

▼c

DLC

▼d

DLC

▼d

211009
050

0

0

▼a

RC455.4.A84

▼b

B694 2005
082

0

0

▼a

618.92/89

▼2

22
084

▼a

618.9289

▼2

DDCK
090

▼a

618.9289

▼b

B787m
100

1

▼a

Bowlby, John.
240

1

0

▼a

Making & breaking of affectional bonds
245

1

4

▼a

The making and breaking of affectional bonds /

▼c

John Bowlby ; with a new introduction by Richard Bowlby.
260

▼a

London ;

▼a

New York :

▼b

Routledge,

▼c

2005.
300

▼a

xi, 212 p. ;

▼c

20 cm.
490

1

▼a

Routledge classics
500

▼a

Originally published: Making & breaking of affectional bonds. London : Tavistock Publications, 1979.
504

▼a

Includes bibliographical references (p. [189]-201) and index.
505

0

▼a

Psychoanalysis and child care (1956-8) -- An ethological approach to research in child development (1957) -- Childhood mourning and its implications for psychiatry (1961) -- Effects on behaviour of disruption of an affectional bond (1967-8) -- Separation and loss within the family (1968-70) -- Self-reliance and some conditions that promote it (1970-3) -- The making and breaking of affectional bonds (1976-7).
650

0

▼a

Attachment behavior.
650

0

▼a

Attachment behavior in children.
650

0

▼a

Infants

▼x

Development.
650

1

2

▼a

Object Attachment

▼v

Collected Works.
650

2

2

▼a

Child Development

▼v

Collected Works.
650

2

2

▼a

Child Psychology

▼v

Collected Works.
830

0

▼a

Routledge classics.
945

▼a

KLPA
---
Holdings Information
No.
Location
Call Number
Accession No.
Availability
Due Date
Make a Reservation
Service

No.

1

Location

Main Library/Western Books/

Call Number

618.9289 B787m

Accession No.

111615657

Availability

Available

Due Date

Make a Reservation

Service
Contents information
Author Introduction
존 볼비
(지은이)
1907년 영국에서 태어난 존 볼비는 케임브리지대학 트리니티칼리지에서 심리학을 공부한 후 부적응적이고 일탈행동을 하는 아동을 다루는 일을 했다. 이후 런던의 유니버시티칼리지 병원에서 의학공부를 시작한 그는 동시에 정신분석연구소에서 수학했으며, 모슬리 병원에서 성인 정신의학 훈련을 받았다. 1937년에는 정신분석가로 인정을 받았으며 1938년에는 트리니티칼리지의 학장이 되었다. 제2차 세계대전 참전 후에는 타비스톡 클리닉의 부소장으로 일했으며, 1950년부터는 세계보건기구의 정신건강 자문위원을 역임했다. 부적응 아동에 대해 지속적으로 관심을 가졌던 그는 이후에는 런던의 아동돌봄병원에서 아동을 돌보면서 아동들을 관찰했고 자신의 관찰 자료를 바탕으로 1950년 후반에는 인간의 발달과정에는 애착경험이 매우 중요하다는 자신의 이론을 전개하였다. 이러한 관찰결과를 정리하여 세 권으로 된 그의 유명한 저서 『애착』, 『분리』, 『상실』 등을 저술했다.
Information Provided By: :

Table of Contents
R. Bowlby, Preface to the Routledge Classics Edition.  Preface.  Psychoanalysis and Child Care.  An Ethological Approach to Research in Child Development.  Childhood Mourning and its Implications for Psychiatry.  Effects on Behaviour of Disruption of an Affectional Bond.  Separation and Loss within the Family.  Self-Reliance and Some Conditions that Promote It.  The Making and Breaking of Affectional Bonds. 
Information Provided By: :