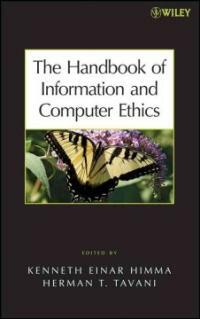 000
01039camuu2200301 a 4500
001
000045627080
005
20110126113502
008
110125s2008 njua b 001 0 eng d
010

▼a

2007044568
015

▼a

GBA822472

▼2

bnb
020

▼a

9780471799597
020

▼a

0471799599
035

▼a

(OCoLC)ocn179106833
035

▼a

(OCoLC)179106833
040

▼a

DLC

▼c

DLC

▼d

BAKER

▼d

UKM

▼d

C#P

▼d

BWX

▼d

YDXCP

▼d

BTCTA

▼d

DLC

▼d

211009
050

0

0

▼a

QA76.9.M65

▼b

H36 2008
082

0

0

▼a

004.01/9

▼2

22
084

▼a

004.019

▼2

DDCK
090

▼a

004.019

▼b

H2362
245

0

4

▼a

The handbook of information and computer ethics /

▼c

edited by Kenneth Einar Himma and Herman T. Tavani.
260

▼a

Hoboken, N.J. :

▼b

Wiley,

▼c

c2008.
300

▼a

xxxi, 671 p. :

▼b

ill. ;

▼c

24 cm.
504

▼a

Includes bibliographical references and index.
650

0

▼a

Electronic data processing

▼x

Moral and ethical aspects.
700

1

▼a

Himma, Kenneth Einar.
700

1

▼a

Tavani, Herman T.
945

▼a

KLPA
---
Holdings Information
No.
Location
Call Number
Accession No.
Availability
Due Date
Make a Reservation
Service

No.

1

Location

Science & Engineering Library/Sci-Info(Stacks2)/

Call Number

004.019 H2362

Accession No.

121203607

Availability

Available

Due Date

Make a Reservation

Service
Contents information
Table of Contents
Foreword (Deborah G. Johnson).  

Preface.

 

Contributors.

 

Introduction (Kenneth Einar Himma and Herman T. Tavani).

 

PART I: FOUNDATIONAL ISSUES AND METHODOLOGICAL FRAMEWORKS.

 

1. Foundations of Information Ethics (Luciano Floridi).

 

2. Milestones in the History of Information Ethics (Terrell Ward Bynum).

 

3. Moral Methodology and Information Technology (Jeroen van den Hoven).

 

4. Value Sensitive Design and Information Systems (Batya Friedman, Peter H. Kahn, and Alan Borning).

 

PART II: THEORETICAL ISSUES AFFECTING PROPERTY, PRIVACY, ANONYMITY, AND SECURITY.

 

5. Personality-Based, Rule Utilitarian, and Lockean Justifications of Intellectual Property (Adam D. Moore).

 

6. Informational Privacy: Concepts, Theories, and Controversies (Herman T. Tavani).

 

7. Online Anonymity (Kathleen A.  Wallace).

 

8. Ethical Issues Involving Computer Security: Hacking, Hacktivism, and Counterhacking (Kenneth Einar Himma).

 

PART III: PROFESSIONAL ISSUES AND THE INFORMATION-RELATED PROFESSIONS.

 

9. Information Ethics and the Library Profession (Kay Mathiesen and Don Fallis).

 

10. Ethical Interest in Free and Open Source Software (Frances S. Grodzinsky and Marty J. Wolf).

 

11. Internet Research Ethics: The Field and its Critical Issues (Elizabeth A. Buchanan and Charles Ess).

 

12. Health Information Technology: Challenges in Ethics, Science, and Uncertainty (Kenneth W. Goodman).

 

13. Ethical Issues of Information and Business (Bernd Carsten Stahl).

 

PART IV: RESPONSIBILITY ISSUES AND RISK ASSESSMENT.

 

14. Responsibilities for Information on the Internet (Anton Vedder).

 

15. Virtual Reality and Computer Simulation (Philip Brey).

 

16. Genetic Information: Epistemological and Ethical Issues (Antonio Marturano).

 

17. The Ethics of Cyber Conflict (Dorothy E. Denning).

 

18. A Practical Mechanism for Ethical Risk Assessment - A SoDIS Inspection (Don Gotterbarn, Tony Clear, and Choon-Tuck Kwan).

 

PART V: REGULATORY ISSUES AND CHALLENGES.

 

19. Regulation and Governance on the Internet (John Weckert and Yeslam Al-Saggaf).

 

20. Information Overload (David M. Levy).

 

21. Email Spam (Keith W. Miller and James H. Moor).

 

22. The Matter of Plagiarism: What, Why, and If (John Snapper).

 

23. Intellectual Property: Legal and Moral Challenges of Online File Sharing (Richard A. Spinello).

 

PART VI: ACCESS AND EQUITY ISSUES.

 

24. Censorship and Access to Information (Kay Mathiesen).

 

25. The Gender Agenda in Computer Ethics (Alison Adam).

 

26. The Digital Divide: Perspective for the Future (Maria Canellopoulou-Botti and Kenneth Einar Himma).

 

27. Intercultural Information Ethics (Rafael Capurro).

 

Index. 
Information Provided By: :