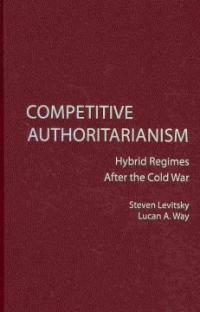 000
00000cam u2200205 a 4500
001
000045620527
005
20220418102803
008
101206s2010 nyua b 001 0 eng d
010

▼a

2010005438
020

▼a

9780521882521 (hardback)
020

▼a

0521882524 (hardback)
020

▼a

9780521709156 (pbk.)
020

▼a

0521709156 (pbk.)
035

▼a

(OCoLC)ocn537641161
040

▼a

DLC

▼c

DLC

▼d

BTCTA

▼d

CDX

▼d

YDXCP

▼d

IAY

▼d

VVC

▼d

STF

▼d

DLC

▼d

211009
050

0

0

▼a

JC480

▼b

.L45 2010
082

0

0

▼a

321.9

▼2

22
084

▼a

321.9

▼2

DDCK
090

▼a

321.9

▼b

L666c
100

1

▼a

Levitsky, Steven,

▼d

1968-

▼0

AUTH(211009)116616.
245

1

0

▼a

Competitive authoritarianism :

▼b

hybrid regimes after the Cold War /

▼c

Steven Levitsky, Lucan A. Way.
260

▼a

New York :

▼b

Cambridge University Press,

▼c

2010.
300

▼a

xviii, 517 p. :

▼b

ill. ;

▼c

24 cm.
490

1

▼a

Problems of international politics
504

▼a

Includes bibliographical references (p. 381-491) and index.
505

0

▼a

Introduction and theory. Introduction ; Explaining competitive authoritarian regime trajectories: international linkage and the organizational power of incumbents -- High linkage and democratization: Eastern Europe and the Americas. Linkage, leverage, and democratization in Eastern Europe ; Linkage, leverage, and democratization in the Americas -- The dynamics of competitive authoritarianism in low-linkage regions: the former Soviet Union, Africa, and Asia. The evolution of post-Soviet competitive authoritarianism ; Africa: transitions without democratization ; Diverging outcomes in Asia ; Conclusion.
520

▼a

"Competitive authoritarian regimes - in which autocrats submit to meaningful multiparty elections but engage in serious democratic abuse - proliferated in the post-Cold War era. Based on a detailed study of 35 cases in Africa, Asia, Latin America, and post-communist Eurasia, this book explores the fate of competitive authoritarian regimes between 1990 and 2008. It finds that where social, economic, and technocratic ties to the West were extensive, as in Eastern Europe and the Americas, the external cost of abuse led incumbents to cede power rather than crack down, which led to democratization. Where ties to the West were limited, external democratizing pressure was weaker and countries rarely democratized. In these cases, regime outcomes hinged on the character of state and ruling party organizations. Where incumbents possessed developed and cohesive coercive party structures, they could thwart opposition challenges, and competitive authoritarian regimes survived; where incumbents lacked such organizational tools, regimes were unstable but rarely democratized"--

▼c

Provided by publisher.
650

0

▼a

Authoritarianism

▼x

Case studies.
650

0

▼a

Democratization

▼x

Case studies.
650

0

▼a

Political development

▼v

Case studies.
650

0

▼a

Political stability

▼v

Case studies.
700

1

▼a

Way, Lucan,

▼d

1968-.
830

0

▼a

Problems of international politics.
945

▼a

KLPA
---
Holdings Information
No.
Location
Call Number
Accession No.
Availability
Due Date
Make a Reservation
Service

No.

1

Location

Main Library/Course Reserves(Main Library)/

Call Number

321.9 L666c

Accession No.

111602742

Availability

Course Reserve

Due Date

Make a Reservation

Service
Contents information
Author Introduction
스티븐 레비츠키
(지은이)
하버드대 교수이자 정치학자. 정당, 민주주의와 권위주의, 라틴아메리카의 정권 교체 등에 중점을 두고 연구해왔다. 쓴 책으로 《경쟁적 권위주의: 냉전 이후의 혼합 체제Competitvie Authoritarianism: Hybrid Regimes After the Cold War》가 있다. 2003년부터 하버드대 역사상 최대 규모의 비교정치학 기초 강의를 가르쳐왔고, 2004년에는 하버대드 우수 강의자에게 수여하는 로슬린 에이브럼슨 상을 수상하기도 했다. 현재 〈뉴욕 타임스〉, 〈더 애틀랜틱〉 등 각종 매체에 오늘날의 민주주의를 진단하는 글을 기고하고 있다.
Information Provided By: :

Table of Contents
Part I. Introduction and Theory: 1. Introduction; 2. Explaining competitive authoritarian regime trajectories: international linkage and the organizational power of incumbents; Part II. High Linkage and Democratization: Eastern Europe and the Americas: 3. Linkage, leverage, and democratization in Eastern Europe; 4. Linkage, leverage, and democratization in Latin America and the Caribbean; Part III. The Dynamics of Competitive Authoritarianism in Low Linkage Regions: The Former Soviet Union, Africa, and Asia: 5. The evolution of post-Soviet competitive authoritarianism; 6. Africa: transitions without democratization; 7. Diverging outcomes in Asia; 8. Conclusion; Appendix. Measuring competitive authoritarianism and authoritarian stability.
Information Provided By: :