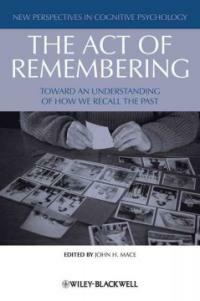 000
00969camuu2200277 a 4500
001
000045620287
005
20101203150257
008
101202s2010 maua b 001 0 eng d
010

▼a

2010016199
020

▼a

9781405189040 (hardcover : alk. paper)
020

▼a

9781405189033 (pbk. : alk. paper)
040

▼a

DLC

▼c

DLC

▼d

211009
050

0

0

▼a

BF378.A87

▼b

A25 2010
082

0

0

▼a

153.1/23

▼2

22
084

▼a

153.123

▼2

DDCK
090

▼a

153.123

▼b

A188
245

0

4

▼a

The act of remembering :

▼b

toward an understanding of how we recall the past /

▼c

edited by John H. Mace.
260

▼a

Malden, MA :

▼b

Wiley-Blackwell,

▼c

2010.
300

▼a

ix, 406 p. :

▼b

ill. ;

▼c

24 cm.
490

1

▼a

New perspectives in cognitive psychology
504

▼a

Includes bibliographical references and index.
650

0

▼a

Autobiographical memory.
700

1

▼a

Mace, John H.
830

0

▼a

New perspectives in cognitive psychology.
945

▼a

KLPA
---
Holdings Information
No.
Location
Call Number
Accession No.
Availability
Due Date
Make a Reservation
Service

No.

1

Location

Science & Engineering Library/Sci-Info(Stacks2)/

Call Number

153.123 A188

Accession No.

121200244

Availability

Available

Due Date

Make a Reservation

Service
Contents information
Table of Contents
Preface.  

Contributors.

 

Part I: Introduction.

 

1. The act of remembering the past: An overview (John H. Mace, Eastern Illinois University).

 

2. From diaries to brain scans: Methodological developments in the investigation of autobiographical memory (Christopher Ball, College of William & Mary).

 

Part II: Theories and Reviews of Involuntary and Voluntary Remembering.

 

3. Involuntary remembering and voluntary remembering: How different are they? (John H. Mace, Eastern Illinois University).

 

4. Accessing autobiographical memories (Martin Conway, University of Leeds, and Catherine Loveday, University of Westminster).

 

5. Involuntary and voluntary memory sequencing phenomena: An interesting puzzle for the study of autobiographical memory organization and retrieval (Jennifer Talarico, Lafayette College, and John H. Mace, Eastern Illinois University).

 

6. Spontaneous retrieval is the norm: What integrative models tell us about human consciousness and memory (Stan Franklin, University of Memphis, and Bernard J. Baars, The Neurosciences Institute).

 

7. Priming, automatic recollection, and control of retrieval: Toward an integrative retrieval architecture (Alan Richardson-Klavehn, Otto von Guericke University).

 

Part III: Broader Issues in the Science of Remembering.

 

8. Understanding autobiographical remembering from a spreading activation perspective (John H. Mace, Eastern Illinois University)

 

9. Retrieval Inhibition in Autobiographical Memory (Bernhard Pastötter and Karl-Heinz Bäuml).

 

10. The role of visual perspective in autobiographical memory retrieval (Heather J. Rice, Washington University in St. Louis).

 

11. The emergence of recollection: How we learn to recall ourselves in the past (Robyn Fivush and Patricia J. Bauer, Emory University).

 

12. You get what you need: The psychosocial functions of remembering (Susan Bluck, University of Florida, Nicole Alea, University of the West Indies, and Burcu Demiray, University of Florida).

 

Part IV: Theories of Abnormal Remembering.

 

13. Exploring pathological recall in involuntary retrieval in Post-traumatic Stress Disorder from an information processing perspective: Intrusive images of trauma (Julie Krans, Radboud University, Marcella L. Woud, Radboud University, Gérard Näring, Radboud University, Eni S. Becker, Radboud University, and Emily A. Holmes, Warneford Hospital).

 

14. Unwanted traumatic intrusions: The role of pre-trauma individual differences in executive control (Johan Verwoerd and Ineke Wessel, University of Groningen).

 

15. The content, nature and persistence of intrusive memories in depression (Alishia D. Williams and Michelle L. Moulds, University of New South Wales).
Information Provided By: :