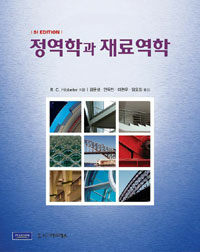 000
00000cam c2200205 c 4500
001
000045618888
005
20220929091607
007
ta
008
090416s2009 ulka 001c kor
020

▼a

9788958325888

▼g

93550
035

▼a

(KERIS)BIB000011606348
040

▼a

241050

▼c

241050

▼d

244002

▼d

211009
082

0

0

▼a

620.1/1

▼2

22
085

▼a

620.11

▼2

DDCK
090

▼a

620.11

▼b

2009z13
100

1

▼a

Hibbeler, R. C.

▼0

AUTH(211009)86745
245

1

0

▼a

정역학과 재료역학 /

▼d

R. C. Hibbeler 지음 ;

▼e

김문생 [외]옮김
246

1

9

▼a

Statics and mechanics of materials.

▼g

(2nd ed)
260

▼a

서울 :

▼b

시그마프레스,

▼c

2009
300

▼a

xii, 777 p. :

▼b

삽도 ;

▼c

26 cm
500

▼a

공역자: 김문생, 안득만, 이현우, 임오강
500

▼a

부록: A, 수학적 표현. 외
500

▼a

찾아보기: p. [774]-777
650

0

▼a

Strength of materials
650

0

▼a

Statics
650

0

▼a

Structural analysis (Engineering)
700

1

▼a

김문생,

▼e

역
700

1

▼a

안득만,

▼e

역
700

1

▼a

이현우,

▼e

역
700

1

▼a

임오강,

▼e

역
---
Contents information
Book Introduction
정역학은 모든 공학의 기초과목으로서 재료역학을 배우기 위한 선수과목으로 꼭 필요한 과목이다. 이 책은 정역학의 기본지식을 토대로 재료역학의 이론과 응용을 효과적으로 이해시킴과 동시에 현장 문제를 풀 수 있는 능력을 배양시키는 데 초점을 두고 있다.
정역학은 모든 공학의 기초과목으로서 재료역학을 배우기 위한 선수과목으로 꼭 필요한 과목이다. 이 책은 정역학의 기본지식을 토대로 재료역학의 이론과 응용을 효과적으로 이해시킴과 동시에 현장 문제를 풀 수 있는 능력을 배양시키는 데 초점을 두고 있다.

정역학 | 정역학은 7개의 장에서 다루고 있다. 제1장에서는 역학의 소개와 단위의 검토, 제2장에서는 벡터의 표시법과 공력계의 특성을 소개하고, 제3장은 집중력계의 일반적인 논의와 그들을 단순화시키는 방법을 포함한다. 제4장에서는 강체 평형의 원리가 전개되고, 제5장에서 트라스, 프레임과 기계의 평형을 포함하는 구체적인 문제의 응용이 다루어지며, 제6장에서는 중심과 도심 그리고 관성모멘트에 관한 주제가 취급되고, 마지막으로 제7장에서는 부재 내의 내력에 관한 문제가 논의된다.

재료역학 | 재료역학은 10개의 장에서 다루고 있다. 제8장은 수직응력과 전단응력의 공식적인 정의와 축 하중을 받는 부재 내의 수직응력, 그리고 직접전단에 의한 평균 전단응력의 논의로 시작되고, 마지막으로 수직변형률과 전단변형률이 정의된다. 제9장에서는 재료의 기계적 성질에 관한 내용이 주어지고, 제10, 11, 12, 13장에서는 각각 축 하중, 비틀림, 굽힘과 횡 전단에 관한 내용을 다루며, 제14장은 앞장에서 다루었던 내용의 부분적 복습으로서 조합 하중으로 인한 응력 상태를 취급한다. 제15장에서는 응력과 변형률의 변환 개념을 다루고, 제16장은 보의 설계응용을 다룸으로써 요약과 이전 내용의 복습에 대한 수단을 제공한다. 또한 보의 처짐 계산을 위한 여러 가지 방법들이 제시되며, 부정정보인 경우에는 그 미지반력을 구하는 방법들이 제시된다. 마지막으로 제17장에서는 기둥의 좌굴에 관한 내용을 설명하고 있다.

Information Provided By: :

Author Introduction
R. C. Hibbeler
(지은이)
미국 일리노이주립대학교 어배나캠퍼스에서 토목공학(구조 전공) 학사 학위를 받았으며, 같은 대학교에서 핵공학 석사 학위를 받았다. 박사 학위는 노스웨스턴대학교에서 이론 및 응용역학 전공으로 취득하였다. 아르곤 국립연구소에서 박사후 과정으로, 핵반응로의 안전 해석을 연구하였다. 그리고 시카고에 있는 Bridge and Iron 사와 Sargent and Lundy 사에서 구조 및 응력해석 일을 했으며, 이후 오하이오, 뉴욕, 루이지애나에서 엔지니어로 실무적인 일을 수행하였다. 일리노이주립대학교 어배나캠퍼스, 영스톤주립대학교, 일리노이공대, 유니언칼리지에서 강의를 하였고, 2015년 현재 루이지애나대학교 라피엣캠퍼스 토목공학과와 기계공학과에서 학생들을 가르치고 있다.
김문생
(옮긴이)
미국 University of Alabama 기계공학 박사 현재 부산대학교 기계공학부 명예교수
이현우
(옮긴이)
아이오와대학교 대학원 공학박사. 현재 부산대학교 기계공학부 교수
임오강
(옮긴이)
아이오와대학교 대학원 공학박사. 현재 부산대학교 기계공학부 교수
안득만
(옮긴이)
렌셀러폴리테크닉대학교(RPI) 대학원 공학박사. 현재 부산대학교 기계공학부 교수
Information Provided By: :

Table of Contents

목차
제1부 정역학 
 제1장 일반원리
  1.1 역학 = 4
  1.2 기본 개념 = 4
  1.3 측정단위 = 6
  1.4 국제단위계 = 8
  1.5 수치 계산 = 10
  1.6 해석을 위한 일반과정 = 14
 제2장 힘 벡터
  2.1 스칼라와 벡터 = 18
  2.2 벡터 연산 = 18
  2.3 힘의 벡터합 = 20
  2.4 공면 역계의 합 = 26
  2.5 직교벡터 = 33
  2.6 직교벡터의 합과 차 = 36
  2.7 위치벡터 = 41
  2.8 한 선을 따라 향하는 힘벡터 = 44
  2.9 내적 = 48
 제3장 힘계의 압력
  3.1 힘의 모멘트 - 스칼라 공식화 = 74
  3.2 크로스 곱(벡터 곱) = 78
  3.3 힘의 모멘트 - 벡터 공식화 = 80
  3.4 모멘트 원리 = 86
  3.5 지정된 축에 관한 힘의 모멘트 = 89
  3.6 우력 모멘트 = 96
  3.7 동등계 = 103
  3.8 힘계와 우력계의 합 = 105
  3.9 힘계와 우력계의 축소 = 108
 제4장 강체의 평형
  4.1 강체평형의 조건 = 138
  2차원에서의 평형 = 139
   4.2 자유물체도 = 139
   4.3 평형방정식 = 150
   4.4 2력과 3력부재 = 157
  3차원에서의 평형 = 160
   4.5 자유물체도 = 160
   4.6 평형방정식 = 166
   4.7 마찰 = 171
 제5장 구조해석
  5.1 단순 트러스 = 206
  5.2 절점법 = 208
  5.3 힘이 걸리지 않는 부재 = 214
  5.4 절단법 = 217
  5.5 프레임과 기계 = 222
 제6장 기하학적 성질과 분포하중
  6.1 질점계의 무게중심과 질량중심 = 254
  6.2 물체의 무게중심과 도심 = 255
  6.3 합성물체 = 263
  6.4 분포역계의 합력 = 266
  6.5 면적에 관한 관성모멘트 = 273
  6.6 평행축 정리 = 274
  6.7 적분에 의한 면적에 관한 관성모멘트 = 275
  6.8 합성면적에 관한 관성모멘트 = 279
 제7장 내부하중
  7.1 구조물 부재에서 발생되는 내부하중 = 302
  7.2 전단력과 모멘트 방정식, 전단력과 모멘트 선도 = 310
  7.3 분포하중, 전단력, 모멘트와의 관계 = 316
제2부 재료역학 
 제8장 응력과 변형률
  8.1 서론 = 342
  8.2 응력 = 342
  8.3 축 하중을 받는 봉의 평균 수직응력 = 344
  8.4 평균 전단응력 = 352
  8.5 허용응력 = 360
  8.6 단순결합체의 설계 = 361
  8.7 변형 = 370
  8.8 변형률 = 371
 제9장 재료의 기계적 성질
  9.1 인장 및 압축시험 = 398
  9.2 응력-변형률 선도 = 399
  9.3 연성재료와 취성재료의 응력-변형률 거 = 403
  9.4 후크의 법칙 = 407
  9.5 변형 에너지 = 409
  9.6 포아송비 = 416
  9.7 전단응력-변형률 선도 = 418
 제10장 축 하중
  10.1 상 브난의 원리 = 428
  10.2 축 하중을 받는 부재의 탄성변형 = 430
  10.3 중첩의 원리 = 438
  10.4 축 하중을 받는 부정정 부재 = 439
  10.5 열응력 = 445
 제11장 비틀림
  11.1 원형단면 축의 비틀림 변형 = 462
  11.2 비틀림 공식 = 464
  11.3 동력 전달 = 473
  11.4 비틀림 각 = 475
  11.5 토크를 받는 부정정 부재 = 486
 제12장 굽힘
  12.1 직선 부재의 굽힘 변형 = 504
  12.2 굽힘공식 = 508
  12.3 비대칭 굽힘 = 518
 제13장 횡 전단
  13.1 직선 부재의 전단 = 536
  13.2 전단공식 = 537
  13.3 보 속의 전단응력 = 539
  13.4 조립보에서의 전단류 = 551
 제14장 조합하중
  14.1 얇은 벽으로 된 압력용기 = 566
 제15장 응력과 변형률 변환
  15.1 평면응력 변환 = 590
  15.2 평면응력의 변환공식 = 594
  15.3 주응력과 평면 내 최대 전단응력 = 598
  15.4 모어의 원-평면응력 = 605
  15.5 절대 최대 전단응력 = 614
  15.6 평면변형률 = 621
  15.7 평면변형률의 변환공식 = 622
  15.8 모어의 원-평면변형률 = 630
  15.9 스트레인 로제트 = 635
  15.10 재료성질의 관계 = 638
 제16장 보의 설계
  16.1 보설계의 기준 = 668
  16.2 균일단면보의 응력변화 = 668
  16.3 균일단면보 설계 = 671
  16.4 탄성곡선 = 679
  16.5 적분을 이용한 기울기와 처짐 계산 = 683
  16.6 중첩법 = 696
  16.7 부정정보 = 701
  16.8 부정정보-중첩법 = 702
 제17장 기둥의 좌굴 
  17.1 임계하중 = 728
  17.2 핀지지로 된 이상기둥 = 730
  17.3 여러 형태의 지지로 된 기둥 = 737
  17.4 비탄성좌굴 = 741
부록A 수학적 표현 = 751
부록B 대표적인 공학재료의 평균 기계적 성질 = 753
부록C 면적과 부피의 기하학적 성질 = 755
부록D 광폭 프렌지 단면성질 = 757
선택된 문제의 해답 = 759
찾아보기 = 774