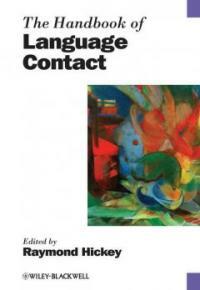 000
03822camuu2200313 a 4500
001
000045617702
005
20101118110030
008
101116s2010 enkab bf 001 0 eng d
010

▼a

2009050257
020

▼a

9781405175807 (hardcover : alk. paper)
020

▼a

140517580X (hardcover : alk. paper)
035

▼a

(OCoLC)ocn460062264
040

▼a

DLC

▼b

eng

▼c

DLC

▼d

YDX

▼d

YDXCP

▼d

BWX

▼d

CDX

▼d

DEBBG

▼d

OCL

▼d

HEBIS

▼d

OCL

▼d

DLC

▼d

211009
050

0

0

▼a

P130.5

▼b

.H36 2010
082

0

0

▼a

417/.7

▼2

22
084

▼a

417.7

▼2

DDCK
090

▼a

417.7

▼b

H2363
245

0

4

▼a

The handbook of language contact /

▼c

edited by Raymond Hickey.
260

▼a

Chichester, West Sussex ;

▼a

Malden, MA :

▼b

Wiley-Blackwell,

▼c

2010.
300

▼a

xvii, 863 p. :

▼b

ill., maps ;

▼c

26 cm.
490

1

▼a

Blackwell handbooks in linguistics
504

▼a

Includes bibliographical references and indexes.
505

0

▼a

Notes on contributors -- Language contact: reconsideration and reassessment / Raymond Hickey -- Part I. Contact and linguistics: 1. Contact explanations in linguistics / Sarah Thomason -- 2. Genetic classification and language contact / Michael Noonan -- 3. Contact, convergence, and typology / Yaron Matras -- 4. Contact and grammaticalization / Bernd Heine and Tania Kuteva -- 5. Language contact and grammatical theory / Karen P. Corrigan -- 6. Computational models and language contact / April McMahon -- Part II. Contact and change: 7. Contact and language shift / Raymond Hickey -- 8. Contact and borrowing / Donald Winford -- 9. Contact and code-switching / Penelope Gardner-Chloros -- 10. Contact and dialectology / David Britain -- 11. Contact and new varieties / Paul Kerswill -- 12. Contact and change: Pidgins and creoles / John Holm -- Part III. Contact and society: 13. Scenarios for language contact / Pieter Muysken -- 14. Ethnic identity and linguistic contact / Carmen Fought -- 15. Contact and sociolinguistic typology / Peter Trudgill -- 16. Contact and language death / Suzanne Romaine -- 17. Fieldwork in contact situations / Claire Bowern -- Part IV. Case studies of contact: 18. Macrofamilies, macroareas, and contact / Johanna Nichols -- 19. Contact and prehistory: The Indo-European Northwest / Theo Vennemann -- 20. Contact and the history of Germanic languages / Paul Roberge -- 21. Contact and the early history of English / Markku Filppula -- 22. Contact and the development of American English / Joseph C. Salmons and Thomas C. Purnell -- 23. Contact Englishes and creoles in the Caribbean / Edgar W. Schneider -- 24. Contact and Asian varieties of English / Umberto Ansaldo -- 25. Contact and African Englishes / Rajend Mesthrie -- 26. Contact and the Celtic languages / Joseph F. Eska -- 27. Spanish and Portuguese in contact / John M. Lipski -- 28. Contact and the development of the Slavic languages / Lenore A. Grenoble -- 29. Contact and the Finno-Ugric
505

▼a

languages / Johanna Laakso -- 30. Language contact in the Balkans / Brian D. Joseph -- 31. Contact and the development of Arabic / Kees Versteegh -- 32. Turkic language contacts / Lars Johanson -- 33. Contact and North American languages / Marianne Mithun -- 34. Language contact in Africa, a selected review / G. Tucker Childs -- 35. Contact and Siberian languages / Brigitte Pakendorf -- 36. Language contact in South Asia / Harold F. Schiffman -- 37. Language contact and Chinese / Stephen Matthews -- 38. Contact and indigenous languages in Australia / Patrick McConvell -- 39. Language contact in the New Guinea region / William A. Foley -- 40. Contact languages of the Pacific / Jeff Siegel.
650

0

▼a

Languages in contact

▼v

Handbooks, manuals, etc.
700

1

▼a

Hickey, Raymond,

▼d

1954-.
830

0

▼a

Blackwell handbooks in linguistics.
945

▼a

KLPA
---
Holdings Information
No.
Location
Call Number
Accession No.
Availability
Due Date
Make a Reservation
Service

No.

1

Location

Main Library/Western Books/

Call Number

417.7 H2363

Accession No.

111599907

Availability

In loan

Due Date

2024-02-01

Make a Reservation

Available for Reserve

Service
Contents information
Table of Contents
Notes on Contributors.  

Preface.

 

Language Contact: Reconsideration and Reassessment (Raymond Hickey).

 

Part I Contact and Linguistics.

 

1 Contact Explanations in Linguistics (Sarah Thomason).

 

2 Genetic Classification and Language Contact (Michael Noonan).

 

3 Contact, Convergence, and Typology (Yaron Matras).

 

4 Contact and Grammaticalization (Bernd Heine and Tania Kuteva).

 

5 Language Contact and Grammatical Theory (Karen P. Corrigan).

 

6 Computational Models and Language Contact (April McMahon).

 

Part II Contact and Change.

 

7 Contact and Language Shift (Raymond Hickey).

 

8 Contact and Borrowing (Donald Winford).

 

9 Contact and Code-Switching (Penelope Gardner-Chloros).

 

10 Contact and Dialectology (David Britain).

 

11 Contact and New Varieties (Paul Kerswill).

 

12 Contact and Change: Pidgins and Creoles (John Holm).

 

Part III Contact and Society.

 

13 Scenarios for Language Contact (Pieter Muysken).

 

14 Ethnic Identity and Linguistic Contact (Carmen Fought).

 

15 Contact and Sociolinguistic Typology (Peter Trudgill).

 

16 Contact and Language Death (Suzanne Romaine).

 

17 Fieldwork in Contact Situations (Claire Bowern).

 

Part IV Case Studies of Contact.

 

18 Macrofamilies, Macroareas, and Contact (Johanna Nichols).

 

19 Contact and Prehistory: The Indo-European Northwest (Theo Vennemann).

 

20 Contact and the History of Germanic Languages (Paul Roberge).

 

21 Contact and the Early History of English (Markku Filppula).

 

22 Contact and the Development of American English (Joseph C. Salmons and Thomas C. Purnell).

 

23 Contact Englishes and Creoles in the Caribbean (Edgar W. Schneider).

 

24 Contact and Asian Varieties of English (Umberto Ansaldo).

 

25 Contact and African Englishes (Rajend Mesthrie).

 

26 Contact and the Celtic Languages (Joseph F. Eska).

 

27 Spanish and Portuguese in Contact (John M. Lipski).

 

28 Contact and the Development of the Slavic Languages (Lenore A. Grenoble).

 

29 Contact and the Finno-Ugric Languages (Johanna Laakso).

 

30 Language Contact in the Balkans (Brian D. Joseph).

 

31 Contact and the Development of Arabic (Kees Versteegh).

 

32 Turkic Language Contacts (Lars Johanson).

 

33 Contact and North American Languages (Marianne Mithun).

 

34 Language Contact in Africa: A Selected Review (G. Tucker Childs).

 

35 Contact and Siberian Languages (Brigitte Pakendorf).

 

36 Language Contact in South Asia (Harold F. Schiffman).

 

37 Language Contact and Chinese (Stephen Matthews).

 

38 Contact and Indigenous Languages in Australia (Patrick McConvell).

 

39 Language Contact in the New Guinea Region (William A. Foley).

 

40 Contact Languages of the Pacific (Jeff Siegel).

 

Author Index.

 

Subject Index.
Information Provided By: :