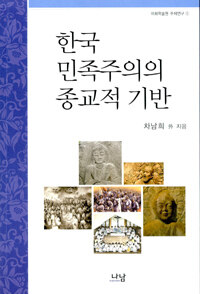 000
00968camcc2200325 c 4500
001
000045607608
005
20100831100103
007
ta
008
100830s2010 ggk b 001c kor
020

▼a

9788930084918

▼g

94300
020

1

▼a

9788930080019(세트)
035

▼a

(KERIS)BIB000012089737
040

▼a

241018

▼c

241018

▼d

211009
082

0

4

▼a

320.5409519

▼2

22
085

▼a

320.540953

▼2

DDCK
090

▼a

320.540953

▼b

2010z2
245

0

0

▼a

한국 민족주의의 종교적 기반 /

▼d

차남희 外
246

1

1

▼a

(The) religious bases of Korean nationalism
260

▼a

파주 :

▼b

나남,

▼c

2010
300

▼a

294 p. ;

▼c

23 cm
440

0

0

▼a

이화학술원 주제연구 ;

▼v

1
500

▼a

저자: 김석근, 유승무, 차성환
504

▼a

참고문헌과 색인수록
700

1

▼a

차남희

▼g

車南姬,

▼e

저

▼0

AUTH(211009)3435
700

1

▼a

김석근

▼g

金錫根,

▼e

저

▼0

AUTH(211009)136328
700

1

▼a

유승무

▼g

柳承武,

▼e

저

▼0

AUTH(211009)116167
700

1

▼a

차성환

▼g

車成桓,

▼e

저
900

1

0

▼a

Cha, Nam Hee,

▼e

저
945

▼a

KLPA
---
Holdings Information
No.
Location
Call Number
Accession No.
Availability
Due Date
Make a Reservation
Service

No.

1

Location

Main Library/Monographs(3F)/

Call Number

320.540953 2010z2

Accession No.

111590985

Availability

Available

Due Date

Make a Reservation

Service

No.

2

Location

Main Library/Monographs(3F)/

Call Number

320.540953 2010z2

Accession No.

111590986

Availability

Available

Due Date

Make a Reservation

Service
Contents information
Book Introduction
국민국가의 형성과정에서 국민통합과 국민동원의 이데올로기로 작용했던 민족주의는 제국주의로, 전체주의로, 그리고 해방의 이데올로기로 전 세계를 격동시켰다. 국민국가라는 근대국가 형태가 소멸하거나 대체되지 않는 한, 민족주의에 대한 관심 역시 쉽게 사라지지 않을 것이다. 특히 남·북한이 분단된 상태로 65년을 지내온 한국사회에서 미래 통합을 위한 이데올로기로서 민족주의가 갖는 의미는 당분간 퇴색하지 않을 것이다.

이 책은 4명의 저자가 조선사회의 지배이념이었던 유교와, 조선사회에서 민중불교로 정착한 미륵신앙, 그리고 새로운 공동체를 지향했던 한국가톨릭과 동학을 연구주제로 민족, 민족주의, 국민국가에 대해 다양한 관점과 각도에서 접근하여 설명하는 글들을 만나는 지적 즐거움을 주고 있다.
이화여자대학교 이화학술원에서는 한국 민족주의의 형성과정을 본격적으로 연구하기 위한 기초작업으로서 '한국 민족주의의 종교적 기반'에 대한 연구를 기획하였다. 민족주의에 대한 기초작업으로서 종교를 선택한 이유는, 근대 이전의 이른바 전통사회에서 사회구성원의 민족적 자각과 인식의 계기는 기존의 것과는 전혀 다른 세계관과의 조우나 새로운 종교관의 등장에서 비롯된다고 보았기 때문이다. 전통사회의 구성원들이 신분의 차별과 남녀의 구별, 지역적 한계라는 사회문화적 장벽을 넘어 하나로 통합될 수 있는 계기는 가치관 혹은 세계관의 혁명적 전환이 없이는 불가능하고, 이러한 집단적 인식의 전환계기는 종교의 개종과 같은 현상이라고 볼 수 있기 때문이다. 즉, 근대(국민)국가의 성립은 개인의 정체성과 충성심, 생활태도의 변화를 수반한다는 의미에서 민족주의 역시 일종의 종교적 개심의 문제라고 할 수 있을 것이다. 따라서 조선사회에서 서구세력과 만나거나 충돌하는 과정에서 기존의 가치관이나 세계관이 어떠한 변용을 겪거나 무너졌는지, 혹은 새로운 세계관이 등장하여 조선사회 구성원들을 새롭게 결집시킬 수 있는 가능성이 존재했는지를 4명의 저자가 조선사회의 지배이념이었던 유교와, 조선사회에서 민중불교로 정착한 미륵신앙, 그리고 새로운 공동체를 지향했던 한국가톨릭과 동학을 연구주제로 다양한 각도에서 논의를 전개하고 있다.

Information Provided By: :

Author Introduction
김석근
(지은이)
연세대 정외과를 거쳐 한국학중앙연구원 한국학대학원에서 박사 학위를 받았으며, 도쿄대학 대학원에서 연구했다. 연세대 정외과 연구교수, 아산서원 교수 및 부원장 등을 지냈다. 『주자학과 양명학』 『제자백가』 『주자의 자연학』 『불교와 양명학』 『일본사상사』, 그리고 마루야마 마사오의 주요 저작들을 우리말로 옮겼다.
차남희
(지은이)
이화여대 정치외교학과 교수. 이화여대 정치외교학과를 졸업하고, 파리I대학에서 박사학위를 받았다. 주요 저서 및 논문으로는《저항과 순응의 역사정치학: 미군정기 농업정책과 농민》, "노동의 신성화와 동학의 근대성: 최시형을 중심으로", "최제우의 후천개벽사상: '정역'의 금화교역을 중심으로", "최제우의 하늘님과 귀신", "일본의 시민종교와 신도: 메이지 초기의 국가신도를 중심으로" 등이 있다.
차성환
(지은이)
한일장신대 사회복지학부 교수. 연세대 대학원 사회학과 문학석사, 독일 튀빙겐대학 사회관계대학에서 사회학을 전공하여 사회과학 박사학위를 받았다. 주요 저서로는《막스베버의 사회과학방법론》(편역),《한국종교사상의 사회학적 이해》,《막스베버와 근대의 의미세계》,《글로벌시대 한국의 시민종교》,《글로벌시대 정약용 세계관의 가능성과 한계》,《독일 국가복지에서 민간복지단체의 역할과 의미》(공저). 해외발표 주요 논문으로는 "?代中國的儒敎:?代新儒學??及其文化意?", "Korean Civil Religion and Modernity", "Myth and Reality in the Discourse of Confucian Capitalism in Korea", "Modern Chinese Confucianism: The Contemporary Neo-Confucian Movement and Its Cultural Significance" 외 국내논문 다수가 있다.
유승무
(지은이)
한양대학교 사회학과를 졸업하고 한국학중앙연구원(구 한국정신문화연구원)에서 석사학위를, 한양대학교 대학원 사회학과에서 박사학위를 취득하였다. 중앙승가대학교 불교사회학부 교수로 재직하고 있으며, 한국사회체계이론학회(루만학회) 이사, 동양사회사상학회 부회장, 법무부 난민위원회 자문위원 등으로 활동하고 있다. 연구 관심은 사회이론, 사회사상 및 동양사회사상, 마음사회학, 불교사회학 등이며, 최근에는 루만과 불교의 비교연구에 집중하고 있다. 연구 업적으로는 『불교사회학』, 『사회학적 관심의 동양사상적 지평』(공저), 『오늘의 사회이론가들』(공저), 『현대사회와 베버 패러다임』(공저), 『내가 만난 루만』(공저)을 비롯하여 다수의 공저를 펴냈고, 약 90여 편의 논문을 여러 학술지에 게재하였다.
Information Provided By: :

Table of Contents
목차
책을 펴내며 = 5
제1장 이벽과 한국적 가톨릭의 등장 / 차성환 = 13
 1. 들어가는 말 = 13
 2. 이벽, 시대적 과제와 서학 수용의 방식 = 18
 3. 이벽의 종교사상과 새로운 세상을 위한 종교공동체 운동 = 41
 4.《성교요지》와〈천주공경가〉에 나타난 이벽사상의 특징 = 53
 5. 이벽의 종교사상의 민족주의적 함의 = 72
제2장 민족종교, 도덕공동체, 동학 / 차남희 = 81
 1. 전통문화의 동질성과 근대문화의 동질성 = 81
 2. 근대적 문화의 형성기반 = 87
 3. 민족종교의 창도와 동학의 자기 인식 = 101
 4. 동학공동체의 형성과 민족도덕의 탄생 = 119
 5. 동학을 통해서 본 한국사회의 '근대성' = 141
제3장 어양(禦洋)과 경장(更張) 그리고 네이션(Nation) / 김석근 = 149
 1. 머리말: 네이션과 내셔널리즘(Nationalism) = 149
 2. 척사론자, 중암(重庵) 김평묵(金平默) = 154
 3. 어양론(禦洋論): 저항과 생존 = 161
 4. 경장론(更張論): 내수(內修)와 자강(自强) = 173
 5. '개항'과 전환: 대내적 통합과 네이션 = 187
 6. 맺음말: 정리와 과제 = 213
제4장 한국 민족주의의 심층문화자원 / 유승무 = 223
 1. 머리말 = 223
 2. 개념적-이론적 논의 = 227
 3. 한국 미륵신앙의 이해 = 239
 4. 수호의 미륵과 한국의 '보편민족주의' = 254
 5. 정화의 미륵과 한국의 '특수민족주의' = 261
 6. 19세기 이후 미륵신앙을 활용한 민족운동 = 271
 7. 맺음말 = 280
찾아보기 = 287
필자소개 = 293