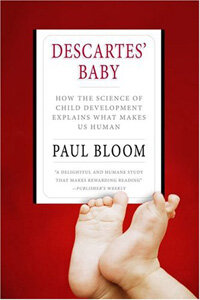 000
01036camuu2200253 a 4500
001
000045586859
005
20100426114219
008
100416s2004 nyua b 001 0 eng d
010

▼a

2003022387
020

▼a

0465007864 (pbk.)
040

▼a

DLC

▼c

DLC

▼d

DLC

▼d

211009
050

0

0

▼a

BF311

▼b

.B555 2004
082

0

0

▼a

153

▼2

22
090

▼a

153

▼b

B655d
100

1

▼a

Bloom, Paul ,

▼d

1963-.
245

1

0

▼a

Descartes' baby :

▼b

how the science of child development explains what makes us human /

▼c

Paul Bloom.
260

▼a

New York :

▼b

Basic Books ,

▼c

c2004.
300

▼a

xv, 271 p. :

▼b

ill. ;

▼c

21cm.
504

▼a

Includes bibliographical references (p. 241-262) and index.
505

0

▼a

Foundations -- Mindreaders -- The material realm -- Artifacts -- Anxious objects -- The social realm -- Good and evil -- The moral circle -- The body and soul emotion -- The spiritual realm -- Therefore I am -- Gods, souls, and science.
650

0

▼a

Child psychology.
650

0

▼a

Cognition.
945

▼a

KLPA
---
Holdings Information
No.
Location
Call Number
Accession No.
Availability
Due Date
Make a Reservation
Service

No.

1

Location

Main Library/Western Books/

Call Number

153 B655d

Accession No.

111565773

Availability

Available

Due Date

Make a Reservation

Service
Contents information
Book Introduction
All humans see the world in two fundamentally different ways: even babies have a rich understanding of both the physical and social worlds. They expect objects to obey principles of physics, and they're startled when things disappear or defy gravity. Yet they can also read emotions and respond with anger, sympathy, and joy.
In Descartes' Baby, Bloom draws on a wealth of scientific discoveries to show how these two ways of knowing give rise to such uniquely human traits as humor, disgust, religion, art, and morality. How our dualist perspective, developed throughout our lives, profoundly influences our thoughts, feelings, and actions is the subject of this richly rewarding book.


Information Provided By: :

Author Introduction
폴 블룸
(지은이)
예일대학교 심리학과 교수로 발달심리학과 언어심리학 분야의 세계적인 권위자다. 언어, 예술, 종교, 윤리 등 다양한 분야를 탐구해 인간의 심리를 파헤치는 창의적인 시각으로 학계에 큰 영향력을 미치고 있다. 2003년 철학과 심리학의 탁월한 학제 간 연구를 인정받아 스탠턴 상을 받았고, 2004년 예일대학교에서 뛰어난 교수에게 수여하는 렉스 힉슨 상을 받았다. 저서 『아이들은 단어를 어떻게 배우는가How Children Learn the Meanings of Words』는 미국출판협회가 수여하는 우수도서상과, '발달심리학 분야 최고의 책'에 수상하는 엘레노어 맥코비 상을 받은 바 있다. &lt사이언스&gt, &lt네이처&gt, &lt뉴욕 타임스&gt, &lt뉴요커&gt 등에 왕성한 기고 활동을 했으며, 저서로 『선악의 진화 심리학』, 『데카르트의 아기』, 『우리는 왜 빠져드는가?』, 『공감의 배신』, 『심리학 프리즘』(공저) 등이 있다.
Information Provided By: :