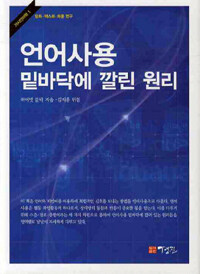 000
00879camcc2200301 c 4500
001
000045572617
005
20101122134543
007
ta
008
100126s2009 ulka b 001c kor
020

▼a

9788959960644

▼g

93700
035

▼a

(KERIS)BIB000011892387
040

▼a

241047

▼d

211009
041

1

▼a

kor

▼h

eng
082

0

4

▼a

400

▼2

22
085

▼a

400

▼2

DDCK
090

▼a

400

▼b

2009z3
100

1

▼a

Clark, Herbert H.

▼0

AUTH(211009)22523
245

1

0

▼a

언어사용 밑바닥에 깔린 원리 :

▼b

담화·텍스트·화용 연구 /

▼d

허어벗 클락 지음 ;

▼e

김지홍 뒤침
246

1

9

▼a

Using Language
260

▼a

서울 :

▼b

경진문화,

▼c

2009
300

▼a

681 p. :

▼b

삽화 ;

▼c

25 cm
440

0

0

▼a

거시언어학 ;

▼v

1
504

▼a

참고문헌(p. 634-660)과 색인수록
650

0

▼a

Language and languages
700

1

▼a

김지홍,

▼e

역

▼0

AUTH(211009)141898
900

1

0

▼a

클락, 허어벗,

▼e

저
945

▼a

KINS
---
Contents information
Book Introduction
이 책은 언어와 비언어를 이용하여 복합적인 신호를 보내는 방법을 언어사용으로 다룬다. 언어사용은 협동 작업활동의 하나로서, 상대방의 동참과 반응이 중요한 몫을 맡는다. 저자는 이를 다루기 위해 수준, 경로, 층렬이라는 세 가지 차원으로 언어사용 밑바닥에 깔려 있는 원리들을 영역별로 낱낱이 자세하게 이야기한다.

저자는 전작에서 언어사용이 사실상 협동행위의 형식이라는 논제를 확립했다. 협동행위는 서로 긴밀히 조율하며 행동하는 이들의 '합체'에 의해 수행된다. 따라서 언어사용은 화자와 청자의 단순한 총합 이상이다. '합체'로서 화자와 청자가 개인별 행위를 조율해 나가면서 수행할 때에 부각되어 나오는 것이 바로 협동행위다. 이 책에서는 언어사용이 개인별 과정과 사회적 과정을 모두 구현해 준다는 사실을 강조한다.
이 책은 언어와 비언어를 이용하여 복합적인 신호를 보내는 방법을 언어사용으로 다룬다. 언어사용은 협동 작업활동의 하나로서, 상대방의 동참과 반응이 중요한 몫을 맡는다. 이를 다루기 위해 수준?경로?층렬이라는 세 가지 차원으로 통하여 언어사용 밑바닥에 깔려 있는 원리들을 영역별로 낱낱이 자세하게 다루고 있다.
현재까지 이 주요한 자신의 저작물에서, 허어벗 클락 교수는 언어사용이 사실상 '협동행위의 형식'이라는 논제를 확립한다. 협동행위는 서로 긴밀히 조율하면서 행동하는 사람들의 '합체'(ensemble)에 의해 수행된다. 따라서 언어사용은 말하는 화자와 듣는 청자의 단순한 총합 이상이 되는 것이다.
'합체'로서 화자와 청자(그리고 필자와 독자)가 자신들의 개인별 행위를 조율해 나가면서 수행할 때에 새로 부각되어 나오는 것이 바로 협동행위(joint action)이다. 언어사용을 단지 개인적 처리과정으로만 여겨온 인지과학 및 사회과학 속에 있는 다른 업적들과는 대조적으로, 이 책에서는 강력히 언어사용이 개인별 과정과 사회적 과정을 모두 구현해 준다는 사실을 주장한다.
<언어사용 밑바닥에 깔린 원리>는 십 수년 넘게 꾸준히 발전시켜 온 저자의 업적을 담아놓은 정수이다. 이는 언어가 인간적ㆍ사회적 맥락 속에서 작동되는 방식에 관심을 지닌 사람과 연구자들에게 모두 필독서가 될 것이다.

Information Provided By: :

Author Introduction
허어벗 클락
(지은이)
스텐퍼드 대학교 심리학과 교수 저서로는 그 동안 언어사용과 관련하여 써 온 논문 12편을 모아 놓은 Arenas of language use(University of Chicago Press, 1992)를 비롯하여 Semantics and comprehension(Mouton de Gruyter, 1976), Using language(Cambridge University Press, 1996) 등이 있고, 공저로 Psychology and language: An introduction to psycholinguistics(Harcourt Brace Jovanovich, 1977) 등이 있다.
김지홍
(옮긴이)
제주대학교 국어교육과를 졸업하고, 현재 경상국립대학교 국어교육과에 재직중임. 그간 40여 권의 저역서 중에서 10종의 책(★)이 대한민국학술원 및 문화체육관광부의 우수학술도서로 선정됨. 한국연구재단의 서양편 명저번역 2종(☆)을 출간했고, 한문 번역서로서 국사편찬위원회에서 간행된 것 이외에 몇 권이 있음. '언어와 현대사상'에 관심을 갖고서 뤄쓸, 무어, 카아냅, 그롸이스, 타아스키, 콰인, 참스키, 췌이프 등의 업적을 중심으로 하여 번역하려고 하며, 북경대 표점본 ≪13경 주소≫를 통독하는 일도 현안임. [저서] ★김지홍(2010) ≪국어 통사・의미론의 몇 측면: 논항구조 접근≫(경진출판) ★김지홍(2010) ≪언어의 심층과 언어교육≫(경진출판) ★김지홍(2014) ≪제주 방언의 통사 기술과 설명: 기본구문의 기능범주 분석≫(경진출판) ★김지홍(2015) ≪언어 산출 과정에 대한 학제적 접근≫(경진출판) ★김지홍(2020) ≪제주 방언의 복합 구문: 접속문과 내포문 1~2≫(경진출판) [언어와 현대사상] ★무어(1953; 김지홍 뒤침, 2019) ≪철학에서 중요한 몇 가지 문제≫(경진출판) 참스키(2000) ≪언어 및 정신 연구에서 탐구할 만한 몇 가지 새로운 지평≫(번역중) [심리학(언어의 산출 및 이해), 그리고 담화 분석] ☆르펠트(1989; 김지홍 뒤침, 2008) ≪말하기 그 의도에서 조음까지 1~2≫(나남) ☆킨취(1998; 김지홍・문선모 뒤침, 2011) ≪이해: 인지 패러다임 1~2≫(나남) ★클락(2003; 김지홍 뒤침, 2009) ≪언어 사용 밑바닥에 깔린 원리≫(경진출판) ★머카씨(1998; 김지홍 뒤침, 2010) ≪입말, 그리고 담화 중심의 언어 교육≫(경진출판) ★페어클럽(2001; 김지홍 뒤침, 2011) ≪언어와 권력≫(경진출판) 페어클럽(2003; 김지홍 뒤침, 2012) ≪담화 분석 방법: 사회 조사연구를 위한 텍스트 분석≫(경진출판) 페어클럽(1980; 김지홍 뒤침, 2017) ≪담화와 사회 변화≫(경진출판) ★위도슨(2004; 김지홍 뒤침, 2018) ≪텍스트, 상황 맥락, 숨겨진 의도≫(경진출판) [언어교육 평가 및 현장조사 연구] 월리스(1998; 김지홍 뒤침, 2000) ≪언어 교육현장 조사 연구 방법≫(나라말) 루오마(2001; 김지홍 뒤침, 2011) ≪말하기 평가≫(글로벌콘텐츠) 벅(2001; 김지홍 뒤침, 2013) ≪듣기 평가≫(글로벌콘텐츠) 앤더슨・브롸운・쉴콕・율(1984; 김지홍・서종훈 뒤침, 2014) ≪모국어 말하기 교육≫(글로벌콘텐츠) 브롸운・율(1984; 김지홍・서종훈 뒤침, 2014) ≪영어 말하기 교육≫(글로벌콘텐츠) 올더슨(2001; 김지홍 뒤침, 2015) ≪읽기 평가 1~2≫(글로벌콘텐츠) [한문 번역] 유희(1824; 김지홍 뒤침, 2008) ≪언문지≫(지만지, 지식을만드는지식) 최부(1489; 김지홍 뒤침, 2009) ≪최부 표해록≫(지만지) 장한철(1771; 김지홍 뒤침, 2009) ≪표해록≫(지만지) 노상추(1746~1829; 김지홍 외 4인 뒤침, 2017) ≪국역 노상추 일기 1, 2, 3≫(국사편찬위원회)
Information Provided By: :

Table of Contents

목차
일러두기 = 4
저자 서문 = 5
예문들에 대하여 = 7
제1부 서론
 제1장 언어사용 = 16
  1-1. 언어사용 현장 = 17
  1-2. 언어사용 공간 = 27
  1-3. 언어행위 = 36
제2부 토대
 제2장 협동작업 활동 = 50
  2-1. 협동작업 활동 = 51
  2-2. 협동작업 활동에서의 진전 = 63
  2-3. 공통기반의 표상 = 71
  2-4. 협동작업 활동으로서의 담화 = 79
  2-5. 결론 = 92
 제3장 협동행위 = 93
  3-1. 개별행위와 협동행위 = 94
  3-2. 상호조율 = 97
  3-3. 참여 당사자의 상호조율 문제 = 106
  3-4. 관례 = 110
  3-5. 언어사용에서의 상호조율 = 113
  3-6. 상호조율 과정 = 131
  3-7. 언어 처리과정 = 137
  3-8 요약 = 143
 제4장 공통기반 = 145
  4-1. 공통기반이란 무엇인가? = 146
  4-2. 공공의 공통기반 = 161
  4-3. 공공의 공통기반에 대한 내용 = 168
  4-4. 개별적 공통기반 = 175
  4-5. 공통기반 수립하기 = 181
  4-6. 결론 = 187
제3부 의사소통 행위
 제5장 의미와 이해 = 190
  5-1. 의미 = 191
  5-2. 화용 행위 = 203
  5-3. 협동 = 214
  5-4. 결론 = 235
 제6장 신호 보내기 = 236
  6-1. 기호/신호 = 237
  6-2. 상징유형으로 서술해 주기 = 246
  6-3. 가리켜 주기 = 251
  6-4. 예시해 주기 = 264
  6-5. 신호 보내는 과정 = 280
  6-6. 결론 = 286
제4부 지속적 행위의 수준들
 제7장 협동과제 = 290
  7-1. 공식화하여 보여 줌 = 292
  7-2. 지엽적인 과제 = 298
  7-3. 최소 협동과제 = 306
  7-4. 확대된 협동과제 = 313
  7-5. 협동 의미파악 = 324
  7-6. 결론 = 337
 제8장 기반 다지기 = 338
  8-1. 행위상의 종결 = 340
  8-2. 기여 = 346
  8-3. 기여의 유형 = 355
  8-4. 부차적 확인 의사소통 = 372
  8-5. 결론 = 387
 제9장 발화 = 388
  9-1. 제시 = 389
  9-2. 발화가 끊기어 멈춤 = 396
  9-3. 제시 전략 = 409
  9-4. 실행하기 및 주목하기 = 424
  9-5. 점검하기 및 완결 짓기 = 437
  9-6. 결론 = 441
제5부 담화
 제10장 협동 전력이행 = 444
  10-1. 공평성과 체면 = 445
  10-2. 상거래 = 455
  10-3. 상황에 얼개를 부여해 놓기 = 472
  10-4. 응락하여 따르기 = 484
  10-5. 결론 = 491
 제11장 대화 = 493
  11-1. 발언기회 얻어내기 = 496
  11-2. 대화에서의 마디들 = 511
  11-3. 대화에 있는 짜임새 = 521
  11-4. 대화로 된 이야기 = 536
  11-5. 결론 = 545
 제12장 층렬 도입하기 = 547
  12-1. 행위 층렬 = 548
  12-2. 이야기 = 559
  12-3. 무대로 도입된 의사소통 행위 = 570
  12-4. 인사치레의 의사소통 행위 = 587
  12-5. 결론 = 597
제6부 결론
 제13장 결론 = 600
  13-1. 사회적 상호작용 행위 = 600
  13-2. 행위 노선 = 9602
  13-3. 언어란 무엇인가? = 606
언어심리학 여행 : 언어사용과 관련하여 / 고성룡 = 611
해제 = 615
마지막 교정을 끝마치면서 = 632
참고문헌 = 634
찾아보기 = 661