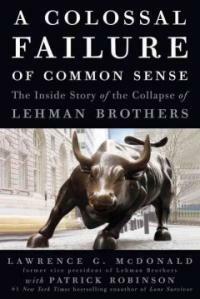 000
01075camuu22003134a 4500
001
000045555248
005
20091021142821
008
090715s2009 nyu 001 0 eng
010

▼a

2009442068
020

▼a

9780307588333
035

▼a

(KERIS)REF000015405997
040

▼a

DLC

▼c

DLC

▼d

211009
043

▼a

n-us---
050

0

0

▼a

HB3722

▼b

.M34 2009
082

0

0

▼a

332.6/20973

▼2

22
090

▼a

332.620973

▼b

M135c
100

1

▼a

McDonald, Lawrence G.
245

1

2

▼a

A colossal failure of common sense :

▼b

the inside story of the collapse of Lehman Brothers /

▼c

Lawrence G. McDonald with Patrick Robinson.
246

3

0

▼a

Inside story of the collapse of Lehman Brothers
250

▼a

1st ed.
260

▼a

New York :

▼b

Crown Business ,

▼c

c2009.
300

▼a

xi, 351 p. ;

▼c

25 cm.
500

▼a

Includes index.
610

2

0

▼a

Lehman Brothers (1993- )

▼x

History.
650

0

▼a

Global Financial Crisis, 2008-2009.
650

0

▼a

Financial crises

▼z

United States.
700

1

▼a

Robinson, Patrick ,

▼d

1939-
945

▼a

KINS
---
Holdings Information
No.
Location
Call Number
Accession No.
Availability
Due Date
Make a Reservation
Service

No.

1

Location

Main Library/Western Books/

Call Number

332.620973 M135c

Accession No.

111550650

Availability

Available

Due Date

Make a Reservation

Service
Contents information
Book Introduction
리먼 브라더스의 전직 부사장인 저자 로렌스 G. 맥도날드가 리먼 브라더스의 파산을 내부에서 지켜보며 리먼 파산의 과정과 원인을 생생하게 밝힌다. 이 책은 저자가 월스트리트 투자은행에서 전문 트레이더로 꿈을 이루어가는 드라마틱한 삶과 리먼 파산 과정을 현장에서 분노의 시선으로 증언하고 있는 이야기로 구성되어 있다.

저자는 리먼브라더스의 문화와 규칙, 그리고 조직원들의 회사 생활을 생생하게 보여주면서 세계 최고의 투자은행이 어떤 곳인지 알려준다. 이론이 아닌 투자은행에서 벌어지는 실제 사례를 통해 어려운 경제 용어 등을 손쉽게 설명하며, 미국의 투자은행들이 왜 모기지 채권을 엄청난 규모로 매입했으며, 모기지가 실제로 어떻게 이루어졌는지를 상세히 밝힌다.

나아가 파생상품은 투자은행의 입장에서 어떤 성격인지를 설명하며, 파생상품을 매개로 한 세계화의 추악한 실상을 증언한다. 저자는 리먼브라더스 파산의 핵심으로 회장 딕 풀드와 그 추종자들의 잘못된 리더십을 강력하게 비판한다. 2009년 7월 미국에서 출간 직후 뉴욕타임스와 월스트리트저널, 포츈, 비즈니스 위크를 비롯한 수많은 매스컴에서 조명을 받은 책이다.

A former vice president of Lehman Brothers explains the financial collapse of the securities giant in 2008, what led to the financial crisis, and who had been responsible for its downfall.
Information Provided By: :