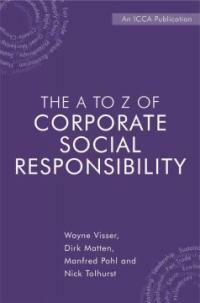 The A to Z of corporate social responsibility : a complete reference guide to concepts, codes and organisations
000
00992namuu2200265ma 4500
001
000045543855
005
20090821114315
008
090821s2007 enk 001 0 eng d
010

▼a

2007041621
020

▼a

9780470723951 (cloth : alk. paper)
020

▼a

0470723955 (cloth : alk. paper)
035

▼a

(KERIS)REF000013630610
040

▼a

LVB

▼b

fre

▼c

LVB

▼d

211009
050

0

0

▼a

HD60

▼b

.A22 2007
082

0

0

▼a

658.4/08

▼2

22
090

▼a

658.408

▼b

A881
245

0

4

▼a

The A to Z of corporate social responsibility :

▼b

a complete reference guide to concepts, codes and organisations /

▼c

edited by Wayne Visser ... [et al.].
260

▼a

Chichester, England ;

▼a

Hoboken, NJ :

▼b

John Wiley & Sons ,

▼c

c2007.
300

▼a

xxxvii, 535 p. ;

▼c

24 cm.
500

▼a

Includes index.
650

0

▼a

Social responsibility of business.
650

6

▼a

Entreprises

▼x

Responsabilite sociale

▼v

Encyclopedies.
700

1

▼a

Visser, Wayne.
945

▼a

KINS
---
Holdings Information
No.
Location
Call Number
Accession No.
Availability
Due Date
Make a Reservation
Service

No.

1

Location

Main Library/Education Reserves1/

Call Number

658.408 A881

Accession No.

111544271

Availability

Available

Due Date

Make a Reservation

Service
Contents information
Author Introduction
더크 매튼
(지은이)
휴렛팩커드사의 기업의 사회적 책임파트의 책임자이자, 토론토 요크 대학의 슐릭 경영대학원의 교수로 재직하고 있다. 그는 12권의 저서 및 150편 이상의 잡지, 논문을 집필해왔다. 그동안 상당수의 국제적인 상을 수상했는데, 가장 최근에는 2006년 11월, 독일 경제 연구소의 막스 베버 저술상(Max Weber Textbook Award)을 수상했다.
만프레드 폴
(지은이)
기업문화연구소(Institute of Corporate Culture Affairs, ICCA)의 창립자이자 CEO이다. 2001년 10월, 스트라스부르에 있는 유럽 의회에서 유럽 문화상(European Award for Culture)을 수상했다. 2002년 6월부터 2007년 5월 은퇴하기까지 문화 활동 및 자선 기부와 관계된 업무를 책임지고, 도이치 뱅크의 기업문화 부서의 책임자로 활동했다.
닉 톨허스트
(지은이)
2004년 4월부터 기업문화연구소의 총괄 책임자로 활동하고 있다. 기업문화연구소에서 활동하기 전에는 독일의 영국 외무부에서 일했다. 가장 최근에는 『기업문화연구소의 기업의 사회적 책임에 관한 핸드북(The ICCA Handbook on Corporate Social Responsibility)』을 비롯해 기업의 사회적 책임, 기업문화 및 경제학을 다룬 저작을 저술 및 편집했다.
웨인 비서
(지은이)
기업의 지속가능성과 책임을 연구하는 두뇌집단인 CSR INTERNATIONAL의 설립자이자 대표다. 현재 영국 케임브리지대 지속가능성 리더십 프로그램의 선임연구원이자 남아프리카 고든(Gordon) 비즈니스사이언스 연구소의 기업책임부문 객원교수로 활동 중이다. 저서로는 THE QUEST FOR SUSTAINABLE BUSINESS (2012), THE WORLD GUIDE TO CSR (2010), THE A TO Z OF CORPORATE SOCIAL RESPONSIBILITY (2010) 등이 있으며 150여종의 논문을 발표했다. 지난 20여 년간 전세계 65개국에서 200여 차례 강연을 펼치고 있다. 영국 노팀엄(NOTTINGHAM)대에서 기업의 사회적 책임을 주제로 박사학위를 받기 전까지는 회계법인 KPMG의 지속가능성 서비스부문 책임자와 컨설팅회사 CAP GEMINI의 전략담당 애널리스트로 활동했다. 현재 런던에 살고 있으며 문화예술과 자연, 글쓰기를 즐긴다.
Information Provided By: :