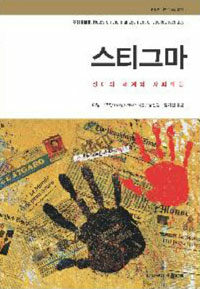 000
00000cam c2200205 c 4500
001
000045538793
005
20160525162350
007
ta
008
090318s2009 ggk b BZ 001c kor
020

▼a

9788978061049

▼g

93330
035

▼a

(KERIS)BIB000011606385
040

▼a

211032

▼d

211009

▼c

211009
041

1

▼a

kor

▼h

eng
082

0

4

▼a

155.2

▼2

22
085

▼a

155.2

▼2

DDCK
090

▼a

155.2

▼b

2009z2
100

1

▼a

Goffman, Erving.

▼0

AUTH(211009)84909
245

1

0

▼a

스티그마 =

▼x

낙인 :

▼b

장애의 세계와 사회적응 /

▼d

어빙 고프만 지음 ;

▼e

윤선길,

▼e

정기현 옮김
246

1

9

▼a

Stigma :

▼b

notes on the management of spoiled identity
260

▼a

오산 :

▼b

한신대학교 출판부,

▼c

2009

▼g

(2015 2쇄)
300

▼a

224 p. ;

▼c

23 cm
440

0

0

▼a

한신인문사회과학 =

▼x

HUP·인문사회과학 ;

▼v

26
500

▼a

장애의 사회심리학
504

▼a

참고문헌과 색인수록
536

▼a

이 역서는 한신대학교의 연구비를 지원받아 출판되었음
650

0

▼a

Stigma (Social psychology)
650

0

▼a

Identity (Psychology)
700

1

▼a

윤선길,

▼e

역

▼0

AUTH(211009)111337
700

1

▼a

정기현,

▼e

역

▼0

AUTH(211009)85150
900

1

0

▼a

고프만, 어빙,

▼e

저
945

▼a

KINS
---
Holdings Information
No.
Location
Call Number
Accession No.
Availability
Due Date
Make a Reservation
Service

No.

1

Location

Main Library/Monographs(3F)/

Call Number

155.2 2009z2

Accession No.

111541563

Availability

In loan

Due Date

2021-12-11

Make a Reservation

Service

No.

2

Location

Main Library/Monographs(3F)/

Call Number

155.2 2009z2

Accession No.

111756948

Availability

Available

Due Date

Make a Reservation

Service
Contents information
Book Introduction
이 책은 Erving Goffman의 "Stigma : Notes on the management of spoiled identity"를 번역한 것으로서, 장애의 사회심리학적 세계를 다룬 책이다. 저자는 이 책에서 장애라 불리는 낙인(stigma)의 의미와 기능, 장애인의 정체성 형성, 장애인과 정상인, 일탈 및 장애인의 사회적응에 관한 기초적인 개념과 접근방법을 제시하고 있다. 시각적 기호를 사용하는 데 탁월했던 그리스인들은 몸에 표시를 해서 어떤 사람이 도덕적으로 문제가 있거나 불량하다는 것을 알렸으며, 이를 칭하기 위해 낙인(烙印 stigma)이라는 용어를 만들어냈다. 그들은 사람의 몸에 특정 기호를 새기거나 지져 넣었는데, 그 기호는 노예, 범죄자, 또는 반역자와 같이 도덕적으로 오점이 있거나 의식(儀式)상 흠이 있기 때문에 기피해야 할 인물, 특히 공공장소에서 거부해야 할 인물임을 알리는 역할을 했다. 오늘날 이 용어는 오명(汚名)을 알리는 육체적 표시보다는 오명 자체를 의미하는 쪽으로 더 많이 사용되고 있다. 고프만은 이 책에서 장애의 세계를 사회심리학적 관점에서 분석하고 장애인이 사회에 적응하는 문제를 논의하였다. 그는 정상인이라고 하는 것과 낙인자라고 하는 것은 실제 사람의 문제가 아니라 관점의 문제라고 주장한다. 즉, 우리 모두는 사회적 상황에 따라 정상인과 낙인자의 두 가지 역할을 수행할 수밖에 없으며, 삶의 상황에 의해 정상인의 반대 위치에 놓이게 된 사람을 자연스럽게 낙인자라고 지칭하는 것이다. 따라서 특정의 낙인 속성이 장애인이라는 낙인을 만들어 내는 것이 아니라, 그 속성은 개인이 한 쪽의 역할을 수행하게 되는 빈도를 결정할 뿐이라고 한다. 우리 사회는 장애와 정상의 개념을 이러한 관점에서 접근해 나가야 하며, 특정한 특성을 바람직하지 않은 것으로 인식하는 것이나 그 특성이 낙인자와 정상인 사이에 대립과정을 유발시킬 수 있는 가능성은 변화의 역사를 갖게 된다고 고프만은 주장한다.
Information Provided By: :

Author Introduction
어빙 고프먼
(지은이)
1922년 캐나다에서 태어나 토론토 대학을 졸업하고 시카고 대학에서 「섬 지역 공동체에서 이루어지는 의사소통 행위」(1953)로 박사학위를 받았다. 국립정신건강연구소 연구원을 거쳐 UC버클리 대학에서 사회학 교수를, 펜실베이니아 대학에서 사회학·인류학 교수를 역임하고 1970년에는 '정신질환자의 비자발적 입원 철폐 협회'를 창설했다. 1982년 제73대 미국사회학회 회장으로 선출되었으나 그 직후 위암으로 사망했다. 구조를 강조하는 거시사회학이 주류를 이루는 가운데 고프먼은 자아와 미시적 상호작용에 주목한 일련의 책들을 발표하며 미국 사회학계의 중요한 인물로 떠올랐다. 특히 정신병원에서의 사회적 삶을 관찰한 결과물인 『수용소Asylums』(1961)는 큰 반향을 불러일으켰다. 계량적 연구나 이론적 연구에서 벗어난 그의 현장 연구 방식은 오늘날까지도 하나의 전범으로 이야기된다. 고프먼은 그 후로도 카지노, 거리, 스파이의 세계 등 다양한 직업 현장과 조직에서 벌어지는 상호작용을 연구했다. 흥미로운 연구 주제와 다양한 자료들을 활용하는 에세이적 글쓰기 스타일은 연구자들뿐만 아니라 일반 독자들까지 사로잡아 그의 저서들은 스테디셀러로 자리 잡았다. 주요 저서로 『자아 연출의 사회학The Presentation of Self in Everyday Life』(1959), 『스티그마Stigma』(1964), 『상호작용 의례Interaction Ritual』(1967), 『프레임 분석Frame Analysis』(1974), 『담화의 형태Forms of Talk』(1981) 등이 있다.
윤선길
(옮긴이)
한신대학교 미디어영상광고홍보학부 명예교수다. 고려대학교 심리학과를 졸업하고 동 대학원에서 소비자심리학으로 석사학위를 받았다. 미국에서 텍사스주립대학교에서 광고학으로 석사학위를 취득한 후 조지아대학교에서 광고홍보 전공으로 박사학위를 받았다. 1996년 한신대학교 광고홍보학과 교수로 부임, 2017년 퇴임 후 현재 명예교수로 있다. 한국광고홍보학회 제4대 회장을 역임했다. 연합광고에서 AE로, 리바이스코리아(Levi's Korea)에서는 광고·프로모션 매니저로, 서울광고기획(서울DMB&B)에서 마케팅국장을 지냈다. 『스티그마: 장애의 세계와 사회적응』(2018), 『휴리스틱과 설득』(2015), 『프로파간다 시대의 설득전략』(2005), 『광고를 움직이는 소비자 심리』(1998) 등을 쓰거나 동료들과 함께 번역했다.
Information Provided By: :

Table of Contents

목차
역자 서문 = 5
저자 서문 = 7
제1장 낙인과 사회적 정체성 = 13
 미리 알아야 할 개념들 = 14
 동류인(同類人)과 현자(賢者) = 39
 모럴 커리어: 자기 정체성에 대한 인식 = 56
제2장 정보통제와 개인적 정체성 = 71
 불명예자와 잠재불명예자 = 71
 사회적 정보 = 73
 가시성 = 80
 개인적 정체성 = 84
 생활 전기(傳記) = 99
 생활 전기에 등장하는 타인들 = 104
 신분위장 = 113
 정보통제의 기술 = 141
 은폐 = 156
제3장 집단제휴와 자아정체성 = 161
 양가감정 = 163
 전문가들의 견해 = 166
 내집단(內集團) 제휴 = 171
 외집단(外集團) 제휴 = 174
 정체성의 정치학 = 187
제4장 자아와 타인 = 191
 일탈과 규범 = 191
 정상적 일탈자 = 196
 낙인과 현실 = 203
제5장 일탈(逸脫) = 211
찾아보기 = 221