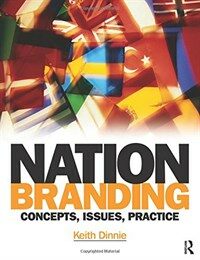 000
00831namuu2200253 a 4500
001
000045538681
005
20090723135822
008
090722s2008 enka 001 0 eng d
020

▼a

075068349X (pbk.)
020

▼a

9780750683494 (pbk.)
040

▼a

211009

▼c

211009

▼d

211009
050

1

4

▼a

HF1359

▼b

.D55 2008
082

0

4

▼a

658.827

▼2

22
090

▼a

658.827

▼b

D585n
100

1

▼a

Dinnie, Keith
245

1

0

▼a

Nation branding :

▼b

concepts, issues, practice /

▼c

Keith Dinnie.
260

▼a

Oxford ;

▼a

Burlington, MA :

▼b

Butterworth-Heinemann ,

▼c

2008.
300

▼a

xxiv, 264 p. :

▼b

ill. ;

▼c

25 cm.
504

▼a

Includes bibliographical references and index.
650

0

▼a

International economic relations.
650

0

▼a

Product management.
650

0

▼a

Globalization.
945

▼a

KINS
---
Holdings Information
No.
Location
Call Number
Accession No.
Availability
Due Date
Make a Reservation
Service

No.

1

Location

Main Library/Western Books/

Call Number

658.827 D585n

Accession No.

111541315

Availability

Available

Due Date

Make a Reservation

Service
Contents information
Author Introduction
키스 디니
(지은이)
도쿄 소재 일본 템플대(TUJ)에서 학생들을 가르치고 있는 키스 디니 박사는 에딘버러 대학 내 마케팅, 브랜딩과 관련된 다양한 분야의 석사와 우등과정에서 강의했다. 또한 아테네와 홍콩, 상하이 같은 세계 중심지에서뿐 아니라 영국에서도 마케팅 관리와 브랜드 관리, 전략에 대한 세미나를 꾸준히 개최하며 세계적 수준의 스트라스클라이드 MBA 과정을 가르쳐왔다. 또 전세계 여러 국가들에서, 연구와 상담을 실시함과 동시에, 하노버 대학과 독일의 코블렌즈 대학에서 방문 교수로 활동하고 있다. 그는 Journal of Customer Behaviour과 The Marketing Review, Journal of Brand Management, Journal of General Management, Corporate Communications: An International Review를 포함한 다양한 출판물에 글을 발표했다. Journal of Brand Management의 북 리뷰 에디터로서 지난 6년간 브랜딩에 관한 25권이 넘는 책들을 연구하기도 했다. 또 Journal of Brand Management의 세계적 브랜딩(2005)과 노르딕 브랜드(2008)에 관한 특별판 객원 편집자로 초빙되기도 했다. 그의 연구와 상담업무는, 세계 각국 주요 결정권자와 브랜드 컨설턴트들의 큰 관심 분야인 국가 브랜드라는 신생분야와 밀접하게 관련되어 있다. 이 분야의 연구와 더불어 시장 주도의 컨설턴트사인 랜더 어소시에이트와 버슨 마르스텔러를 대행하여, 비중 있는 프로젝트들을 수행하고 있다.
Information Provided By: :

Table of Contents
1. The relevance of nation branding

2. The recent evolution and prominence of nation branding

3. Adapting brand theory to the context of nation branding

4. Country-of-origin

5. National identity

6. Integrating country-of-origin and national identity

7. Ethical imperatives in nation branding

8. Pragmatic challenges to the nation branding concept

9. Current impact of nation branding

10. Future horizons for nation branding.
Information Provided By: :