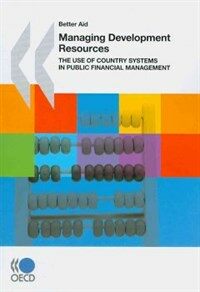 000
03264camuu2200313ia 4500
001
000045535434
005
20090707164100
008
090707s2009 fr a i000 0 eng d
020

▼a

9264056157
020

▼a

9789264056152
040

▼a

211009

▼d

211009
082

0

4

▼a

352.4

▼2

22
090

▼a

352.4

▼b

md
245

0

0

▼a

Managing Development Resources :

▼b

The Use of Country Systems in Public Financial Management.
260

▼a

Paris, France :

▼b

OECD ,

▼c

2009.
300

▼a

91 p. :

▼b

col. ill. ;

▼c

27 cm.
490

1

▼a

Better aid.
500

▼a

Also available in French under the title: Gerer les ressources pour le developpement : l'utilisation des syste?mes nationaux de gestion de finances publiques.
500

▼a

"Prepared..by the Joint Venture on Public Financial Management, chaired by Anthony Hegarty (World Bank) and Riccardo Maggi (European Commission), under the auspices of the Development Assistance Committee Working Party on Aid Effectiveness." -- Pref.
500

▼a

"Programme for International Student Assessment."
500

▼a

"This report was compiled by Susanne Salz and Diana Toledo Figueroa" -- P. 3.
505

0

0

▼a

Background, definitions and scope of the report -- Aid effectiveness and the use of country PFM systems : rationale and findings -- Strengthening country PFM systems -- Practices in the use of country PFM systems -- Measuring the performance of country PFM systems.
520

▼a

Successful development depends in large part on the efficiency, integrity and effectiveness with which the state raises, manages and expends public resources. Improving the rules and institutions governing these activities should be a major component, therefore, of any development approach. Given that strengthening Public Financial Management (PFM) is at the heart of the Millennium Development Goals, and good governance more generally, the Paris Declaration (2005) seeks to promote joint efforts in this area between donors and partner countries. This report takes stock of progress in strengthening public financial management systems and provides recommendations on how best to facilitate achieving the 2010 targets set out in the Paris Declaration. It sets out the benefits of and rationale for using country systems, assesses progress in meeting the Paris Declaration targets, reviews the landscape of PFM reforms in partner countries, looks at drivers of successful PFM reforms, examines the factors that influence decisions to use country PFM systems, focusing on the perceived risks and their assessment and management, and describes the PEFA (Public Expenditure and Financial Accountability) assessment, which provides information on the quality of a country's PFM system. This report shows that partner countries and donors must strive to build mutual trust and work together in a true partnership for results. -- Publisher's description.
650

0

▼a

Finance, Public

▼z

Developing countries

▼x

Data processing.
650

0

▼a

Management information systems

▼z

Developing countries.
650

0

▼a

Economic assistance

▼z

Developing countries

▼x

Evaluation.
710

2

▼a

Organisation for Economic Co-operation and Development.
830

0

▼a

Better aid.
---
Holdings Information
No.
Location
Call Number
Accession No.
Availability
Due Date
Make a Reservation
Service

No.

1

Location

Centennial Digital Library/OECD/

Call Number

352.4 md

Accession No.

181601842

Availability

Loan can not(reference room)

Due Date

Make a Reservation

Service