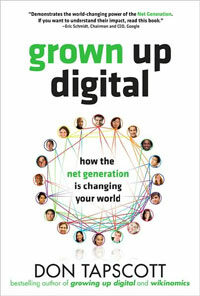 000
01836camuu22003137a 4500
001
000045511532
005
20090326091649
008
081216s2009 nyua b 001 0 eng d
010

▼a

2008301088
020

▼a

0071508635 (hdbk. : acid-free paper)
020

▼a

9780071508636 (hdbk. : acid-free paper)
035

▼a

(KERIS)REF000015223224
040

▼a

BTCTA

▼c

BTCTA

▼d

BAKER

▼d

YDXCP

▼d

BKL

▼d

OCO

▼d

VP@

▼d

ZJI

▼d

WIQ

▼d

ORX

▼d

UNA

▼d

BWX

▼d

IXA

▼d

AU@

▼d

DLC

▼d

211009
042

▼a

lccopycat
050

0

0

▼a

T14.5

▼b

.T355 2009
082

0

4

▼a

302.231

▼a

303.4834

▼2

22
090

▼a

302.231

▼b

T175g
100

1

▼a

Tapscott, Don ,

▼d

1947-.
245

1

0

▼a

Grown up digital :

▼b

how the net generation is changing your world /

▼c

Don Tapscott.
260

▼a

New York :

▼b

McGraw-Hill ,

▼c

c2009.
300

▼a

xvi, 368 p. :

▼b

ill. ;

▼c

24 cm.
504

▼a

Includes bibliographical references (p. [319]-359) and index.
505

0

0

▼g

Meet the net gen:

▼t

The net generation comes of age --

▼t

A generation bathed in bits --

▼t

The eight net gen norms: characteristics of a generation --

▼t

The net generation brain --

▼g

Transforming institutions:

▼t

The net generation as learners: rethinking education --

▼t

The net generation in the workforce: rethinking talent and management --

▼t

The net generation as consumers: N-fluence networks and the prosumer revolution --

▼t

The net generation and the family: no place like the new home --

▼g

Transforming society:

▼t

The net generation and democracy: Obama, social networks, and citizen engagement --

▼t

Making the world a better place, at ground level --

▼t

In defense of the future.
650

0

▼a

Technology and youth.
650

0

▼a

Generation Y.
650

0

▼a

Computers and civilization.
650

0

▼a

Computer networks.
945

▼a

KINS
---
Holdings Information
No.
Location
Call Number
Accession No.
Availability
Due Date
Make a Reservation
Service

No.

1

Location

Main Library/Western Books/

Call Number

302.231 T175g

Accession No.

111533336

Availability

Available

Due Date

Make a Reservation

Service
Contents information
Book Introduction
미래를 내다보는 탁월한 혜안으로 비즈니스 전략 분야의 최고 권위자로 꼽히는 돈 탭스콧이 '디지털 네이티브', 이른바 넷세대로 불리는 이들을 조명한다. 디지털과 함께 태어나고 성장한 '디지털 네이티브'들이 앞으로 어떻게 세상을 변화시켜 나갈지, 그들의 8가지 특징과 가치를 사회문화적, 인류학적, 경제적 측면에서 낱낱이 밝혀 설명한다.

현재 19~30세로 사회 각층에서 영향력을 행사하고 있는 이들은 향후 50년을 이끌어갈 새로운 세대로 떠오르고 있다. 하지만 저자는 이들에 대한 근본적인 분석이 부족하다는 점에 초점을 맞춰 기존 세대의 시선과 잣대로 이들을 평가한다면 미래 비즈니스 현장은 물론 문화, 사회, 정치, 시민운동, 환경, 가정 등 사회 전반에 걸쳐 심각한 부작용을 낳을 수 있음을 지적한다.

전세계 1만여 명이 넘는 넷세대를 심층 인터뷰하고 심도 있는 리서치를 통해 밝혀낸 흥미진진한 조사결과와 분석이 돋보이는 이 책은 미래의 핵심 세력이자 트렌드를 이끌어갈 그들의 영향력을 어떻게 활용하고 대비해야 하는지 알려준다. 그들이 변화시킬 세계를 이해하고 변화에 효과적으로 대처하고 활용하는 안목과 지식을 전달한다.

Offers a look at the Net Generation in the workforce, the way they process information and learn, the methods that inspire and influence them, and the tools they need to keep them engaged in a dynamic business environment.
Information Provided By: :

Author Introduction
Table of Contents
Part One: Meet the Net Gen

Ch. 1 The Net Generation Comes of Age

Ch. 2 A Generation Bathed in Bits

Ch. 3 The Eight Net Gen Norms: Characteristics of a Generation

Ch. 4 The Net Generation Brain

Part Two: Transforming Institutions

Ch. 5 The Net Generation as Learners: Rethinking Education

Ch. 6 The Net Generation in the Workforce: Rethinking Talent and Management

Ch. 7 The Net Generation as Consumers: N-Fluence Networkds and the Prosumer Revolution

Ch. 8 The Net Generation and the Family: No Place Like the New Home

Part Three: Transforming Society

Ch. 9 The Net Generation and Democracy: Obama, Social Networks, and Citizen Engagement

Ch. 10 Making the World a Better Place--at Ground Level

Ch. 11 In Defense of the Future

Appendix

Notes 

Bibliography

Index

Information Provided By: :