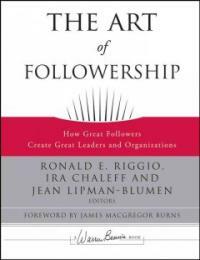 000
01276camuu2200349 a 4500
001
000045489836
005
20081203132448
008
070827s2008 caua b 001 0 eng
010

▼a

2007035505
015

▼a

GBA784206

▼2

bnb
020

▼a

9780787996659 (cloth)
020

▼a

0787996653 (cloth)
035

▼a

(KERIS)REF000013558416
040

▼a

DLC

▼c

DLC

▼d

BTCTA

▼d

BAKER

▼d

UKM

▼d

YDXCP

▼d

C#P

▼d

BWX

▼d

DLC

▼d

211009
050

0

0

▼a

HD57.7

▼b

.A78 2008
082

0

0

▼a

658.4/092

▼2

22
090

▼a

658.4092

▼b

A7842
245

0

4

▼a

The art of followership :

▼b

how great followers create great leaders and organizations /

▼c

editors, Ronald E. Riggio, Ira Chaleff, Jean Lipman-Blumen ; foreword by James MacGregor Burns.
250

▼a

1st ed.
260

▼a

San Francisco, CA :

▼b

Jossey-Bass ,

▼c

c2008.
300

▼a

xxvii, 386 p. :

▼b

ill. ;

▼c

25 cm.
440

0

▼a

Warren Bennis signature series
500

▼a

"A Warren Bennis book"--P. [ii].
504

▼a

Includes bibliographical references and index.
650

0

▼a

Leadership.
650

0

▼a

Organizational behavior.
653

▼a

Followership.
700

1

▼a

Riggio, Ronald E.
700

1

▼a

Chaleff, Ira.
700

1

▼a

Lipman-Blumen, Jean.
945

▼a

KINS
---
Holdings Information
No.
Location
Call Number
Accession No.
Availability
Due Date
Make a Reservation
Service

No.

1

Location

Main Library/Western Books/

Call Number

658.4092 A7842

Accession No.

111516886

Availability

Available

Due Date

Make a Reservation

Service
Contents information
Table of Contents
Foreword by James MacGregor Burns.  

Acknowledgments.

 

About the Contributors.

 

Introduction.

 

Warren Bennis.

 

PART ONE: DEFINING AND REDEFINING FOLLOWERSHIP.

 

1. Rethinking Followership (Robert E. Kelley).

 

2. Leadership: A Partnership in Reciprocal Following (James Maroosis).

 

3. Three Perspectives on Followership (Jon P. Howell and María J. Mández).

 

4. A New Leadership-Followership Paradigm (Ernest L. Stech).

 

5. Followership: An Outmoded Concept (Joseph Rost).

 

PART TWO: EFFECTIVE FOLLOWERSHIP.

 

6. Creating New Ways of Following (Ira Chaleff).

 

7. Rethinking Leadership and Followership: A Followerâ??s Perspective (Krista Kleiner).

 

8. The Hero's Journey to Effective Followership and Leadership: A Practitioner's Focus (Gail S. Williams).

 

9. Courageous Followers, Servant-Leaders, and Organizational Transformations (Linda Hopper).

 

10. Followership in a Professional Services Firm (Brent Uken).

 

11. Developing Great Leaders, One Follower at a Time (Rodger Adair).

 

12. Getting Together (Gene Dixon).

 

PART THREE: THE PITFALLS AND CHALLENGES OF FOLLOWERSHIP.

 

13. Following Toxic Leaders: In Search of Posthumous Praise (Jean Lipman-Blumen).

 

14. What Can Milgram's Obedience Experiments Contribute to Our Understanding of Followership (Thomas Blass)?

 

15. What Kind of Leader Do People Want to Follow (Michael Maccoby)?

 

16. Bystanders to Children's Bullying: The Importance of Leadership by "Innocent Bystanders" (Lorna S. Blumen).

 

17. Whistleblowing as Responsible Followership (C. Fred Alford).

 

PART FOUR: FOLLOWERS AND LEADERS: RESEARCH, PRACTICE, AND THE FUTURE.

 

18. Followersâ??Cognitive and Affective Structures and Leadership Processes (Robert G. Lord).

 

19. Social Identity Processes and the Empowerment of Followers (Michael A. Hogg).

 

20. Lead, Follow, and Get out of the Way: Involving Employees in the Visioning Process (Melissa K. Carsten and Michelle C. Bligh).

 

21. Effective Followership for Creativity and Innovation: A Range of Colors and Dimensions (Kimberly S. Jaussi, Andy Stefanovich, and Patricia G. Devlin).

 

22. Conformist, Resistant, and Disguised Selves: A Post-Structuralist Approach to Identity and Workplace Followership (David Collinson).

 

23. The Rise of Authentic Followership (Bruce J. Avolio and Rebecca J. Reichard).

 

Notes.

 

Index.
Information Provided By: :