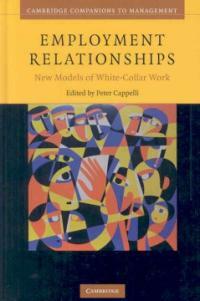 000
01815camuu2200361 a 4500
001
000045482122
005
20081031172545
008
080714s2008 enka b 001 0 eng
010

▼a

2008275035
015

▼a

GBA7A1703

▼2

bnb
020

▼a

9780521865371 (hbk.)
020

▼a

0521865379 (hbk.)
020

▼a

9780521684088 (pbk.)
020

▼a

0521684080 (pbk.)
035

▼a

(KERIS)REF000015025228
040

▼a

UKM

▼c

UKM

▼d

BTCTA

▼d

BAKER

▼d

YDXCP

▼d

BWKUK

▼d

BWX

▼d

EU0

▼d

COD

▼d

DLC

▼d

211009
042

▼a

ukblcatcopy

▼a

lccopycat
050

0

0

▼a

HD6971

▼b

.E557 2008
082

0

4

▼a

331

▼2

22
090

▼a

331

▼b

E555
245

0

0

▼a

Employment relationships :

▼b

new models of white-collar work /

▼c

edited by Peter Cappelli.
260

▼a

Cambridge :

▼b

Cambridge University Press ,

▼c

2008.
300

▼a

xii, 264 p. :

▼b

ill. ;

▼c

23 cm.
440

0

▼a

Cambridge companions to management
504

▼a

Includes bibliographical references and index.
505

0

0

▼t

Corporate restructuring and the employment relationship /

▼r

John C. Dencker --

▼t

The up and out in organizations /

▼r

Margaret Yap --

▼t

In the pursuit of quality and quantity : the competing demands in call centers /

▼r

Steffanie L. Wilk --

▼t

Three's a crowd? : understanding triadic employment relationships /

▼r

Matthew Bidwell and Isabel Fernandez-Mateo --

▼t

The changed world of large law firms and their lawyers : an opportune context for organization researchers /

▼r

Peter D. Sherer --

▼t

The upside of bureaucracy : unintended benefits for professional careers /

▼r

Forrest Briscoe.
650

0

▼a

Industrial relations.
650

0

▼a

White collar workers.
650

0

▼a

Labor market.
650

0

▼a

Organizational change.
700

1

▼a

Cappelli, Peter.
945

▼a

KINS
---
Holdings Information
No.
Location
Call Number
Accession No.
Availability
Due Date
Make a Reservation
Service

No.

1

Location

Main Library/Western Books/

Call Number

331 E555

Accession No.

111505858

Availability

Available

Due Date

Make a Reservation

Service
Contents information
Author Introduction
피터 카펠리
(엮은이)
와튼스쿨 교수이자 와튼 인적자원센터 소장이다. 코넬 대학교에서 노사 관계를 전공했으며, 옥스퍼드 대학교에서 노동경제학 박사학위를 받았다. 1990년대 중반에 미국 교육부의 전국직장교육증진센터(National Center on Educational Quality of the Workforce)의 공동책임자로 일했고, 2003년부터 2005년까지 바레인(Kingdom of Bahrain) 고용정책 관련 수석고문을 담당했으며, 2007년부터는 싱가포르 인력부(Ministry of Manpower for Singapore)를 위해 일하고 있다. 케임브리지와 매사추세츠의전국경제조사국(National Bureau of Economic Research) 연구원으로도 활동 중이다. 최근 미국의 고용 관계 변화와 그 시사점에 대해 연구하면서 「휴먼리소스이그제큐티브」에 매달 노동문제에 대한 칼럼을 연재하고 있으며, 「월스트리트저널」 「워싱턴포스트」 「블룸버그뉴스위크」를 비롯해 기타 뉴스 매체에도 기고하고 있다. 저서로는 『시대가 요구하는 인재상(Talent on Demand)』 『인도의 방식(The India Way)』 『직장에서의 새로운 계약 관계(The New Deal at Work)』 등이 있다. 피터 카펠리는 영국 인사관리 전문지인 「HR 매거진(HR Magazine)」이 뽑은 '2011년 가장 영향력 있는 인물 20인' 중 한 사람으로 선정됐으며 볼트닷컴(Vault.com)이 뽑은 '인적자원 분야에서 가장 중요한 25인'에 선정되기도 했다. 2006년에는 국립인적자원아카데미 협회 회원으로 선출됐고, 2009년에는 국제기업 및 전문인력협회가 인사관리 분야의 발전에 기여한 개인에게 주는 PRO상을 수상했다.
Information Provided By: :

Table of Contents
List of figures; List of tables; List of contributors; Foreword; 1. Introduction Peter Cappelli; 2. Corporate restructuring and the employment relationship John Dencker; 3. The up and out in organizations Margaret Yap; 4. In the pursuit of quality and quantity: the competing demands in call centers Stefanie L. Wilk; 5. Three's a crowd? Understanding triadic employment relationships Matthew Bidwell and Isabel Fernandez-Mateo; 6. The changed world of large law firms and their lawyers: an opportune context for organizational researchers Peter D. Sherer; 7. The upside of bureaucracy: unintended benefits for careers in professional services Forrest Briscoe; Index.
Information Provided By: :