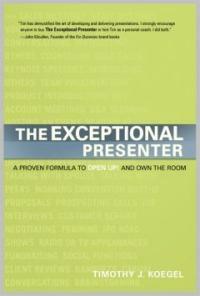 000
00768camuu22002414a 4500
001
000045472056
005
20080919172655
008
070116s2007 txua 000 0 eng d
010

▼a

2007920959
020

▼a

9781929774449
020

▼a

1929774443
035

▼a

(KERIS)REF000013169790
040

▼a

DLC

▼c

DLC

▼d

DLC

▼d

211009
050

0

0

▼a

HF5718.22

▼b

.K64 2007
082

0

0

▼a

658.4/52

▼2

22
090

▼a

658.452

▼b

K77e
100

1

▼a

Koegel, Timothy J.
245

1

4

▼a

The exceptional presenter :

▼b

a proven formula to open up! and own the room /

▼c

Timothy J. Koegel.
260

▼a

Austin, TX :

▼b

Greenleaf Book Group Press ,

▼c

c2007.
300

▼a

188 p. :

▼b

ill. ;

▼c

23 cm.
650

0

▼a

Business presentations.
945

▼a

KINS
---
Holdings Information
No.
Location
Call Number
Accession No.
Availability
Due Date
Make a Reservation
Service

No.

1

Location

Main Library/Education Reserves6/

Call Number

658.452 K77e

Accession No.

111494467

Availability

Available

Due Date

Make a Reservation

Service
Contents information
Book Introduction
누구라도 '엑설런트 프리젠터'가 될 수 있는 프레젠테이션 스킬의 모든 것을 알려준다. 누구 앞에서든, 어떤 자리에서든 상관없이 자신의 주장이나 제안을 자신 있게 전달하고, 청중의 관심을 끄는 발표 스킬과 전략을 알려준다. 프레젠테이션 스킬 중에서도 발표 스킬에 초점을 맞춘 책이다.

저자는 보디랭귀지나 자세, 제스처, 목소리 등은 엑설런트 프리젠터의 무대를 빛나게 해줄 무기라고 말한다. 이 같은 발표 스킬을 완벽하게 자기 것으로 습관화하면 상당히 부담스럽고 아주 불리한 상황에서도 엑설런트 프리젠터다운 면모를 여실히 보여줄 수 있고, 이것은 크나큰 이익으로 자신에게 돌아올 수 있다는 것.

엑설런트 프리젠터가 되기 위해, 저자는 전문가의 피드백에 귀 기울이거나 프레젠테이션하는 모습을 비디오카메라로 찍어서 직접 보면 상당히 도움이 될 것이라고 말한다. 또한 이 책에 소개된 프리젠터 평가표, 주간 훈련 계획표, 프레젠테이션 준비 시트 및 개요 시트, TV 출연자 관찰 시트 등을 직접 작성해 볼 것을 권한다.

Outlines methods and techniques for improving and perfecting presentation skills that will afford a competitive edge in business.
Information Provided By: :

Author Introduction
티모시 J. 케이글
(지은이)
프레젠테이션 및 미디어 트레이닝 회사인 '케이글 그룹(Koegel Group)'을 운영하면서, 지난 20여 년간 프레젠테이션과 미디어 인터뷰 스킬을 가르치는 컨설턴트로 왕성하게 활동하고 있다. '포춘지 선정 500대 기업'을 포함한 다수의 기업과 단체의 임원, 정치가, 비즈니스 스쿨, 그리고 이제 막 사업을 시작하려는 기업에 이르기까지 수많은 사람들이 그의 프레젠테이션 스킬을 배우고 있다. 또한 그는 미국 전역에 신병훈련소와 같은 CEO캠프를 설치해 운영하고 있으며, 백악관과 상.하원에서 워크숍을 진행하고, IPO(기업공개) 로드쇼나 벤처 펀딩 프레젠테이션 준비를 돕기도 한다. '프레젠테이션 아카데미(The Presentation Academy)' 설립자이기도 한 케이글은 듀크 대학, 노스캐롤라이나 대학, 미시간 대학, 노트르담 대학, 뉴욕 대학, 조지워싱턴 대학, 오하이오 주립대학, 퍼듀 대학 등 미국 각지의 대학교에서 프레젠테이션 강의를 하고 있다. 미국 노트르담 대학교를 졸업했고, 저서로 《The Exceptional Presenter》《The Definitive Handbook for Showcasing Your Message》가 있다.
Information Provided By: :