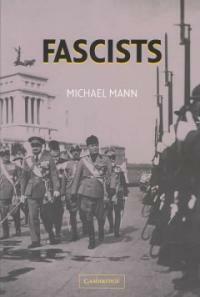 000
01094camuu2200337 a 4500
001
000045469241
005
20080910092435
008
031015s2004 enkb b 001 0 eng
010

▼a

2003063966
020

▼a

0521831318 (hardback)
020

▼a

0521538556 (pbk.)
020

▼a

9780521538558 (pbk.)
035

▼a

(KERIS)REF000009793882
040

▼a

DLC

▼c

DLC

▼d

DLC

▼d

211009
042

▼a

pcc
043

▼a

e------
050

0

0

▼a

D726.5

▼b

.M34 2004
082

0

0

▼a

335.6/094/0904

▼2

22
090

▼a

335.6094

▼b

M282f
100

1

▼a

Mann, Michael ,

▼d

1942-.
245

1

0

▼a

Fascists /

▼c

Michael Mann.
260

▼a

Cambridge ;

▼a

New York :

▼b

Cambridge University Press ,

▼c

2004

▼g

(2006 printing)
300

▼a

x, 429 p. :

▼b

1 map ;

▼c

24 cm.
504

▼a

Includes bibliographical references (p. 395-416) and index.
650

0

▼a

Fascism

▼z

Europe

▼x

History.
650

0

▼a

Radicalism

▼z

Europe

▼x

History

▼y

20th century.
650

0

▼a

Nationalism.
650

0

▼a

Paramilitary forces.
650

0

▼a

State, The.
945

▼a

KINS
---
Holdings Information
No.
Location
Call Number
Accession No.
Availability
Due Date
Make a Reservation
Service

No.

1

Location

Main Library/Western Books/

Call Number

335.6094 M282f

Accession No.

111491044

Availability

Available

Due Date

Make a Reservation

Service
Contents information
Author Introduction
마이클 만
(지은이)
오늘날 가장 영향력 있고 권위 있는 사회학자 가운데 한 명으로 손꼽히는 인물로 '우리 세대의 막스 베버'라 불리기도 한다. 현재 미국 캘리포니아대학교의 로스앤젤레스 캠퍼스(University of California, Los Angeles)에서 사회학부 교수로 재직 중이다. 2013년, 저자는 연작 저서《사회 권력의 원천들(The Sources of Social Power)》의 마지막 권을 내놓으며 '권력'에 대한 폭넓은 지식과 탁월한 혜안을 여과 없이 드러낸 바 있다. 이 연작 도서는 평소 마이클 만이 보여 왔던 사회학자로서의 행보를 집대성한 것으로, '권력'에 대한 우리의 사고방식을 바꾸고 인류 사회의 역사를 다시 썼다는 점에서 큰 의의가 있다. 이 외에도 그의 대표 저서로는《파시스트들(Fascists)》《민주주의의 어두운 면(The Dark Side of Democracy)》《분별없는 제국(Incoherent Empire)》등이 있다.
Information Provided By: :

Table of Contents
1. A sociology of fascism; 2. Explaining the rise of interwar authoritarianism and fascism; 3. Italy: Pristine fascists; 4. Nazis; 5. German sympathizers: voters and complicit elites; 6. Austro-Fascists, Austrian Nazis; 7. The Hungarian family of Authoritarians; 8. The Romanian family of Authoritarians; 9. The Spanish family of Authoritarians; 10. Conclusion: fascists, dead and alive.
Information Provided By: :