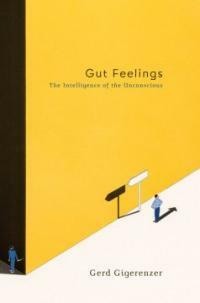 000
01793camuu22002774a 4500
001
000045467312
005
20080902090836
008
061108s2007 nyuab b 001 0 eng
010

▼a

2006052810
020

▼a

9780670038633
020

▼a

0670038636
035

▼a

(KERIS)REF000012898305
040

▼a

DLC

▼c

DLC

▼d

DLC

▼d

211009
050

0

0

▼a

BF315.5

▼b

.G54 2007
082

0

0

▼a

153.4/4

▼2

22
090

▼a

153.44

▼b

G459g
100

1

▼a

Gigerenzer, Gerd.
245

1

0

▼a

Gut feelings :

▼b

the intelligence of the unconscious /

▼c

Gerd Gigerenzer.
260

▼a

New York :

▼b

Viking ,

▼c

c2007.
300

▼a

280 p. :

▼b

ill., map ;

▼c

22 cm.
504

▼a

Includes bibliographical references (p. [251]-269) and index.
520

▼a

Gigerenzer is one of the researchers of behavioral intuition responsible for the science behind Malcolm Gladwell's bestseller Blink. Gladwell showed how snap decisions often yield better results than careful analysis. Now, Gigerenzer explains why intuition is such a powerful decision-making tool. Drawing on a decade of research, Gigerenzer demonstrates that gut feelings are actually the result of unconscious mental processes--processes that apply rules of thumb that we've derived from our environment and prior experiences. The value of these rules lies precisely in their difference from rational analysis--they take into account only the most useful bits of information rather than attempting to evaluate all possible factors. By examining various decisions we make, Gigerenzer shows how gut feelings not only lead to good practical decisions, but also underlie the moral choices that make our society function.--From publisher description.
650

0

▼a

Intuition.
650

0

▼a

Cognitive psychology.
945

▼a

KINS
---
Holdings Information
No.
Location
Call Number
Accession No.
Availability
Due Date
Make a Reservation
Service

No.

1

Location

Main Library/Western Books/

Call Number

153.44 G459g

Accession No.

111490979

Availability

Available

Due Date

Make a Reservation

Service
Contents information
Book Introduction
우리 주변에서 항상 일어나지만 논리적으로 설명할 수 없는 현상들의 이면에는 우리가 흔히 비이성적이라며 억누르는 직관의 법칙이 작용한다. 단순하고 비논리적으로 보이나 실제로는 그 어떤 전문가의 고도의 계산을 통해 산출한 결과보다 예측력이 뛰어나다. 이를 풍부한 사례와 실험을 통해 밝힌다.

직관은 인류가 오랜 세월을 거치는 동안 진화한 두뇌와 정신에 기반한다. 날아가는 공을 고도의 수학적 계산 없이도 어림해서 잡을 수 있게 하는 식이다. 또 복잡한 환경을 단순화하는 능력도 개발했는데, 인간은 이를 통해 수만 가지 변수를 계산하지 않고도 중요 요인 순서로 판단해 결정할 수 있다.

An accessible discussion of the science behind Malcolm Gladwell's best-selling Blink by one of his researchers reveals the importance of intuition in decision-making, explaining how gut feelings occur as a result of unconscious mental processes that effectively function as practical information filters.
Information Provided By: :

Author Introduction
게르트 기거렌처
(지은이)
세계적인 심리학자이자 독일 최고의 두뇌집단이라 불리는 막스플랑크협회 인간개발연구소 소장. 2009년부터 계산맹 퇴치를 위한 하딩센터를 운영하며 의사소통법을 연구하고 있다. 판사, 의사, 언론인, 최고경영자를 포함한 다양한 영역의 전문가들을 대상으로 위험을 계산하고 소통하는 방법을 전파하는 데 매진해온 노력을 인정받아 미국과학진흥협회상(1991)과 독일과학서적저술상(2002)을 수상했다. 시카고대학교 심리학과 교수를 역임했고, 버지니아대학교 로스쿨을 비롯해 여러 대학에서 학생들을 가르쳤다. 《생각이 직관에 묻다》《숫자에 속아 위험한 선택을 하는 사람들》《제한된 합리성》《휴리스틱이 우리를 스마트하게 만든다》 등 다수의 저서와 논문을 출간했다.
Information Provided By: :