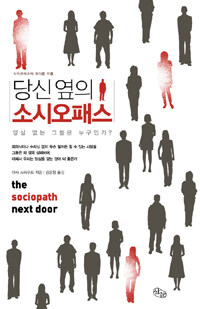 000
00936camcc2200301 c 4500
001
000045449689
005
20121005113615
007
ta
008
080428s2008 ggk 000c kor
020

▼a

9788995981832

▼g

03330
035

▼a

(KERIS)BIB000011285526
040

▼d

211042

▼d

211009
041

1

▼a

kor

▼h

eng
082

0

4

▼a

616.85/82

▼2

22
085

▼a

616.8582

▼2

DDCK
090

▼a

616.8582

▼b

2008z1
100

1

▼a

Stout, Martha,

▼d

1953-

▼0

AUTH(211009)133452
245

1

0

▼a

당신 옆의 소시오패스 :

▼b

양심 없는 그들은 누구인가? /

▼d

마사 스타우트 지음 ;

▼e

김윤창 옮김
246

1

9

▼a

(The) sociopath next door :

▼b

the ruthless versus the rest of us
260

▼a

고양 :

▼b

산눈,

▼c

2008
300

▼a

334 p. ;

▼c

23 cm
500

▼a

사이코패스의 또다른 이름
650

0

▼a

Psychopaths
650

0

▼a

Antisocial personality disorders
700

1

▼a

김윤창,

▼e

역

▼0

AUTH(211009)31129
900

1

0

▼a

스타우트, 마사,

▼e

저
945

▼a

KINS
---
Contents information
Book Introduction
양심 없는 사람들에 대해 말하고 양심 있는 사람이 왜 더 행복한지 서술한다. '소시오패스'는 양심이 전혀 존재하지 않는 무죄의식의 사람들을 지칭한다. 양심이 존재하지 않는 사람이 있다는 것을 받아들이고, 옳지 않은 것은 옳지 않다고 말하고, 그들이 몰두하는 지배게임에 동참하지 말아야 한다.

소시오패스는 원하는 것을 얻기 위해 아무런 가책없이 무엇이든 할 수 있다. 하지만 자신의 이익을 위해 무엇이든 할 수 있는 그들은 왜 모두 부자가 되거나 성공하지 못하는가? 왜 결국 실패하고 마는가? 그것은 양심이 단지 정직하거나 사회법규를 잘 지킨다는 뜻이 아니기 때문이다. 양심이란 '인간(인류 전체, 혹은 모든 생명체)에 대한 애정을 바탕으로 하는 의무감'이다.
양심은 대체 뭣 하러 가지고 있을까?

살아가면서 우리는 종종 양심 없이 남을 속이고 부정한 짓을 하는 사람이 성실하고 정직한 사람들을 이기고 부와 명예를 누리는 것을 목격할 때가 있다. 그리고 자신의 이익과 성공을 위해서라면 마땅히 해야 할 어떤 일들을 양심이라는 목소리에 눌려서 하지 못하는 스스로를 바라보며, 이렇게 말할 지도 모른다. '대체 양심은 뭣 하러 있을까?' <당신 옆의 소시오패스>는 양심 없는 사람들에 관한 이야기다. 그리고 그 보다 더 중요한 무엇, 즉 양심 있는 우리가 왜 더 행복한지에 대한 이야기이기도 하다. 우리는 흔히 부도덕하고 이기적인 사람들을 보며 '양심 없다'고 말하지만, 그것이 정확히 무슨 뜻인지 이해하지 못하며, 사실 양심이 완전히 결여된 사람은 존재하지 않는다고 믿는다. 누구나 100% 선하지 않듯, 누구도 100% 악하지 않다고 생각하기 때문이다. 그러나 저자는 양심이 전혀 존재하지 않은 무죄의식의 사람들이 분명 우리 곁에 있다고 이야기한다. 그 사람들을 지칭하는 단어도 있다. 바로 소시오패스다. 그들은 자신이 원하는 것을 얻기 위해 조금의 가책도 없이 무엇이든 할 수 있다. 하지만 저자는 묻는다. 자신의 이익을 위해 무엇이든 할 수 있는 그들은 왜 모두 부자가 되거나 성공하지 못하는가? 왜 결국 실패하고 마는가? 그것은 양심이 단지 정직하거나 사회법규를 잘 지킨다는 뜻이 아니기 때문이다. 양심이란 '인간(인류 전체, 혹은 모든 생명체)에 대한 애정을 바탕으로 하는 의무감'이다. 애정과 의무감이 없는 인간관계를 상상해보라. 무엇이든 할 수 있지만 다른 사람과 관계 맺을 수 없는 사람들, 그것이 양심이 없다는 것의 핵심이다. 행복한 건 누구인가?

얼음 같은 사람들
그렇다면 소시오패스들의 심리상태는 어떤가. 그들은 인간에 대한 애정이 없으며, 그리하여 타인이나 전체 사회는 물론이고 가족이나 친구들에 대한 의무감도 전혀 존재하지 않는다. 그리고 애정과 공감이 사라진 인간관계에서 남는 것은 소유욕과 지배게임뿐이다. 이기는 것, 짓밟고 올라서는 것, 그리고 이용해 먹는 것 밖에 없다. 소시오패스적 지도자들이 인종말살 계획을 세우는 것과 상관에게 자기 동료에 대한 거짓말을 아무렇지도 않게 늘어놓는 것 사이에서 보통은 아무런 연관성도 발견하지 못하겠지만, 그 심리적 연관은 뚜렷하게 존재한다. 애정과 의무감의 결여이다. 보통사람들이 예상하듯 소시오패스들은 모두 살인자나 강간마가 아니다. 그들은 우리 곁에 존재하며 게다가 사람들을 지배하고 이용하기 위해 여러 매력들을 발산하기도 한다. 그들의 덫에 걸려 인생을 망치거나 심리적으로 붕괴된 사람들의 치료를 하면서, 저자는 왜 사람들이 그들을 알아보고 대처하는 데 힘들어 하는 가를 분석하는데 양심 있는 사람들은 단지 그들에게 속을 뿐만 아니라, 선한 사람들의 자기의심이 스스로의 눈을 가린다는 것이다.

자신의 확신을 믿어라
저자는 다음과 같은 예를 든다. 나이든 미망인의 집에 침입하여, 보석을 훔치다가 그 노부인을 잔인하게 살해하여 바버라 그레이엄이라는 여자는 사형을 선고받았다. 그녀가 사형을 당하며 남긴 말은 "선한 사람들은 자신들이 옳다고 늘 너무나 확신한다"였다. 오늘날까지 그 수많은 증거에도 아랑곳없이 그녀의 무죄를 주장하는 사람들이 있는데, 이 이야기는 수잔 헤이워드 주연의 <나는 살고 싶다!(I want to live!)>라는 영화로도 만들어졌다. 그녀의 마지막 말은 양심 있는 사람들이 가지고 있는 자기의심을 증폭시켰다. 그녀의 말과는 달리 선한 사람들은 자신이 옳다고 확신하는 경우가 별로 없기 때문이다. 선한 사람은 양심에 비추어 자신의 결정과 행동을 엄밀히 검토하며, 무엇인가 확신하는 경우에도 그것을 위험하게 여긴다. 그 확신에 속아 누군가를 부당하게 처벌하거나 합당치 못한 행동을 할 수도 있다고 여기기 때문이다. 이는 말할 것도 없이 우리가 가진 미덕이지만, 이러한 자기의심이 소시오패스들을 보지 못하게 한다. 감정과 애정이 없는 소시오패스들의 행동들은 너무나 기이하며, 우리의 경험에서 완전히 벗어나는 까닭에 사람들은 단지 그가 양심이 없다고 생각하는 대신 '그는 별나거나, 예술적이거나, 너무 승부욕이 강하거나, 게으르거나, 멍청하거나, 늘 악동 같다'는 갖가지 꼬리표를 붙이면서 이해하려고 한다는 것이다. 그들을 대처하기 위해서는 글자 그대로 양심이 존재하지 않는 사람이 있다는 것을 받아들여야 하며, 확신을 가지고 옳지 않은 것은 옳지 않다고 말하고, 그들이 몰두하는 지배게임에 동참하지 말아야 한다.

양심을 갖는 것이 더 좋은 이유
저자는 역사에서 수도 없이 되풀이되는 성난 민중이나 자신의 심복에 의해 제거되는 소시오패스 독재자들, 결국엔 모든 것을 잃고 마는 양심 없는 사람들의 예를 제시하지만, 단지 그것만이 양심을 가져야 하는 의미는 아니라고 말한다. 양심 없는 당신을 상상해 보라고 권한다. 양심이 없다면 물질세계에서 성공하기 위한 그 어떤 행동이라도 아무 거리낌 없이 할 수 있으며, 그래서 잠시나마 성공할 수 있을지도 모른다. 다른 사람들의 두려움과 존경을 받으며 권력을 마음껏 휘두를 수 있을지도 모른다. 그러나 진정한 친구는 가질 수 없다. 마음속에 인간에 대한 의무감이 없기 때문이다. 자신의 가족, 심지어 자신의 아이들도 사랑하지 못한다. 마음속에 애정이, 사랑할 수 있는 능력이 없기 때문이다. 다른 사람들과 관계 맺으며 가질 수 있는 온정과 위안, 혼란과 분노, 기쁨과 즐거움이란 감정을 전혀 알지 못할 것이다. 누가 더 행운인가?

우리는 어떤 일을 양심적으로 할 것인가 말 것인가를 일일이 숙고하지 않으며, 양심이란 심장이나 폐처럼 그냥 거기에서 무의식중에 끊임없이 판단을 내리고 우리의 행동을 제어한다. 그리고 이것은 인간의 본성이 이기적이고 탐욕적이지 않다는 증거이기도 하다. 자연 상태의 인간들은 '만인의 만인에 대한 투쟁'을 한다고, 단지 자신의 생존과 이익만을 위해 행동할 것이라고 우리는 믿어왔다. 그렇다면 우리는 모두 소시오패스가 되어있어야 한다. 그러나 "만약 우리 선조들이 아프리카 사바나에서 먹을거리를 찾아다니던 시절에 늘 착한 사람들이 꼴찌로 처졌다면, 왜 오늘날 우리는 도덕을 그토록 수월하게 받아들이는가?"(258쪽) 저자는 양심의 기원을 살피면서, 현대 사람들 대부분이 양심을 갖고 살아간다는 것은 양육강식이 지배하는 자연선택에서조차 양심이 지지를 받았기 때문이라고 말한다. 운 때문이든, 능력 때문이든 사회·경제적으로 성공한 소시오패스들은 자신의 성공을 주위 사람들, 심지어 가족과도 함께 나누며 기뻐할 줄 모른다. 그 누구에게도 (자기 자신에게도) 진정한 즐거움을 주지 못하는 성공, 그것이 양심 없이 무엇이든 해서 이루어낸 성공의 본질이다. 저자는 의미 없고 지루한 지배게임에서 승리하는 능력과 자신의 아이를 사랑할 수 있는 능력 사이에서 당신은 무엇을 갖겠냐고 묻는다. 그리고 그 대답이 '양심은 대체 뭣 때문에 가지고 있지?'에 대한 대답인 것이다.

Information Provided By: :

Author Introduction
마사 스타우트
(지은이)
하버드의화대학의 정신과 교수로 재직하며 보스턴에 있는 매사추세츠 종합병원에서 임상 업무를 보조하거나 자신의 진료소에서 심리적 트라우마와 외상 후 스트레스 장애(PTSD)로 고통받는 환자를 직접 치료했다. 또한 뉴욕에 있는 뉴스쿨대학교의 대학원을 비롯해 윌리엄제임스대학, 웰즐리대학 등에서 심리학을 가르쳤으며 활발한 저술 활동을 이어 가고 있다. 대표적인 저서로는 『파라노이아 스위치(The Paranoia Switch)』, 『정상이라는 미신(The Myth of Sanity)』 등이 있다. 최근 『이토록 친밀한 배신자』의 후속권으로 『Outsmarting the Sociopath Next Door: How to Protect Yourself Against a Ruthless Manipulator』를 출간했다.
김윤창
(옮긴이)
서울대 철학과를 졸업하고 출판사에서 근무했다. 현재 프리랜서 출판 편집자 및 번역자로 일하고 있다. 옮긴 책으로 <행복한 삶의 비결>, <선택 - 페르시아 왕후 에스더의 비밀 일기> 등이 있다.
Information Provided By: :

Table of Contents

목차
감사의 말 = 8
들어가는 전에 = 11
들어가는 말. 상상해 보라 = 13
1. 제7감(The Seventh Sense) = 39
2. 얼음 사람들 : 소시오패스 = 65
3. 양심이 잠잘 때 = 89
4. 세상에서 가장 좋은 사람 = 115
5. 왜 우리는 그들을 알아채지 못할까 = 139
6. 가책 없는 사람들을 알아보는 법 = 165
7. 무죄의식의 병인(病因) : 무엇이 소시오패스를 야기하는가? = 189
8. 당신 옆의 소시오패스 = 219
9. 양심의 기원 = 253
10. 양심을 갖는 것이 더 좋은 이유 = 279
11. 그라운드호그 데이(Groundhog Day) = 303
12. 가장 순수한 형태의 양심 : 인간 본성의 오해와 진실 = 321