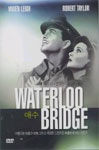 000
02296cgmccc200397 k 4500
001
000045440493
005
20100805034945
007
vd bvaizq
008
061226s2003 ulk108 cvleng
024

1

▼a

8809116450486
035

▼a

(KERIS)BIB000010773484
040

▼a

244031

▼c

244031

▼d

211009
041

0

▼a

eng

▼b

eng

▼b

kor
082

0

4

▼a

791.4372

▼2

22
090

▼a

791.4372

▼b

W327
245

0

0

▼a

애수

▼h

[비디오녹화자료] /

▼d

Mervyn LeRoy [감독].
246

1

9

▼a

Waterloo Bridge
260

▼a

서울 :

▼b

아이씨디 [제작] ,

▼c

2003.
300

▼a

비디오디스크 1매(108분) :

▼b

유성, 흑백 ;

▼c

12 cm.
500

▼a

영화제작년: 1940년
500

▼a

Based on the play "Waterloo Bridge" by Robert E. Sherwood.
508

▼a

제작진: Metro Goldwyn Mayer ; 제작자, Sidney Franklin ; 각본, S.N. Behrman, Geoege Froeschel ; 촬영, Joseph Ruttenberg ; 음악, Herbert Stothart ; 미술, Cedric Gibbons ; 편집, George Boemler
511

8

▼a

출연진: Vivien Leigh, Robert Taylor, Lucile Watson, Virginia Field, Maria Ouspenskaya, C. Aubrey Smith
520

▼a

제1차 대전의 중의 어느 날 런던의 워털루 다리 위를 산책하던 젊은 대위 로이 크로닌은 갑작스런 공습 경보로 지하에 피신한다. 그때 그는 핸드백을 잃어버려 쩔쩔매고 있는 마이러를 도와주고 두 사람은 자연스럽게 가까워진다. 격정적으로 사랑한 두 사람의 사랑은 다음날 로이의 청혼으로 이루어지는 듯 했으나 로이는 갑작스런 호출로 결혼식도 올리지 못한 채 전쟁터로 떠나고 만다. 이에 상심이 된 마이라는 전쟁터로 떠나는 로이를 마중하러 워터루 브릿지역으로 나가고 그로 인해 공연 시간에 늦어 발레단에서 쫓겨나게 된다. 발레단에서 쫓겨난 마이라는 직업을 구해 헤매고 다니다가 우연히 전사자 명단에서 로이 이름을 발견하고 절망에 빠진다.
521

▼a

전체 관람가
538

▼a

DVD ; 지역코드, All NTSC ; 오디오, Dolby Digital 4.0 ; 화면비율, 4:3 Full Screen ; 디스크, Single Layer
546

▼a

언어: 영어 ; 자막: 한국어, 영어
700

1

▼a

LeRoy, Mervyn ,

▼d

1900-1987 ,

▼e

감독
700

1

▼a

Leigh, Vivien ,

▼d

1913-1967 ,

▼e

배우
700

1

▼a

Taylor, Robert ,

▼d

1911-1969 ,

▼e

배우
700

1

▼a

Watson, Lucile ,

▼d

1879-1962 ,

▼e

배우
700

1

▼a

Sherwood, Robert E.

▼q

(Robert Emmet) ,

▼d

1896-1955.

▼t

Waterloo Bridge ,

▼e

원작
710

▼a

Metro-Goldwyn-Mayer
945

▼a

KINS
953

▼a

영화,

▼x

전쟁,

▼x

드라마,

▼x

로맨스,

▼z

미국
---
Holdings Information
No.
Location
Call Number
Accession No.
Availability
Due Date
Make a Reservation
Service

No.

1

Location

Centennial Digital Library/Multimedia/

Call Number

AVD 791.4372 W327 (SN.32-161)

Accession No.

114014600

Availability

Available

Due Date

Make a Reservation

Service
Contents information
줄거리
제1차대전의 중의 어느 날 런던의 워털루 다리 위를 산책하던 젊은 대위 로이 크로닌은 갑작스런 공습 경보로 지하에 피신한다.
그때 그는 핸드백을 잃어버려 쩔쩔매고 있는 마이러를 도와주고 두 사람은 자연스럽게 가까워진다.
격정적으로 사랑한 두 사람의 사랑은 다음날 로이의 청혼으로 이루어지는 듯 했으나 로이는 갑작스런 호출로 결혼식도 올리지 못한 채 전쟁터로 떠나고 만다.
이에 상심이 된 마이라는 전쟁터로 떠나는 로이를 마중하러 워터루 브릿지역으로 나가고 그로 인해 공연 시간에 늦어 발레단에서 쫓겨나게 된다.
발레단에서 쫓겨난 마이라는 직업을 구해 헤매고 다니다가 우연히 전사자 명단에서 로이 이름을 발견하고 절망에 빠진다.

Information Provided By: :

Author Introduction
머빈 르로이
(감독)
1900년 미국 캘리포니아 샌프란시스코 출생으로 카메라 조감독으로 처음 영화계에 진출한 후 무성영화의 작가와 배우로 활동하였다. 〈No Place to Go〉(1927)를 통해 감독으로 데뷔하였는데 적은 예산으로 큰 성공을 거두었던 그는 1950년대 〈Lovely to Look at〉과 〈밀리언 달러 머메이드〉와 같은 뮤지컬 영화들을 만들었다. 〈오즈의 마법사〉의 프로듀서이기도 한 그는 1946년 〈The House I Live in〉을 통해 오스카 공로상을 수상하였다.
비비안 리
(출연)
인도에서 태어난 비비안 리는 아버지를 따라 로마와 파리 등지를 돌아다니며 음악과 연기 수업을 받는다. 18세에 영국으로 건너간 그녀는 영국 왕립 연극 아카데미에서 본격적인 연기 수업을 받으며 스타의 꿈을 키워나가고 몇몇 영국 영화들에 단역으로 출연하기도 한다. 그리고 로렌스 올리비에 경을 만나 할리우드로 건너간 뒤 인생의 전환기를 맞게 된다. 비비안 리는 <바람과 함께 사라지다>의 스크린 테스트에 합격하여 스칼렛 오하라 역으로 전격 캐스팅된다. 그녀는 <바람과 함께 사라지다>로 단번에 아카데미 여우주연상까지 수상하며 숱한 화제를 뿌리게 된다. '비비안 리'라는 그녀의 이름은 스칼렛 오하라와 동의어로 영원히 늙지 않는 스크린의 전설로 남아있다.
로버트 테일러
(출연)
23살이 되던 해인 1934년, MGM에 스카웃 되면서 영화계에 입문해 수려한 외모로 오랫 동안 스타의 자리를 지키며 수많은 여성 팬들의 사랑을 받았다. 외모뿐 아니라 점잖은 인품으로 더욱 많은 사랑과 인기를 한 몸에 받았던 로버트 테일러는 그레타 가르보, 비비안 리, 엘리자베스 테일러 등 세계 최고의 여배우들과 주옥 같은 많은 작품들을 남겼는데 대표적인 출연작으로는 [춘희(Camille)](1937), [아이반호(Ivanhoe)], [쿠오바디스(Quo Vadis?)](1951), [원탁의 기사(Knights of the Round Tabel)](1953) 등이 있다.
Information Provided By: :