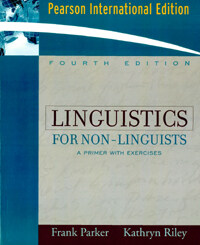 000
00941camuu2200289 a 4500
001
000045435229
005
20110415094721
008
060425s2005 maua b 001 0 eng
020

▼a

0205501435
020

▼a

9780205501434
020

▼a

0205421180
035

▼a

(KERIS)BIB000010358905
040

▼a

211023

▼d

211009

▼d

244002
082

0

0

▼a

410

▼2

22
084

▼a

410

▼2

DDCK
090

▼a

410

▼b

P239L4a
100

1

▼a

Parker, Frank,

▼d

1946-.
245

1

0

▼a

Linguistics for non-linguists :

▼b

a primer with exercises /

▼c

Frank Parker, Kathryn Riley.
250

▼a

4th ed.
260

▼a

Boston :

▼b

pearson :

▼b

Allyn & Bacon,

▼c

c2005.
300

▼a

xii, 340 p. :

▼b

ill. ;

▼c

24 cm.
500

▼a

"Pearson International Edition"--Cover.
504

▼a

Includes bibliographical references (p. 306-311) and indexs.
650

0

▼a

Linguistics.
700

1

▼a

Riley, Kathryn Louise,

▼d

1951-.
945

▼a

KINS
---
Holdings Information
No.
Location
Call Number
Accession No.
Availability
Due Date
Make a Reservation
Service

No.

1

Location

Main Library/Western Books/

Call Number

410 P239L4a

Accession No.

111466912

Availability

Available

Due Date

Make a Reservation

Service

No.

2

Location

Sejong Academic Information Center/Humanities 1/

Call Number

410 P239L4a

Accession No.

151298647

Availability

Available

Due Date

Make a Reservation

Service
No.
Location
Call Number
Accession No.
Availability
Due Date
Make a Reservation
Service

No.

1

Location

Main Library/Western Books/

Call Number

410 P239L4a

Accession No.

111466912

Availability

Available

Due Date

Make a Reservation

Service
No.
Location
Call Number
Accession No.
Availability
Due Date
Make a Reservation
Service

No.

1

Location

Sejong Academic Information Center/Humanities 1/

Call Number

410 P239L4a

Accession No.

151298647

Availability

Available

Due Date

Make a Reservation

Service
Contents information
Book Introduction
Linguistics for Non-Linguists, Fourth Edition, is a highly readable introductory text that presents students with the basic elements of linguistics in a clear and concise style that any beginner will understand.
This newly revised edition continues to expand on the success of earlier editions, taking a subject that is generally considered quite complicated and making it accessible to virtually anyone who requires a basic understanding of linguistics. The authors illustrate major concepts in an easy-to-read style, giving students and specialists in language-related fields an introduction to the essential principles and methods of linguistic theory. Non-linguistics majors will also find this book user-friendly, with a wealth of exercises and references interspersed throughout to help reinforce concepts.
Specialists in language-related fields, including Speech-Language Pathology, Experimental Phonetics, Communication, Education, Psychology, and English as a Second Language, will find this text a must-have reference for all courses.


· Hundreds of exercises distributed throughout the text, immediately after the concepts they are related to, help reinforce the material just learned.

· Supplementary Exercises at the end of each chapter provide additional opportunities to expand on the chapter material. Provides answers to selected exercises to help students check their work and offers an Instructor's Manual with Answer Key to all exercises.

· Filled with clear explanations, charts, tables, and illustrations.

· "Supplementary Readings" at the end of each chapter provide students with both classic and current resources about chapter concepts.
Information Provided By: :

Table of Contents
Chapter1 Introduction



Chapter2 Pragmatics

Implicature

Speech Acts



Chapter3 Semantics

Background

Sense

Reference

Truth



Chapter4 Syntax

Categories

LefttoRight Ordering

Transformations



Chapter5 Morphology

Morphemes

Lexical and Grammatical Morphemes

Free and Bound Morphemes

Inflectional and Derivational Morphemes

WordFormation Processes



Chapter6 Phonology

Vocal Tract

Segments

Phonemic Alphabet

Levels of Representation

Phonological Rules



Chapter7 Language Variation

Language Universals, Languages, Dialects, and Idiolects

Regional Variation

Social Variation

Language and Gender

Stylistic Variation



Chapter8 FirstLanguage Acquisition

Prelinguistic Stages

Linguistic Stages

Issues in Language Acquisition



Chapter9 SecondLanguage Acquisition

Issues in SecondLanguage Acquisition

Patterns in SecondLanguage Acquisition

Nonlinguistic Influences on SecondLanguage Acquisition



Chapter10 Written Language

Writing Systems

The English Spelling System

Analyzing Errors in Written English



Chapter11 Language Processing

SentenceLevel Phenomena in Language Processing

DiscourseLevel Phenomena in Language Processing

Perceptions about Tone



Chapter12 The Neurology of Language

Anatomy of the Nervous System

Background of Neurolinguistics

Hemispherical Specialization

Disorders



Chapter13 Conclusion

References

Glossary

Answers to Selected Exercises

Author Index

Subject Index
Information Provided By: :