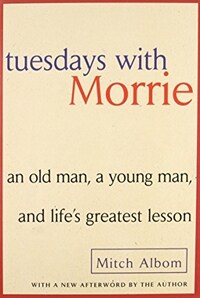 Tuesdays with Morrie : an old man, a young man, and life's greatest lesson 10th anniversary ed. / with a new afterword by the author
000
01171namuu2200313 a 4500
001
000045433022
005
20080404151537
008
080122s2007 nyu 000 0beng
010

▼a

2008270899
020

▼a

076790592X
020

▼a

9780767905923 (pbk.)
035

▼a

(KERIS)REF000014882434
040

▼a

DLC

▼c

DLC

▼d

211009
043

▼a

n-us-ma

▼a

n-us---
050

0

0

▼a

LD571.B418

▼b

S383 2007
082

0

4

▼a

378.12/092

▼2

22
090

▼a

378.12092

▼b

A339tb
100

1

▼a

Albom, Mitch ,

▼d

1958-.
245

1

0

▼a

Tuesdays with Morrie :

▼b

an old man, a young man, and life's greatest lesson /

▼c

Mitch Albom.
250

▼a

10th anniversary ed. / with a new afterword by the author.
260

▼a

New York :

▼b

Broadway Books ,

▼c

c2007.
300

▼a

199 p. ;

▼c

19 cm.
600

1

0

▼a

Schwartz, Morris S.
610

2

0

▼a

Brandeis University

▼x

Faculty

▼v

Biography.
650

0

▼a

Amyotrophic lateral sclerosis

▼x

Patients

▼z

United States

▼v

Biography.
650

0

▼a

Teacher-student relationships

▼z

United States

▼v

Case studies.
650

0

▼a

Death

▼x

Psychological aspects

▼v

Case studies.
945

▼a

KINS
---
Holdings Information
No.
Location
Call Number
Accession No.
Availability
Due Date
Make a Reservation
Service

No.

1

Location

Main Library/Western Books/

Call Number

378.12092 A339tb

Accession No.

111465419

Availability

Available

Due Date

Make a Reservation

Service
Contents information
Book Introduction
죽음을 앞둔 노교수와 그의 제자가 '인생의 의미'에 대해 나누었던 열네 번의 대화를 담은 책 <모리와 함께한 화요일>. 루게릭병을 앓으며 죽음을 앞두고 있는 한 저명한 사회학 교수는 히비스커스 화분이 있는 서재에 앉아 숨을 들이쉬고 다음 내쉴 때까지 숫자를 헤아리면서 자신의 죽음이 어디까지 가까워졌는지를 가늠해 본다. 그리고 디트로이트의 한 신문사에서는 대학 시절 그의 수업을 하나도 빠짐없이 수강하며 열정적인 꿈을 꾸던 제자가 있다. 그는 바쁘게 돌아가는 일상 때문에 졸업식 이후에도 계속 연락하겠다던 스승과의 약속을 저버린 채 일에 끌려 다니며 하루하루를 보낸다.

이 책은 영혼의 결핍을 느끼던 제자 미치가 옛 스승을 찾아감으로써 시작된다. 미치는 서너 달에 걸쳐 매주 화요일마다 모리 교수와 함께 인생을 이야기한다. 그들의 대화 주제는 세상, 가족, 죽음, 자기 연민, 사랑 등이다. 이는 미치뿐만 아니라 이 세상 모두가 치열한 삶으로 인해 잃어버린 것들을 되찾아 가는 과정이기도 하다

A sportswriter conveys the wisdom of his late mentor, professor Morrie Schwartz, recounting their weekly conversations as Schwartz lay dying.
Information Provided By: :

Author Introduction
미치 앨봄
(지은이)
무수히 많은 소설과 에세이를 쓴 세계적인 베스트셀러 저자. 그의 저서만 세계적으로 4천만 권이 넘게 판매되었다. 그는 작가인 동시에 에미상을 수상한 방송인이며 인기 칼럼니스트다. 그는 작품마다 고난과 역경 속에서 삶의 의미를 깨달아가는 평범한 이웃들의 이야기를 감동적으로 그려 "삶과 죽음을 끌어안는 최고의 휴머니스트"라는 극찬을 받았다. 젊은 시절 스포츠 칼럼니스트로 데뷔한 이후로 라디오와 ABC TV 등 여러 방송 매체에서 진행자로서 두각을 나타냈고, 그러던 중 『모리와 함께한 화요일』의 실제 주인공 모리 슈워츠 교수와의 만남을 계기로 세속적인 성공만 추구하던 삶에 변화를 겪었다. 『모리와 함께한 화요일』 『천국에서 만난 다섯 사람』 등 그의 대표작은 49개국에서 47개 언어로 번역 출간되어 수천만 독자에게 용기와 희망을 주었다. 그는 미시간주 디트로이트에서 아내 재닌과 함께 SAY 디트로이트 재단을 비롯해 9개 자선단체를 감독하고, 포르토프랭스에서 해브 페이스 아이티 보육원을 맡아 매달 그곳을 방문하고 있다. 그는 재닌과 미시간에 살며 인생의 의미를 깨우는 따뜻한 글쓰기에 꾸준히 힘쓰고 있다
Information Provided By: :

Table of Contents


CONTENTS
Acknowledgments = xi
THE CURRICULUM = 1
THE SYLLABUS = 5
THE STUDENT = 14
THE AUDIOVISUAL = 18
THE ORIENTATION = 26
THE CLASSROOM = 32
TAKING ATTENDANCE = 41
THE FIRST TUESDAY : WE TALK ABOUT THE WORLD = 48
THE SECOND TUESDAY : WE TALK ABOUT FEELING SORRY FOR YOURSELF = 55
THE THIRD TUESDAY : WE TALK ABOUT REGRETS = 62
THE AUDIOVISUAL, PART TWO = 69
THE PROFESSOR = 73
THE FOURTH TUESDAY : WE TALK ABOUT DEATH = 80
THE FIFTH TUESDAY : WE TALK ABOUT FAMILY = 90
THE SIXTH TUESDAY : WE TALK ABOUT EMOTIONS = 100
THE PROFESSOR, PART TWO = 109
THE SEVENTH TUESDAY : WE TALK ABOUT THE FEAR OF AGING = 115
THE EIGHTH TUESDAY : WE TALK ABOUT MONEY = 123
THE NINTH TUESDAY : WE TALK ABOUT HOW LOVE GOES ON = 130
THE TENTH TUESDAY : WE TALK ABOUT MARRIAGE = 142
THE ELEVENTH TUESDAY : WE TALK ABOUT OUR CULTURE = 152
THE AUDIOVISUAL, PART THREE = 160
THE TWELFTH TUESDAY : WE TALK ABOUT FORGIVENESS = 164
THE THIRTEENTH TUESDAY : WE TALK ABOUT THE PERFECT DAY = 171
THE FOURTEENTH TUESDAY : WE SAY GOOD-BYE = 181
GRADUATION = 187
CONCLUSION = 190