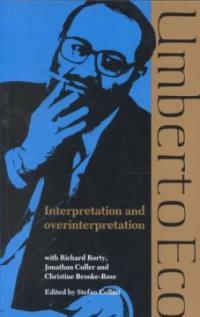 000
00000cam u2200205 a 4500
001
000045431838
005
20211201141127
008
910506s1992 enk b 000 0 eng
010

▼a

91004227
020

▼a

0521402271 (hard)
020

▼a

0521425549 (pbk.)
020

▼a

9780521425544
035

▼a

(KERIS)REF000013783234
040

▼a

DLC

▼c

DLC

▼d

DLC

▼d

211009
050

0

0

▼a

PN98.S46

▼b

E25 1992
082

0

0

▼a

801/.95

▼2

23
084

▼a

801.95

▼2

DDCK
090

▼a

801.95

▼b

E19i
100

1

▼a

Eco, Umberto,

▼d

1932-2016

▼0

AUTH(211009)37743.
245

1

0

▼a

Interpretation and overinterpretation /

▼c

Umberto Eco with Richard Rorty, Jonathan Culler, Christine Brooke-Rose ; edited by Stefan Collini.
260

▼a

Cambridge ;

▼a

New York :

▼b

Cambridge University Press,

▼c

1992

▼g

(2002 printing).
300

▼a

ix, 151 p. ;

▼c

23 cm.
504

▼a

Includes bibliographical references.
650

0

▼a

Criticism.
650

0

▼a

Semiotics and literature.
700

1

▼a

Collini, Stefan,

▼d

1947-.
700

1

▼a

Brooke-Rose, Christine.
945

▼a

KINS
---
Holdings Information
No.
Location
Call Number
Accession No.
Availability
Due Date
Make a Reservation
Service

No.

1

Location

Main Library/Western Books/

Call Number

801.95 E19i

Accession No.

111464320

Availability

Available

Due Date

Make a Reservation

Service

No.

2

Location

Main Library/Western Books/

Call Number

801.95 E19i

Accession No.

111703872

Availability

Available

Due Date

Make a Reservation

Service
Contents information
Author Introduction
움베르토 에코
(지은이)
20세기를 대표하는 기호학자이자 미학자, 그리고 세계적 인기를 누린 소설가. 1932년 이탈리아 알레산드리아에서 태어났다. 토리노 대학교에서 중세 철학과 문학을 공부했고 학위 논문을 발전시켜 1956년 첫 번째 저서 『토마스 아퀴나스의 미학 문제』를 펴냈다. 이후 이탈리아는 물론 미국, 브라질, 아르헨티나 등 여러 나라의 대학에서 강의를 하고 왕성한 저술 활동을 펼쳤다. 1971년에는 볼로냐 대학교 부교수로 임명되었고 이때부터 그의 기호학 이론들이 본격적으로 자리를 잡기 시작했다. 정교수로 승진해 2007년까지 볼로냐 대학교에 재직했으며 국제기호학회 사무총장을 맡기도 했다. 1980년 첫 소설 『장미의 이름』을 출간했고, 이 작품은 곧바로 <백과사전적 지식과 풍부한 상상력의 결합>이라는 찬사를 받으며 전 세계에서 3천만 부 이상 판매되었다. 이후 『푸코의 진자』, 『전날의 섬』, 『바우돌리노』, 『로아나 여왕의 신비한 불꽃』, 『프라하의 묘지』, 『제0호』 등 역사와 허구, 해박한 지식과 놀라운 상상력이 교묘하게 엮인 소설들을 발표했다. 소설 외에도 그의 저서는 철학과 미학, 역사와 정치, 대중문화 비평 등 인문학 전체라고 해도 좋을 정도로 방대한 영역을 포괄한다. 독선과 광신을 경계하고 언제나 명석함과 유머를 잃지 않았던 그는 2016년 이탈리아 밀라노의 자택에서 암으로 별세했다. 『미친 세상을 이해하는 척하는 방법』은 에코가 잡지 『레스프레소』에 <미네르바 성냥갑>이라는 제목으로 연재하던 칼럼 중 2000년 이후에 썼던 것을 모은 책으로, 그가 세상을 떠난 직후 출간되었다.
리처드 로티
(지은이)
1931년 미국 뉴욕에서 태어났다. 시카고 대학에서 철학을 공부하고 예일 대학에서 철학 박사학위를 받았다. 1961년부터 프린스턴 대학 철학과 교수로 재직했고 1979년에는 미국철학회(동부지회) 회장을 지냈다. 영미 분석철학계의 대표주자였던 로티는 1970년대 중반부터 분석철학을 통렬히 비판하고 데카르트 이래 근대철학의 주류를 이뤄왔던 인식론 중심의 철학에 종말을 고하면서 세계적으로 주목받는 철학자가 되었다. 특히 1979년 출간한 『철학과 자연의 거울』은 진리 탐구로서의 철학의 종언을 선언하며 전 세계 지성계에 화제와 논란을 불러 왔다. 이로 인해 철학과 동료 교수들과의 불화가 심화되자 로티는 1982년 버지니아 대학 인문학 석좌교수로 자리를 옮기게 된다. 1989년 출간한 『우연성, 아이러니, 연대』는 그의 독창적인 사상이 가장 잘 나타나 있는 저작으로 꼽히며 25개국 언어로 번역되었다. 이 책에서 로티는 언어, 자아, 공동체의 우연성에 대해 논하며 자아창조의 요구와 인류 연대의 희망을 통합시키려는 오래된 철학적 문제를 해소하고, 철학적 지식이 아니라 사회적 희망과 상상력을 사회 변화의 추동력으로 위치시키는 선구적인 시도를 하고 있다. 이후 1998년부터 스탠퍼드 대학 비교문학과 교수로 재직했으며, 네 권의 철학 논문집과 강연문 등 다양한 저서를 출간했다. 1998년 출간한 『미국 만들기』는 트럼프 대통령 당선을 예견한 책으로 2016년 다시 화제가 되기도 했다. 로티는 정체된 철학의 혁신을 주도한 창조적인 철학자이자, 공공 지식인으로서 다양한 사회 활동을 펼친 희망의 실천가로 기억된다. 2007년 타계한 이후로도 그의 영향력은 점점 커지고 있다.
Christine Brooke-Rose
(지은이)
Information Provided By: :

Table of Contents
Introduction: Interpretation terminable and interminable Stefan Collini; 1. Interpretation and history Umberto Eco; 2. Overinterpreting texts Umberto Eco; 3. Between author and text Umberto Eco; 4. The pragmatist's progress Richard Rorty; 5. In defence of overinterpretation Jonathan Culler; 6. Palimpsest history Christine Brook-Rose; 7. Reply Umberto Eco; Index.
Information Provided By: :