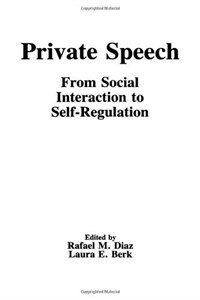 000
01063camuu2200325 a 4500
001
000045418642
005
20080130110354
008
910816s1992 njua b 001 0 eng
010

▼a

91030255
020

▼a

0805808868
020

▼a

0805808876 (pbk.)
020

▼a

9780805808865
035

▼a

(KERIS)REF000013557943
040

▼a

DLC

▼c

DLC

▼d

DLC

▼d

211009
050

0

0

▼a

P118

▼b

.P665 1992
082

0

0

▼a

401/.93

▼2

22
090

▼a

401.93

▼b

P961
245

0

0

▼a

Private speech :

▼b

from social interaction to self-regulation /

▼c

edited by Rafael M. Diaz, Laura E. Berk.
260

▼a

Hillsdale, N.J. :

▼b

L. Erlbaum ,

▼c

1992.
300

▼a

x, 309 p. :

▼b

ill. ;

▼c

24 cm.
504

▼a

Includes bibliographical references and indexes.
650

0

▼a

Children

▼x

Language.
650

0

▼a

Language acquisition.
650

0

▼a

Cognition in children.
650

0

▼a

Social interaction in children.
650

0

▼a

Self-control in children.
700

1

▼a

Diaz, Rafael M.
700

1

▼a

Berk, Laura E.
945

▼a

KINS
---
Holdings Information
No.
Location
Call Number
Accession No.
Availability
Due Date
Make a Reservation
Service

No.

1

Location

Main Library/Western Books/

Call Number

401.93 P961

Accession No.

111455742

Availability

Available

Due Date

Make a Reservation

Service
Contents information
Author Introduction
Laura E. Berk
(지은이)
미국 일리노이주립대학교 심리학과의 저명한 교수로서 30년 이상 학부와 대학원에서 인간 발달을 강의해 왔다. 그녀는 버클리대학교에서 학사 학위를, 시카고대학교에서 아동 발달과 교육심리로 석사와 박사 학위를 받았다. 또한 코넬대학교, UCLA, 스탠퍼드대학교, 사우스오스트레일리아대학교의 방문 연구원을 지냈다. Berk는 아동 발달에 대한 학교 환경의 영향, 개인적 언어발달, 그리고 최근에는 가장놀이가 발달에 미치는 영향에 대한 연구들을 다수 출판하였다. 그녀의 연구는 미국 교육부, 미국 아동건강과 인간발달기관(NICHHD)의 지원을 받아 이루어졌다. 주요 저서로는 Private Speech : From Social Interaction to Self-Regulation, Scaffolding Children's Learning : Vygotsky and Early Childhood Education, Landscapes of Development : An Anthology of Readings 등이 있다. 이 외에도 Child Development와 Infants, Children, and Adolescents 같은 베스트셀러 교재를 저술했으며, 아동 문제와 관련된 운동에 적극적으로 참여하고 있다.
Information Provided By: :

Table of Contents
Contents: R.M. Diaz, L.E. Berk, Introduction. Part I: Theory, Method, and A Review of Research. L.E. Berk, Children's Private Speech: An Overview of Theory and the Status of Research. R.M. Diaz, Methodological Concerns in the Study of Private Speech. Part II: Social Origins and Self-Regulatory Functions. D.A. Behrend, K.S. Rosengren, M. Perlmutter, The Relation Between Private Speech and Parental Interactive Style. M. Azmitia, Expertise, Private Speech, and the Development of Self-Regulation. F. Smolucha, Social Origins of Private Speech in Pretend Play. D. Furrow, Developmental Trends in the Differentiation of Social and Private Speech. J.A. Bivens, F. Hagstrom, The Representation of Private Speech in Children's Literature. Part III: Structural and Linguistic Features. P. Feigenbaum, Development of the Syntactic and Discourse Structures of Private Speech. J.D. Ramirez, The Functional Differentiation of Social and Private Speech: A Dialogic Approach. P.P. Goudena, The Problem of Abbreviation and Internalization of Private Speech. D.J. Skotko, Structural Properties of Verbal Commands and Their Effects on the Regulation of Motor Behavior. Part IV: Recent Evidence Regarding Piaget's Position. A. Richelle Warren, C. Satterfield Tate, Egocentrism in Children's Telephone Conversations. Part V:Private Speech in Adulthood. P.S. Fry, Assessment of Private and Inner Speech of Older Adults in Relation to Depression. V. John-Steiner, Private Speech Among Adults.

Information Provided By: :