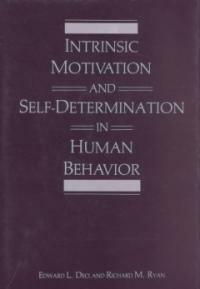 000
00000cam u2200205 a 4500
001
000045411080
005
20190521160719
008
850619s1985 nyu b 001 0 eng
010

▼a

85012413
020

▼a

0306420228
020

▼a

9780306420221
035

▼a

(KERIS)REF000013914343
040

▼d

211009

▼a

211009

▼c

211009
050

0

0

▼a

BF503

▼b

.D43 1985
082

0

0

▼a

153.8

▼2

23
084

▼a

153.8

▼2

DDCK
090

▼a

153.8

▼b

D294i
100

1

▼a

Deci, Edward L.
245

1

0

▼a

Intrinsic motivation and self-determination in human behavior /

▼c

Edward L. Deci and Richard M. Ryan.
246

3

0

▼a

Self-determination in human behavior
260

▼a

New York :

▼b

Plenum,

▼c

c1985.
300

▼a

xv, 371 p. ;

▼c

24 cm.
490

1

▼a

Perspectives in social psychology
504

▼a

Includes bibliographical references (p. 335-358) and index.
650

0

▼a

Intrinsic motivation.
650

0

▼a

Psychology

▼x

Philosophy.
650

0

▼a

Personality.
700

1

▼a

Ryan, Richard M.
830

0

▼a

Perspectives in social psychology.
945

▼a

KINS
---
Holdings Information
No.
Location
Call Number
Accession No.
Availability
Due Date
Make a Reservation
Service

No.

1

Location

Main Library/Western Books/

Call Number

153.8 D294i

Accession No.

111809772

Availability

In loan

Due Date

2022-05-20

Make a Reservation

Available for Reserve(1persons reqested this item)

Service
Contents information
Author Introduction
에드워드 L. 데시
(지은이)
로체스터대학교 사회심리학 교수. 카네기멜론대학에서 사회심리학 박사 학위를 취득하였고, 펜실베이니아대학의 워튼경영대학원과 런던대학의 런던경제대학원, 해밀턴대학에서 수학했다. 스탠퍼드대학에서 학제간 박사후과정 연구원으로 재직한 바 있다. 40여 년간 인간 행동의 동기 연구에 전념해온 그는 외적 동기보다 스스로 결정한 자발적 선택이 더 큰 힘을 발휘한다는 '자기결정성 이론 Self-Determination Theory'을 발표하여 보상과 처벌로 대표되는 행동주의 심리학의 패러다임을 뒤집고, 심리학계에 새로운 장을 열었다. 《내면의 동기Intrinsic Motivation》《자기결정심리학The Psychology of Self-Determination》《인간의 행동에 숨어 있는 내면의 동기와 자기결정Intrinsic Motivation and Self-Determination in Human Behavior》 등의 저서가 독일과 스페인, 일본 등 7개 국가에서 번역, 출간되었다. '미국국립정신보건연구소'를 비롯하여 '아동 건강 및 인간 발달 연구소'와 '국립과학재단', '교육학연구소'의 연구원이자 '미국심리학회' 및 '미국심리협회' 소속 연구원으로 활동 중이며 미국을 비롯한 유럽, 아시아 각국을 누비며 기업체와 정부기관, 대학 및 학교, 정신건강 기관에서 강연과 컨설팅을 하고 있다.
Information Provided By: :

Table of Contents
pt. 1. Background. An introduction -- Conceptualizations of intrinsic motivation and self-determination --- pt. 2. Self-determination theory. Cognitive evaluation theory : perceived causality and perceived competence -- Cognitive evaluation theory : interpersonal communication and intrapersonal regulation -- Toward and organismic integration theory : motivation and development -- Causality orientations theory : personality influences on motivation -- pt. 3. Alternative approaches. Operant and attributional theories -- Information-processing theories -- pt. 4. Applications and implications. Education -- Psychotherapy -- Work -- Sports.