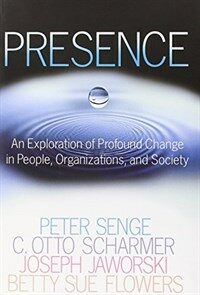 000
02248camuu2200409 a 4500
001
000045411000
005
20080103103213
008
060215s2005 nyua b 001 0 eng d
010

▼a

2006295442
020

▼a

038551624X (hbk.)
020

▼a

9780385516242 (hbk.)
035

▼a

(OCoLC)ocm61257585
035

▼a

(OCoLC)61257585
035

▼a

(KERIS)REF000012512120
040

▼a

EB$

▼c

EB$

▼d

BAKER

▼d

JRZ

▼d

NTE

▼d

DLC

▼d

211009
042

▼a

lccopycat
050

0

0

▼a

HD58.8

▼b

.P734 2005
082

0

4

▼a

302.35

▼2

22
090

▼a

302.35

▼b

P933
245

0

0

▼a

Presence :

▼b

exploring profound change in people, organizations, and society /

▼c

Peter Senge ... [et al.].
250

▼a

1st Currency ed.
260

▼a

New York :

▼b

Doubleday,

▼c

2005, c2004.
300

▼a

x, 289 p. :

▼b

ill. ;

▼c

25 cm.
500

▼a

Was originally published in hardcover by SoL (The Society for Organizational Learning, Inc.) in March 2004.
504

▼a

Includes bibliographical references (p. 249-261) and index.
505

0

▼a

Introduction: of parts and wholes -- Learning to see. The requiem scenario ; Seeing our seeing ; Seeing from the whole ; Seeing with the heart -- Into the silence. The generative moment ; An emerging understanding ; The eye of the needle: letting go and letting come ; The wedding -- Becoming a force of nature. In the corridor of dreams ; The grand will ; In dialogue with the universe ; Realizing and the craft of institution building -- Meeting our future. Leadership: becomng a human being ; Science performed with the mind of wisdom ; Presence -- Epilogue: "With man gone, will there be hope for gorilla?"
650

0

▼a

Organizational change.
650

0

▼a

Thought and thinking.
650

0

▼a

Organizational learning.
650

0

▼a

Social change.
700

1

▼a

Senge, Peter M.
710

2

▼a

Society for Organizational Learning.
945

▼a

KINS
---
Holdings Information
No.
Location
Call Number
Accession No.
Availability
Due Date
Make a Reservation
Service

No.

1

Location

Main Library/Western Books/

Call Number

302.35 P933

Accession No.

111450964

Availability

Available

Due Date

Make a Reservation

Service
Contents information
Book Introduction
Four pioneers in the field of organizational learning--Peter Senge, C. Otto Scharmer, Joseph Jaworski, and Betty Sue Flowers--explore the concept of transformational change, from how it comes about to its influence on people and their institutions, as it relates to collective change and its implications. 35,000 first printing.
Information Provided By: :

Author Introduction
C. 오토 샤머
(지은이)
《U 이론(Theory U)》의 저자이며 《미래, 살아있는 시스템(Presence)》의 공동 저자인 C. 오토 샤머는 MIT대학 부교수로 재직 중이며, MIT 내에 '프리젠싱연구소'를 공동 설립했고, MIT IDEAS 프로그램을 이끌고 있다. 베이징 소재 칭화대학교의 초빙 교수이기도 하다. 2012년에는 글로벌 행복 및 국민총행복(GNH) 연구소를 공동 설립했다. 이 연구소는 현재 부탄, 인도, 중국, 브라질, 유럽, 미국 등지의 혁신가들을 연결해 정부, 기업, 교육계, 시민사회 등의 근본적 혁신을 위한 원형 모델을 개발 중이다. 그는 그간 아프리카, 아시아, 북남미, 유럽의 비정부기구, 정부, 국제연합, 기업들과 함께 일해왔으며, 중국의 인터넷 기업 알리바바, 다임러 그룹, 여성복 업체 에일린 피셔, 후지쯔, 구글, 나뚜라, 회계 감사 기업 프라이스워터하우스쿠퍼스 같은 고객 기업들을 상대로 리더십 및 혁신 프로그램을 진행하면서 상을 수상하기도 했다. 오토 샤머는 현재 세계경제포럼의 새로운 리더십 모델에 대한 글로벌 어젠다 위원회의 부의장직을 맡고 있다. 그는 독일 비텐-헤르데케대학에서 경제학 및 경영학 박사학위를 받았다. 그의 저서 또는 활동에 대해 좀 더 자세히 알고 싶다면 웹사이트 www.presencing.com과 www.ottoscharmer.com을 참고하기 바란다.
조셉 자보르스키
(지은이)
글로벌 리더십 이니셔티브의 공동 설립자이자 제네론 컨설팅사의 회장이다. 자보르스키는 직업인으로서 경력을 변호사로 시작했는데 휴스턴에 본사가 있는 대형 법률회사 '브레이스웰 앤 패터슨'에서 국내외 소송 전문가로 명성을 떨쳤다. 1975년 그는 미국 법정변호사 중 상위 1퍼센트만이 가입 자격을 얻는 미국법정변호사협회 회원 자격을 얻기도 했다. 1980년 변호사 활동을 접고 공동 리더십 개발을 목표로 하는 비정부기구 '아메리칸 리더십 포럼'을 설립했다. 그의 관심은 리더와 조직이 공동으로 다가올 새로운 미래를 감지하고 만들어내도록 그들의 능력을 끌어내는 것이다. 리더십 개발 연구와 실천에 삶의 많은 부분을 바쳤다. 또한 그는 MIT 조직학습센터의 이사회 멤버이자 특별 회원이기도 하다. 이 책 <싱크로니시티>는 1996년 톰 브라운 비즈니스 도서 톱10에 선정되어 비평가들의 찬사를 받았다.
Information Provided By: :