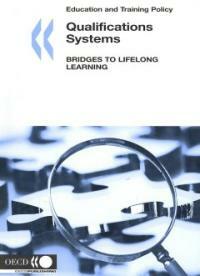 000
03266camuu2200373 a 4500
001
000045409723
005
20090720130734
008
071220s2007 fr a b i000 0 eng d
010

▼a

2007444970
020

▼a

9789264013674
035

▼a

(KERIS)REF000013198074
040

▼a

CUI

▼c

CUI

▼d

BAKER

▼d

GZM

▼d

NLGGC

▼d

DLC

▼d

211009
042

▼a

lccopycat
050

0

0

▼a

LC5215

▼b

.Q35 2007
082

0

4

▼a

374

▼2

22
084

▼a

79.63

▼2

bcl
090

▼a

374

▼b

qs
245

0

0

▼a

Qualifications systems :

▼b

bridges to lifelong learning.
260

▼a

Paris :

▼b

OECD ,

▼c

c2007.
300

▼a

237 p. :

▼b

ill. ;

▼c

27 cm.
440

0

▼a

Education and training policy.
500

▼a

Also available in French under the title: Systemes de certification : des passerelles pour apprendre a tout age.
500

▼a

"This book is authored by Mike Coles ... and Patrick Werquin"--Foreword.
504

▼a

Includes bibliographical references.
505

0

1

▼a

Executive Summary -- Ch 1. Scope and Structure of the Study -- Ch 2. Policy Responses to Improve National Qualifications Systems -- Ch 3. Do the Numbers Tell a Story? Quantitative Evidence about the Impact of Qualifications Systems on Learning -- Ch 4. The Interaction between Stakeholders and Qualifications Systems: Identifying Mechanisms -- Ch 5. Putting Mechanisms to Work Supporting Policy Responses -- Ch 6. Using Mechanisms to Review Policy Responses -- Annex A. Summary Reports of the Threee Thematic Groups -- Annex B. Education and Training System: How They Relate to Qualifications -- Annex C. List of the Fifteen Countries that Prepared a Background Report and National Co-oerdinators -- Annex D. Countries Participating in Thematic Groups and Co-ordination -- Annex E. List of Acronyms -- Annex F. Three-Letter Country Codes Used in the Tables and Figures.
520

▼a

In the quest for more and better lifelong learning, there is a growing awareness that qualifications systems must play a part. Some countries have started to realise that isolated developments in qualifications standards lead to uncoordinated, piecemeal systems. After reviewing the policies and practice in fifteen countries, the authors present nine broad policy responses to the lifelong learning agenda that countries have adopted and that relate directly to their national qualifications system. They also identify twenty mechanisms, or concrete linkages, between national qualifications systems and lifelong learning goals. The overall aim of this book is to provide these mechanisms as a tool for governments to use in reviewing their policy responses to lifelong learning. Evidence suggests that some mechanisms, such as those linked to credit transfer, recognition of prior learning, qualifications frameworks and stakeholder involvement, are especially powerful in promoting lifelong learning.
650

0

▼a

Continuing education.
650

0

▼a

Adult learning.
700

1

▼a

Coles, Mike ,

▼d

1947-
700

1

▼a

Werquin, Patrick.
710

2

▼a

Organisation for Economic Co-operation and Development.
740

0

▼a

Systemes de certification : des passerelles pour apprendre a tout age.
740

0

▼a

Education and training policy qualifications systems.
---
Holdings Information
No.
Location
Call Number
Accession No.
Availability
Due Date
Make a Reservation
Service

No.

1

Location

Centennial Digital Library/OECD/

Call Number

374 qs

Accession No.

181601643

Availability

Loan can not(reference room)

Due Date

Make a Reservation

Service