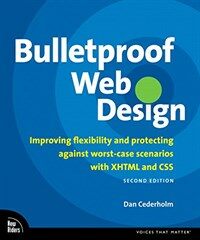 Bulletproof Web design : improving flexibility and protecting against worst-case scenarios with XHTML and CSS 2nd ed
000
01189camuu2200301 a 4500
001
000045408800
005
20090605104303
008
071217s2008 caua 001 0 eng d
020

▼a

9780321509024
020

▼a

0321509021
040

▼a

UKM

▼c

UKM

▼d

COB

▼d

211009

▼d

244002
050

0

4

▼a

QA76.76.H94

▼b

C45 2007
082

0

4

▼a

006.74

▼2

22
090

▼a

006.74

▼b

C389b2
100

1

▼a

Cederholm, Dan.
245

1

0

▼a

Bulletproof Web design :

▼b

improving flexibility and protecting against worst-case scenarios with XHTML and CSS /

▼c

Dan Cederholm.
250

▼a

2nd ed.
260

▼a

Berkeley, CA :

▼b

New Riders ,

▼c

c2008.
300

▼a

xiii, 298 p. :

▼b

col. ill. ;

▼c

23 cm.
500

▼a

Previous ed.: 2006.
500

▼a

Includes index.
580

▼a

Also available in the following translation : Korean : (웹 2.0을 이끄는)방탄웹 : 크리에이티브한 웹 표준 기법과 제작 사례

▼z

9788960770720
650

0

▼a

XHTML (Document markup language)
650

0

▼a

Cascading style sheets.
650

0

▼a

Web site development.
767

0

▼t

(웹 2.0을 이끄는)방탄웹 : 크리에이티브한 웹 표준 기법과 제작 사례

▼w

(244002)45527554
945

▼a

KINS
---
Holdings Information
No.
Location
Call Number
Accession No.
Availability
Due Date
Make a Reservation
Service

No.

1

Location

Science & Engineering Library/Sci-Info(Stacks2)/

Call Number

006.74 C389b2

Accession No.

121162064

Availability

Available

Due Date

Make a Reservation

Service
Contents information
Book Introduction
No matter how visually appealing or content-packed a Web site may be, if it's not adaptable to a variety of situations and reaching the widest possible audience, it isn't really succeeding. In Bulletproof Web Desing, author and Web designer extraordinaire, Dan Cederholm outlines standards-based strategies for building designs that provide flexibility, readability, and user control--key components of every sucessful site. Each chapter starts out with an example of an unbulletproof site one that employs a traditional HTML-based approach which Dan then deconstructs, pointing out its limitations. He then gives the site a make-over using XHTML and Cascading Style Sheets (CSS), so you can see how to replace bloated code with lean markup and CSS for fast-loading sites that are accessible to all users. Finally, he covers several popular fluid and elastic-width layout techniques and pieces together all of the page components discussed in prior chapters into a single-page template.
Information Provided By: :

Author Introduction
댄 씨더홈
(지은이)
웹 디자이너이자 작가이며 디자인 스튜디오인 심플비츠(SimpleBits)의 창업자다. 표준기반 웹 디자인 전문가로 유명한 저자는 구글, MTV, ESPN, 패스트 컴퍼니(Fast Company), 블로거(Blogger), 야후 등 다양한 회사의 작업을 했고 일부 프로젝트는 해피 코그(Happy Cog)와 같이 공동작업하고 있다. 그는 고객과의 작업, 저서, 강연 모두에 웹 표준을 활용해 유연하고 변화에 대처할 수 있는 디자인을 만들어낸다. 댄은 베스트셀러인 『웹 2.0을 이끄는 방탄웹』(박수만 옮김, 에이콘출판사, 2009년)과 『실용예제로 배우는 웹 표준』(박수만 옮김, 에이콘출판사, 2005년)의 저자다. 또 웹, 기술, 인생 전반에 대한 글을 올리는 유명 블로그를 운영하고 있으며, 개인 취미로는 우쿠렐레를 연주한다. 댄은 아내 케리와 두 명의 아이들 잭, 텐리와 같이 매사추세츠의 살렘에서 살고 있다.
Information Provided By: :