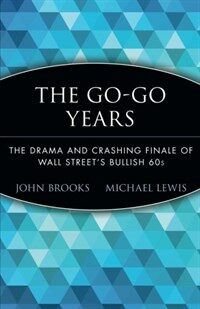 000
00978camuu2200289 a 4500
001
000045395277
005
20071031100921
008
990609r19991973nyu b 001 0 eng
010

▼a

99033867
020

▼a

0471357553 (cloth : alk. paper)
020

▼a

0471357545 (pbk. : alk. paper)
020

▼a

9780471357544
035

▼a

(KERIS)REF000009692360
040

▼a

DLC

▼c

DLC

▼d

DLC

▼d

211009
043

▼a

n-us---
050

0

0

▼a

HG4910

▼b

.B74 1999
082

0

0

▼a

332.64/273

▼2

22
090

▼a

332.64273

▼b

B873g
100

1

▼a

Brooks, John ,

▼d

1920-.
245

1

4

▼a

The go-go years :

▼b

the drama and crashing finale of Wall Street's bullish 60s /

▼c

John Brooks.
260

▼a

New York :

▼b

John Wiley ,

▼c

c1999.
300

▼a

ix, 374 p. ;

▼c

22 cm.
440

0

▼a

Wiley investment classics
504

▼a

Includes bibliographical references (p. 358-363) and index.
650

0

▼a

Investments

▼z

United States.
945

▼a

KINS
---
Holdings Information
No.
Location
Call Number
Accession No.
Availability
Due Date
Make a Reservation
Service

No.

1

Location

Main Library/Western Books/

Call Number

332.64273 B873g

Accession No.

111439702

Availability

Available

Due Date

Make a Reservation

Service
Contents information
Author Introduction
존 브룩스
(지은이)
1920년 뉴욕에서 태어나 뉴저지에서 자랐다. 1942년에 프린스턴 대학교를 졸업한 뒤 제2차 세계대전에 참전했다가 돌아와 작가가 되겠다는 꿈을 안고 《타임》에서 객원 편집자로 일을 시작했다. 정형화된 형식에 구애받지 않는 글을 쓰고 싶다는 생각에 2년 만에 《뉴요커》로 자리를 옮겨 전속 작가가 되었고, 《하퍼스 매거진》, 《뉴욕타임스 북리뷰》에 서평도 썼다. 그는 금융 부문 저널리스트로서 "압도적으로 뛰어나다."라는 평가를 받은 글을 《뉴요커》에 여러 편 썼고, 비즈니스와 금융에 관한 10권의 논픽션을 썼다. 그중 상당수는 월스트리트와 기업 세계를 상세하게 파헤친 작품으로, 비평가들의 극찬을 받았다. 《경영의 모험》뿐만 아니라 《언젠가 골콘다에서는Once in Golconda》, 《호시절 The Go-Go Years》 등은 이 분야의 고전으로 오랫동안 자리를 지켰다. 《뉴욕타임스》는 "그는 놀라운 작가였다. 그는 단순명쾌한 이야기나 문장으로 인물을 압축해서 설명하는 특별한 재능을 지닌 천부적인 이야기꾼이자 매우 비상한 사람이었다."라고 말했다. 그는 《경영의 모험》에도 포함된 '주식 시장을 움직이는 손'(1964), '파운드화 구출 작전'(1969), 그리고 1960년대 월스트리트의 투기 거품을 다룬 《호시절》(1974)로 비즈니스와 금융 부문에서 가장 뛰어난 기자에게 수여하는 제럴드 롭 상Gerald Loeb Award을 3회 수상했다. 《뉴욕타임스》, 《인디펜던트》 등 주요 언론은 그를 2000년대 최고의 논픽션 작가이자 금융 저널리스트인 마이클 루이스Michael Lewis의 직계조상이라고 평가한다. 3권의 소설을 쓴 소설가로서 작가들의 권익에도 관심이 많았던 그는 1970년대 중반부터 미국 작가조합 회장, 국제 펜클럽 부회장으로 왕성하게 활동했으며, 말년에는 미국역사가협회 부회장, 뉴욕 공공도서관 이사를 지냈다. 1993년 뉴욕 주의 이스트햄튼에서 사망했다.
Information Provided By: :

Table of Contents
Climax: The Day Henry Ross Perot Lost $450 Million.  

Fair Exchange: The Year the Amex Delisted the Old Guard Romans.

 

The Last Gatsby: Recessional for Edward M. Gilbert.

 

Palmy Days and Low Rumblings: Early Warnings Along Wall Street.

 

Northern Exposure: Early Warnings Along Bay Street.

 

The Birth of Go-Go: The Rise of a Proper Chinese Bostonian.

 

The Conglomerateurs: Corporate Chutzpah and Creative Accounting.

 

The Enormous Back Room: Drugs, Fails, and Chaos Among the Clerks.

 

Go-Go at High Noon: The View from Trinity Church.

 

Confrontation: Steinberg/Leasco vs. Renchard/Chemical Bank.

 

Revelry Before Waterloo: The Time of the Great Garbage Market.

 

The 1970 Crash: To the Edge of the Abyss.

 

Saving Graces: The Invisible Samaritans of Wall Street.

 

The Go-Go Years.

 

Notes on Sources.

 

Index.
Information Provided By: :