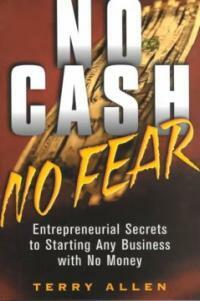 000
00971camuu22003014a 4500
001
000045392908
005
20071025162753
008
010306s2001 nyu b 001 0 eng
010

▼a

2001023752
020

▼a

0471415324 (pbk.)
020

▼a

9780471415329
035

▼a

(KERIS)REF000009697017
040

▼a

DLC

▼c

DLC

▼d

DLC

▼d

211009
042

▼a

pcc
050

0

0

▼a

HB615

▼b

.A67 2001
082

0

0

▼a

658.1/1

▼2

22
090

▼a

658.11

▼b

A431n
100

1

▼a

Allen, Terry F.
245

1

0

▼a

No cash, no fear :

▼b

entrepreneurial secrets to starting any business with no money /

▼c

Terry Allen.
260

▼a

New York :

▼b

J. Wiley ,

▼c

c2001.
300

▼a

xviii, 286 p. ;

▼c

23 cm.
504

▼a

Includes bibliographical references (p. 279-280) and index.
600

1

0

▼a

Allen, Terry F.
650

0

▼a

Entrepreneurship.
650

0

▼a

New business enterprises

▼x

Finance.
650

0

▼a

Small business

▼x

Finance.
945

▼a

KINS
---
Holdings Information
No.
Location
Call Number
Accession No.
Availability
Due Date
Make a Reservation
Service

No.

1

Location

Main Library/Education Reserves1/

Call Number

658.11 A431n

Accession No.

111437864

Availability

Available

Due Date

Make a Reservation

Service
Contents information
Table of Contents
Preface.
 
 Acknowledgments.
 
 Introduction.
 
 The Early Years: Worms, Frogs, Turtles, and Snakes.
 
 Formal Education: Trying to Learn, Even While in School.
 
 Vermont Ski Lodge: Building a Business to Meet Ladies.
 
 Real Estate Investing: Learning about Leverage.
 
 Equipment Rental Business: "Don't Buy It, Rent It!"
 
 Retail Toy Store: A Christmas to Remember.
 
 Self-Publishing: My First Book.
 
 Coupon Distribution Service: "Welcome Wagon by Mail".
 
 The Information Industry: Selling a Product and Having It to Sell Again.
 
 Electronic Video Games.
 
 The Sex Education Publishing Business.
 
 Stock Options Trading on the Chicago Board Options Exchange.
 
 Manufacturing Promotional Board Games.
 
 Information Industry Deja Vu.
 
 Selling New Business Names.
 
 Adventures in Russia: Pizza Stores and Ben & Jerry's Ice Cream Shops.
 
 Charitable Trusts: Giving Away $1,000 Every Day Forever.
 
 Looking Back.
 
 Bibliography.
 
 Index.
Information Provided By: :