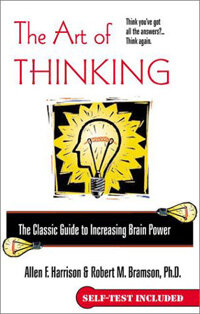 000
01079pamuu2200325 a 4500
001
000045389155
005
20071010104840
008
010928r20021982nyua b 001 0 eng
010

▼a

2001052413
020

▼a

042518322X
020

▼a

9780425183229
035

▼a

(KERIS)REF000007041512
040

▼a

DLC

▼c

DLC

▼d

DLC

▼d

211009
050

0

0

▼a

B105.T54

▼b

H37 2002
082

0

0

▼a

153.4/2

▼2

22
090

▼a

153.42

▼b

H318a
100

1

▼a

Harrison, Allen F.
240

1

0

▼a

Styles of thinking
245

1

4

▼a

The art of thinking /

▼c

Allen F. Harrison and Robert M. Bramson.
250

▼a

Berkley trade pbk. ed.
260

▼a

New York :

▼b

Berkley Books ,

▼c

2002.
300

▼a

ix, 227 p. :

▼b

ill. ;

▼c

21 cm.
500

▼a

Originally published: Styles of thinking. Garden City, N.Y. : Anchor Press, 1982.
504

▼a

Includes bibliographical references (p. [217]-218) and index.
650

0

▼a

Thought and thinking.
650

0

▼a

Decision making.
650

0

▼a

Problem solving.
700

1

▼a

Bramson, Robert M.
945

▼a

KINS
---
Holdings Information
No.
Location
Call Number
Accession No.
Availability
Due Date
Make a Reservation
Service

No.

1

Location

Main Library/Western Books/

Call Number

153.42 H318a

Accession No.

111435080

Availability

Available

Due Date

Make a Reservation

Service
Contents information
Book Introduction
Are you a pragmatist? An idealist? An analyst? What about the people you live with and work with? Complete with quizzes and self-tests, this book was written by researchers of human behavior and classifies thinking into five practical categories. But more importantly, it investigates the best strategies for approaching different situations and people, leading to the achievement of goals and the avoidance of errors-the recipe for an enhanced life.


Information Provided By: :

Author Introduction
앨런 F. 해리슨
(지은이)
1974년부터 경영컨설턴트로 활동했으며 남캘리포니아 대학에서 행정학 박사학위를 받고 현재 웨스턴 뉴 멕시코 대학에서 교편을 잡고 있다.
로버트 M. 브램슨
(지은이)
캘리포니아 주립대학에서 조직행동과 소집단 심리에 관한 연구로 박사학위를 받았으며, IBM.휴렛팩커드.아메리카은행 등에서 조직 내 인간관계로 인해 발생하는 갈등을 해결하는 컨설턴트로 활동했다. 직장 내 갈등은 퇴사나 이직의 사유가 될 만큼 직장인이라면 누구나 경험하는 골치 아픈 문제다. 로버트 브램슨은 14년간 200개 이상의 조직을 대상으로 문제 사원을 관찰하고 연구한 결과 10가지 유형으로 분류하고 유형에 따른 대처법을 정리했다. 함께 일하기 힘든 사람의 유형과 대처법을 담은 《말이 안 통하는 사람과 일하는 법》(원제 : Coping with Difficult People)은 출간 이래 50만 부 이상 판매되며 인간관계의 고전으로 자리매김했다. 또한 인간관계 때문에 커리어에 위협을 느낀 수많은 경영자와 매니저들의 고충을 해결해주었다.
Information Provided By: :