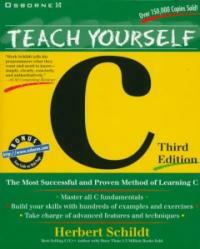 000
00761camuu2200265 a 4500
001
000045378382
005
20070820115154
008
970616s1997 cau 001 0 eng
010

▼a

97161887
020

▼a

0078823110
020

▼a

9780078823114
035

▼a

(KERIS)REF000006702007
040

▼a

DLC

▼c

DLC

▼d

DLC

▼d

211009
050

0

0

▼a

QA76.73.C15

▼b

S3537 1997
082

0

0

▼a

005.13/3

▼2

22
090

▼a

005.133

▼b

S334te3
100

1

▼a

Schildt, Herbert.
245

1

0

▼a

Teach yourself C /

▼c

Herbert Schildt.
250

▼a

3rd ed.
260

▼a

Berkeley :

▼b

Osborne McGraw-Hill ,

▼c

c1997.
300

▼a

xiii, 640 p. ;

▼c

23 cm.
500

▼a

Includes index.
650

0

▼a

C (Computer program language)
945

▼a

KINS
---
Contents information
Table of Contents
C Fundamentals.
Introducing C's Program Control Statements.
More C Program Control Statements.
A Closer Look at Data Types, Variables, and Expressions.
Exploring Arrays and Strings.
Using Pointers.
A Closer Look at Functions.
Console I/O.
File I/O.
Structures and Unions.
Advanced Data Types and Operators.
The C Processor and Some Advanced Appendices: A: Some Common C Library Functions.
B: Keyword Summary.
C: Building a windows Skeleton.
Answers.
Index.

Information Provided By: :