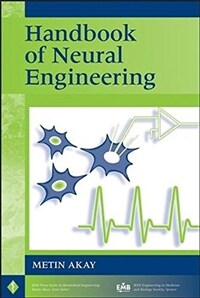 000
00902camuu2200265 a 4500
001
000045376740
005
20070809164352
008
070411s2007 njua 001 0 eng
010

▼a

2007295384
020

▼a

047005669X (hbk.)
020

▼z

9780470056691 (hbk.)
024

3

▼a

9780470056691
035

▼a

(KERIS)BIB000010864709
040

▼a

UKM

▼c

UKM

▼d

211046

▼d

YDXCP

▼d

DLC

▼d

211046

▼d

244002
042

▼a

lccopycat
050

0

0

▼a

QA76.87

▼b

.H3623 2007
082

0

4

▼a

006.32

▼2

22
090

▼a

006.32

▼b

H236
245

0

0

▼a

Handbook of neural engineering /

▼c

edited by Metin Akay.
260

▼a

Hoboken, N.J. :

▼b

Wiley ;

▼a

Chichester :

▼b

John Wiley [distributor] ,

▼c

c2007.
300

▼a

xvi, 662 p. :

▼b

ill. ;

▼c

26 cm.
504

▼a

Includes bibliographical references and index.
650

0

▼a

Neural networks (Computer science)
700

1

▼a

Akay, Metin
---
Holdings Information
No.
Location
Call Number
Accession No.
Availability
Due Date
Make a Reservation
Service

No.

1

Location

Main Library/Education Reserves(Health Science)/

Call Number

006.32 H236

Accession No.

141072915

Availability

Available

Due Date

Make a Reservation

Service
Contents information
Book Introduction
An important new work establishing a foundation for future developments in neural engineering
The Handbook of Neural Engineering provides theoretical foundations in computational neural science and engineering and current applications in wearable and implantable neural sensors/probes. Inside, leading experts from diverse disciplinary groups representing academia, industry, and private and government organizations present peer-reviewed contributions on the brain-computer interface, nano-neural engineering, neural prostheses, imaging the brain, neural signal processing, the brain, and neurons.
The Handbook of Neural Engineering covers:
Neural signal and image processing--the analysis and modeling of neural activity and EEG-related activities using the nonlinear and nonstationary analysis methods, including the chaos, fractal, and time-frequency and time-scale analysis methods--and how to measure functional, physiological, and metabolic activities in the human brain using current and emerging medical imaging technologies
Neuro-nanotechnology, artificial implants, and neural prosthesis--the design of multi-electrode arrays to study how the neurons of human and animals encode stimuli, the evaluation of functional changes in neural networks after stroke and spinal cord injuries, and improvements in therapeutic applications using neural prostheses
Neurorobotics and neural rehabilitation engineering--the recent developments in the areas of biorobotic system, biosonar head, limb kinematics, and robot-assisted activity to improve the treatment of elderly subjects at the hospital and home, as well as the interactions of the neuron chip, neural information processing, perception and neural dynamics, learning memory and behavior, biological neural networks, and neural control
Information Provided By: :

Table of Contents
PREFACE.  

CONTRIBUTORS.

 

PART I: NEURAL SIGNAL AND IMAGE PROCESSING AND MODELING.

 

CHAPTER 1: OPTIMAL SIGNAL PROCESSING FOR BRAIN–MACHINE INTERFACES (Justin C. Sanchez and Jose C. Principe).

 

CHAPTER 2: MODULATION OF ELECTROPHYSIOLOGICAL ACTIVITY IN NEURAL NETWORKS: TOWARD A BIOARTIFICIAL LIVING SYSTEM (Laura Bonzano, Alessandro Vato, Michela Chiappalone, and Sergio Martinoia).

 

CHAPTER 3: ESTIMATION OF POSTERIOR PROBABILITIES WITH NEURAL NETWORKS: APPLICATION TO MICROCALCIFICATION DETECTION IN BREAST CANCER DIAGNOSIS (Juan Ignacio Arribas, Jesús Cid-Sueiro, and Carlos Alberola-López).

 

CHAPTER 4: IDENTIFICATION OF CENTRAL AUDITORY PROCESSING DISORDERS BY BINAURALLY EVOKED BRAINSTEM RESPONSES (Daniel J. Strauss, Wolfgang Delb, and Peter K. Plinkert).

 

CHAPTER 5: FUNCTIONAL CHARACTERIZATION OF ADAPTIVE VISUAL ENCODING (Nicholas A. Lesica and Garrett B. Stanley).

 

CHAPTER 6: DECONVOLUTION OF OVERLAPPING AUDITORY BRAINSTEM RESPONSES OBTAINED AT HIGH STIMULUS RATES (O. Ozdamar, R. E. Delgado, E. Yavuz, and N. Acikgoz).

 

CHAPTER 7: AUTONOMIC CARDIAC MODULATION AT SINOATRIAL AND ATRIOVENTRICULAR NODES: OBSERVATIONS AND MODELS (S. Ward, R. Shouldice, C. Heneghan, P. Nolan, and G. McDarby).

 

CHAPTER 8: NEURAL NETWORKS AND TIME–FREQUENCY ANALYSIS OF SURFACE ELECTROMYOGRAPHIC SIGNALS FOR MUSCLE CEREBRAL CONTROL (Bruno Azzerboni, Maurizio Ipsale, Fabio La Foresta, and Francesco Carlo Morabito).

 

CHAPTER 9: MULTIRESOLUTION FRACTAL ANALYSIS OF MEDICAL IMAGES (Khan M. Iftekharuddin and Carlos Parra).

 

CHAPTER 10: METHODS FOR NEURAL-NETWORK-BASED SEGMENTATION OF MAGNETIC RESONANCE IMAGES (Lia Morra, Silvia Delsanto, and Fabrizio Lamberti).

 

CHAPTER 11: HIGH-RESOLUTION EEG AND ESTIMATION OF CORTICAL ACTIVITY FOR BRAIN–COMPUTER INTERFACE APPLICATIONS (F. Cincotti, M. Mattiocco, D. Mattia, F. Babiloni, and L. Astolfi)

 

CHAPTER 12: ESTIMATION OF CORTICAL SOURCES RELATED TO SHORT-TERM MEMORY IN HUMANS WITH HIGHRESOLUTION EEG RECORDINGS AND STATISTICAL PROBABILITY MAPPING (L. Astolfi, D. Mattia, F. Babiloni, and F. Cincotti).

 

CHAPTER 13: EXPLORING SEMANTIC MEMORY AREAS BY FUNCTIONAL MRI (G. Rizzo, P. Vitali, G. Baselli, M. Tettamanti, P. Scifo, S. Cerutti, D. Perani, and F. Fazio).

 

PART II: NEURO–NANOTECHNOLOGY: ARTIFICIAL IMPLANTS AND NEURAL PROTHESES.

 

CHAPTER 14: RESTORATION OF MOVEMENT BY IMPLANTABLE NEURAL MOTOR PROSTHESES (Thomas Sinkjær and Dejan B. Popovic).

 

CHAPTER 15: HYBRID OLFACTORY BIOSENSOR USING MULTICHANNEL ELECTROANTENNOGRAM: DESIGN AND APPLICATION (John R. Hetling, Andrew J. Myrick, Kye-Chung Park, and Thomas C. Baker).

 

CHAPTER 16: RECONFIGURABLE RETINA-LIKE PREPROCESSING PLATFORM FOR CORTICAL VISUAL NEUROPROSTHESES (Samuel Romero, Francisco J. Pelayo, Christian A. Morillas, Antonio Martı´nez, and Eduardo Ferna´ndez).

 

CHAPTER 17: BIOMIMETIC INTEGRATION OF NEURAL AND ACOUSTIC SIGNAL PROCESSING (Rolf Müller and Herbert Peremans).

 

CHAPTER 18: RETINAL IMAGE AND PHOSPHENE IMAGE: AN ANALOGY (Luke E. Hallum, Spencer C. Chen, Gregg J. Suaning, and Nigel H. Lovell).

 

CHAPTER 19: BRAIN-IMPLANTABLE BIOMIMETIC ELECTRONICS AS NEURAL PROSTHESES TO RESTORE LOST COGNITIVE FUNCTION (Theodore W. Berger, Ashish Ahuja, Spiros H. Courellis, Gopal Erinjippurath, Ghassan Gholmieh, John J. Granacki, Min Chi Hsaio, Jeff LaCoss, Vasilis Z. Marmarelis, Patrick Nasiatka, Vijay Srinivasan, Dong Song, Armand R. Tanguay, Jr., and Jack Wills).

 

CHAPTER 20: ADVANCES IN RETINAL NEUROPROSTHETICS (Nigel H. Lovell, Luke E. Hallum, Spencer C. Chen, Socrates Dokos, Philip Byrnes-Preston, Rylie Green, Laura Poole-Warren, Torsten Lehmann, and Gregg J. Suaning).

 

CHAPTER 21: TOWARDS A CULTURED NEURAL PROBE: PATTERNING OF NETWORKS AND THEIR ELECTRICAL ACTIVITY (W. L. C. Rutten, T. G. Ruardij, E. Marani, and B. H. Roelofsen).

 

CHAPTER 22: SPIKE SUPERPOSITION RESOLUTION IN MULTICHANNEL EXTRACELLULAR NEURAL RECORDINGS: A NOVEL APPROACH (Karim Oweiss and David Anderson).

 

CHAPTER 23: TOWARD A BUTTON-SIZED 1024-SITE WIRELESS CORTICAL MICROSTIMULATING ARRAY (Maysam Ghovanloo and Khalil Najafi).

 

CHAPTER 24: PRACTICAL CONSIDERATIONS IN RETINAL NEUROPROSTHESIS DESIGN (Gregg J. Suaning, Luke E. Hallum, Spencer Chen, Philip Preston, Socrates Dokos, and Nigel H. Lovell).

 

PART III: NEUROROBOTICS AND NEURAL REHABILATION ENGINEERING.

 

CHAPTER 25: INTERFACING NEURAL AND ARTIFICIAL SYSTEMS: FROM NEUROENGINEERING TO NEUROROBOTICS (P. Dario, C. Laschi, A. Menciassi, E. Guglielmelli, M. C. Carrozza, and S. Micera).

 

CHAPTER 26: NEUROCONTROLLER FOR ROBOT ARMS BASED ON BIOLOGICALLY INSPIRED VISUOMOTOR COORDINATION NEURAL MODELS (E. Guglielmelli, G. Asuni, F. Leoni, A. Starita, and P. Dario).

 

CHAPTER 27: MUSCLE SYNERGIES FOR MOTOR CONTROL (Andrea d'Avella and Matthew Tresch).

 

CHAPTER 28: ROBOTS WITH NEURAL BUILDING BLOCKS (Henrik Hautop Lund and Jacob Nielsen)

 

CHAPTER 29: DECODING SENSORY STIMULI FROM POPULATIONS OF NEURONS: METHODS FOR LONG-TERM LONGITUDINAL STUDIES (Guglielmo Foffani, Banu Tutunculer, Steven C. Leiser, and Karen A. Moxon)

 

CHAPTER 30: MODEL OF MAMMALIAN VISUAL SYSTEM WITH OPTICAL LOGIC CELLS (J. A. Mart&ıacute;n-Pereda and A. González Marcos).

 

CHAPTER 31: CNS REORGANIZATION DURING SENSORY-SUPPORTED TREADMILL TRAINING (I. Cikajlo, Z. Matjačić, and T. Bajd).

 

CHAPTER 32: INDEPENDENT COMPONENT ANALYSIS OF SURFACE EMG FOR DETECTION OF SINGLE MOTONEURONS FIRING IN VOLUNTARY ISOMETRIC CONTRACTION (Gonzalo A. Garc&ıacute;a, Ryuhei Okuno, and Kenzo Akazawa).

 

CHAPTER 33: RECENT ADVANCES IN COMPOSITE AEP/EEG INDICES FOR ESTIMATING HYPNOTIC DEPTH DURING GENERAL ANESTHESIA? (Erik Weber Jensen, Pablo Martinez, Hector Litvan, Hugo Vereecke, Bernardo Rodriguez, and Michel M. R. F. Struys).

 

CHAPTER 34: ENG RECORDING AMPLIFIER CONFIGURATIONS FOR TRIPOLAR CUFF ELECTRODES (I. F. Triantis, A. Demosthenous, M. S. Rahal, and N. Donaldson).

 

CHAPTER 35: CABLE EQUATION MODEL FOR MYELINATED NERVE FIBER (P. D. Einziger, L. M. Livshitz, and J. Mizrahi).

 

CHAPTER 36: BAYESIAN NETWORKS FOR MODELING CORTICAL INTEGRATION Paul Sajda, Kyungim Baek and Leif Finkel).

 

CHAPTER 37: NORMAL AND ABNORMAL AUDITORY INFORMATION PROCESSING REVEALED BY NONSTATIONARY SIGNAL ANALYSIS OF EEG (Ben H. Jansen, Anant Hegde, Jacob Ruben, and Nashaat N. Boutros).

 

CHAPTER 38: PROBING OSCILLATORY VISUAL DYNAMICS AT THE PERCEPTUAL LEVEL (H. Fotowat, H. Ö&gcaron;men, H. E. Bedell, and B. G. Breitmeyer).

 

CHAPTER 39: NONLINEAR APPROACHES TO LEARNING AND MEMORY (Klaus Lehnertz).

 

CHAPTER 40: SINGLE-TRIAL ANALYSIS OF EEG FOR ENABLING COGNITIVE USER INTERFACES (Adam D. Gerson, Lucas C. Parra, and Paul Sajda).

 

INDEX.

 

ABOUT THE EDITOR.
Information Provided By: :