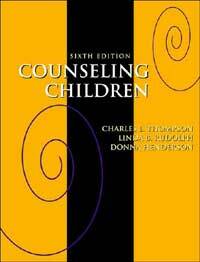 000
00931camuu22002894a 4500
001
000045375670
005
20070807112500
008
040120s2004 caua b 001 0 eng
010

▼a

2002117214
020

▼a

053455685X
035

▼a

(KERIS)BIB000009254480
040

▼a

DLC

▼c

DLC

▼d

244002
042

▼a

pcc
050

0

0

▼a

RJ504

▼b

.T49 2004
082

0

0

▼a

618.92/8914

▼2

22
090

▼a

618.928914

▼b

T468c6
100

1

▼a

Thompson, Charles L.
245

1

0

▼a

Counseling children /

▼c

Charles L. Thompson, Linda B. Rudolph, Donna A. Henderson.
250

▼a

6th ed.
260

▼a

Belmont, CA :

▼b

Thomson/Brooks/Cole ,

▼c

c2004.
300

▼a

xxiii, 669 p. :

▼b

ill. ;

▼c

25 cm.
504

▼a

Includes bibliographical references and index.
650

0

▼a

Child psychotherapy.
650

0

▼a

Children

▼x

Counseling of.
700

1

▼a

Henderson, Donna A.
700

1

▼a

Rudolph, Linda B. ,

▼d

1937-
---
Contents information
Book Introduction

Unparalleled in its translation of theory into practice, COUNSELING CHILDREN covers the most practical and up-to-date methods for developing effective approaches to counseling children. The authors provide a comprehensive yet easy-to-read text that includes useful strategies and case studies from actual counseling sessions to present a realistic look at the field.

Information Provided By: :

Table of Contents
PART I. INTRODUCTION TO COUNSELING CHILDREN.

1. Introduction to a Child뭩 World.

2. The Counseling Process.

PART II. COUNSELING THEORIES AND TECHNIQUES.

3. Psychoanalytic Counseling.

4. Reality Therapy.

5. Brief Counseling: Solution-Focused and Paradoxical Counseling Strategies.

6. Person-Centered Counseling.

7. Gestalt Therapy.

8. Rational-Emotive-Behavior Therapy and Cognitive-Behavior Therapy.

9. Behavioral Counseling.

10. Transactional Analysis.

11. Individual Psychology.

12. Family Counseling.

13. Personality Types.

PART III. COUNSELING WITH CHILDREN: SPECIAL TOPICS. 

14. Play Therapy.

15. Children from Different Cultures.

16. Consultation, Collaboration, Teamwork.

17. Group Counseling With Children.

18. Counseling Children with Special Concerns.

19. Counseling with Exceptional Children.

20. Legal and Ethical Issues. 


Information Provided By: :