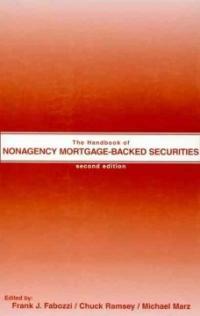 000
01031namuu2200313 a 4500
001
000045375141
005
20070808101006
008
000331s2000 paua b 001 0 eng c
020

▼a

1883249686
020

▼a

9781883249687
035

▼a

(KERIS)REF000006902813
040

▼a

TJC

▼c

TJC

▼d

211009
042

▼a

pcc
050

4

▼a

HG4655

▼b

.F326 2000
082

0

4

▼a

332.6323

▼2

22
090

▼a

332.6323

▼b

H236-2
245

0

4

▼a

The handbook of nonagency mortgage-backed securities /

▼c

edited by Frank J. Fabozzi, Chuck Ramsey, Michael Marz.
246

3

0

▼a

Nonagency mortgage-backed securities
250

▼a

2nd ed.
260

▼a

New Hope, Pa. :

▼b

Frank J. Fabozzi Associates ,

▼c

c2000.
300

▼a

v, 508 p. :

▼b

ill. ;

▼c

24 cm.
504

▼a

Includes bibliographical references and index.
650

0

▼a

Mortgage-backed securities.
650

0

▼a

Portfolio management.
700

1

▼a

Fabozzi, Frank J.
700

1

▼a

Ramsey, Chuck.
700

1

▼a

Marz, Michael.
945

▼a

KINS
---
Holdings Information
No.
Location
Call Number
Accession No.
Availability
Due Date
Make a Reservation
Service

No.

1

Location

Main Library/Western Books/

Call Number

332.6323 H236-2

Accession No.

111427004

Availability

Available

Due Date

Make a Reservation

Service
Contents information
Table of Contents
Contributing Authors.
 
 SECTION I: RESIDENTIAL REAL ESTATE-BACKED SECURITIES.
 
 PART A: PRODUCTS AND THEIR STRUCTURE.
 
 1. The Nonagency Mortgage Market: Background and Overview (E. Bruskin, et al.).
 
 2. Understanding Shifting Interest Subordination (M. Clancy and M. Constantino, III).
 
 3. Understanding Compensating Interest (L. Goodman and T. Zimmerman).
 
 4. RALI Alternative-A Mortgages (S. Banerjee and E. Mustafa).
 
 5. Home Equity Loans (C. Schorin, et al.).
 
 6. Home Equity Loan Transaction Structures (C. Schorin, et al.).
 
 7. Home Equity Line of Credit (HELOC) Securitizations (W. Roever, et al.).
 
 8. Securitization of 125 LTV Mortgages (H. Katz and G. Costello).
 
 9. Manufactured Housing: Overview, Securitization, and Prepayments (S. Abrahams, et al.).
 
 10. Securities Backed by CRA Loans (D. Westhoff and V. Srinivasan).
 
 11. Single Family Mortgage Revenue Bonds (M. Marz and F. Fabozzi).
 
 PART B: CREDIT ANALYSIS.
 
 12. The Default and Loss Experience of Nonagency MBS (T. Gillis).
 
 13. The Rating Agencies' Approach (D. Bendt, et al.).
 
 14. The Evaluation of Excess Spread in Sub-Prime Transactions (A. Figueroa).
 
 15. A Credit Intensive Approach to Analyzing Whole Loan CMOs (E. Toy).
 
 16. Risk-Based Pricing Nonagency Mortgages and Securities (F. Raiter).
 
 PART C: PREPAYMENT ANALYSIS AND VALUATION MODELING.
 
 17. The Next Generation of Prepayment Models to Value Nonagency MBS (D. Westhoff and V. Srinivasan).
 
 18. Payment Modeling and Valuation of Home Equity Loan Securities (D. Westhoff and M. Feldman).
 
 19. Identifying Relative Value in Home Equity Loan and Manufactured Housing Securities Using OAS Analysis (A. Dickstein).
 
 20. Home Equity Loan Prepayment Model and OAS Implications (C. Schorin, et al.).
 
 21. A Risk-Return Framework for Evaluating Non-Investment-Grade Subordinated MBS (L. Goodman and L. Lowell).
 
 22. Prepayments on Jumbo Loans (L. Goodman).
 
 SECTION II: COMMERCIAL MORTGAGE-BACKED SECURITIES.
 
 23. Introduction to Commercial Mortgage-Backed Securities (B. Lancaster).
 
 24. Understanding Prepayment in CMBS Deals (D. Cheng, et al.).
 
 25. Credit-Driven Prepayment and Default Analysis (M. Ervolini, et al.).
 
 26. An Empirical Framework for Estimating CMBS Defaults (D. Westhoff, et al.).
 
 27. Valuing the Prepayment and Credit Risks of Commercial Mortgage Securities (M. Youngblood).
 
 28. An Options Approach to Commercial Mortgages and CMBS Valuation and Risk Analysis (D. Jacob, et al.).
 
 Index.
Information Provided By: :