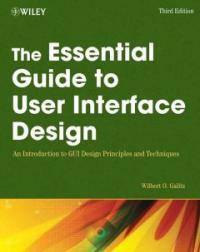 The essential guide to user interface design : an introduction to GUI design principles and techniques 3rd ed
000
00919camuu22002537a 4500
001
000045369641
005
20070711142314
008
061120s2007 inua b 001 0 eng
010

▼a

2006038755
020

▼a

9780470053423 (paper/website)
020

▼a

0470053429 (paper/website)
035

▼a

(KERIS)REF000012899736
040

▼a

DLC

▼c

DLC

▼d

DLC

▼d

244002
050

0

0

▼a

QA76.9.U83

▼b

G33 2007
082

0

0

▼a

005.437

▼2

22
090

▼a

005.437

▼b

G161e3
100

1

▼a

Galitz, Wilbert O.
245

1

4

▼a

The essential guide to user interface design :

▼b

an introduction to GUI design principles and techniques /

▼c

Wilbert O. Galitz.
250

▼a

3rd ed.
260

▼a

Indianapolis, IN :

▼b

Wiley Technology Pub. ,

▼c

2007.
300

▼a

xxvii,857p :

▼b

ill ;

▼c

24cm.
504

▼a

Includes bibliographical references and index.
650

0

▼a

Graphical user interfaces (Computer systems)
---
Holdings Information
No.
Location
Call Number
Accession No.
Availability
Due Date
Make a Reservation
Service

No.

1

Location

Science & Engineering Library/Sci-Info(Stacks2)/

Call Number

005.437 G161e3

Accession No.

121154290

Availability

Available

Due Date

Make a Reservation

Service
Contents information
Table of Contents
About the Author.  

Preface.

 

Acknowledgements.

 

Part 1: The User Interface—An Introduction and Overview.

 

Chapter 1: The Importance of the User Interface.

 

Chapter 2: Characteristics of Graphical and Web User Interface.

 

Part 2: The User Interface Design Process.

 

Step 1.  Know Your User or Client.

 

Step 2. Understand the Business Function.

 

Step 3. Understand the Principles of Good Interface and Screen Design.

 

Step 4. Develop System Menus and Navigation Schemes.

 

Step 5. Select the Proper Kinds of Windows.

 

Step 6. Select the Proper Interaction Devices.

 

Step 7. Choose the Proper Screen-Based Controls.

 

Step 8. Write Clear Text and Messages.

 

Step 9. Provide Effective Feedback and Guidance and Assistance.

 

Step 10. Provide Effective Internationalization and Accessibility.

 

Step 11. Create Meaningful Graphics, Icons, and Images.

 

Step 12. Choose the Proper Colors.

 

Step 13. Organize and Layout Windows and Pages.

 

Step 14. Test, Test, and Retest.

 

References.

 

Index.
Information Provided By: :