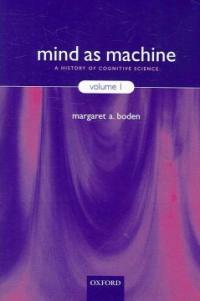 000
00000cam u2200205 a 4500
001
000045359590
005
20200302165311
008
060406s2006 enka b 001 0 eng
010

▼a

2006011795
015

▼a

GBA627033

▼2

bnb
020

▼a

0199241449 (set : alk. paper)
020

▼a

019929237X (vol. 1 : alk. paper)
020

▼a

0199292388 (vol. 2 : alk. paper)
020

▼a

9780199241446 (set : alk. paper)
020

▼a

9780199292370 (vol. 1)
020

▼a

9780199292387 (vol. 2)
035

▼a

(KERIS)REF000012570566
040

▼a

DLC

▼c

DLC

▼d

UKM

▼d

BAKER

▼d

BWKUK

▼d

YDXCP

▼d

DLC

▼d

211009
050

0

0

▼a

BF311

▼b

.B576 2006
082

0

0

▼a

153.09

▼2

22
084

▼a

153.09

▼2

DDCK
090

▼a

153.09

▼b

B666m
100

1

▼a

Boden, Margaret A.
245

1

0

▼a

Mind as machine :

▼b

a history of cognitive science /

▼c

Margaret A. Boden.
260

▼a

Oxford :

▼b

Clarendon Press ;

▼a

New York :

▼b

Oxford University Press,

▼c

2006

▼g

(2011 printing).
300

▼a

2 v. (xlviii, 1631 p.) :

▼b

ill. ;

▼c

26 cm.
504

▼a

Includes bibliographical references and indexes.
650

0

▼a

Cognitive science

▼x

History.
945

▼a

KINS
---
Holdings Information
No.
Location
Call Number
Accession No.
Availability
Due Date
Make a Reservation
Service

No.

1

Location

Main Library/Western Books/

Call Number

153.09 B666m 1

Accession No.

111825019

Availability

Available

Due Date

Make a Reservation

Service

No.

2

Location

Main Library/Western Books/

Call Number

153.09 B666m 2

Accession No.

111825020

Availability

Available

Due Date

Make a Reservation

Service
Contents information
Author Introduction
마거릿 A. 보든
(지은이)
인지과학과 계산주의 심리학 분야를 개척한 세계적인 학자다. 영국 왕립연구소(The Royal Institution of Great Britain) 부소장을 역임했으며, 현재 영국 서식스대학의 인지과학 연구교수로 재직 중이다. 그녀는 1987년에 서식스대학에 인지과학 및 컴퓨터과학 학교(School of Cognitive and Computing Sciences)를 설립했으며, 현재는 인지과학 연구센터(Centre for Research in Cognitive Science)로 그 명칭이 바뀌었다. 지은 책으로는《인공지능과 자연인(Artificial Intelligence and Natural Man)》(1977/87)《창의성의 특징(Dimensions of Creativity)》(1994)《인공 생명체에 관한 철학(The Philosophy of Artificial Life)》(1996)《기계로서의 정신(Mind As Machine)》(2006) 등이 있다. 노암 촘스키는 그녀의 책이 새로운 논쟁을 일으키는 참신하고 놀라운 내용이라고 극찬했다.
Information Provided By: :

Table of Contents
1. Setting the scene ; 2. Man as machine: origins of the idea ; 3. Anticipatory engines ; 4. Maybe minds are machines too ; 5. Movements beneath the mantle ; 6. Cognitive science comes together ; 7. The rise of computational psychology ; 8. The mystery of the missing discipline ; 9. Transforming linguistics ; 10. When GOFAI was NEWFAI ; 11. Of bombs and bombshells ; 12. Connectionism, its birth and renaissance ; 13. Swimming alongside the kraken ; 14. From neurophysiology to computational neuroscience ; 15. A-life in embryo ; 16. Philosophies of mind as machine ; 17. What next?