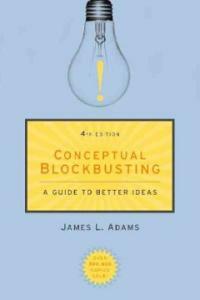 000
00893namuu2200289 a 4500
001
000045355621
005
20070521162303
008
020513s2001 maua b 001 0 eng
010

▼a

2001097887
020

▼a

0738205370
020

▼a

9780738205373
035

▼a

(KERIS)BIB000008184434
040

▼a

DLC

▼c

DLC

▼d

211029

▼d

211009
050

0

0

▼a

BF441

▼b

.A28 2001
082

0

4

▼a

153.4

▼2

22
090

▼a

153.4

▼b

A214c4
100

1

▼a

Adams, James L.
245

1

0

▼a

Conceptual blockbusting :

▼b

a guide to better ideas /

▼c

James L. Adams.
250

▼a

4th ed.
260

▼a

Cambridge, Mass. :

▼b

Perseus Pub. ,

▼c

c2001.
300

▼a

x, 220 p. :

▼b

ill. ;

▼c

23 cm.
504

▼a

Includes bibliographical references (p. [201]-209) and index.
650

0

▼a

Problem solving.
650

0

▼a

Creative thinking.
650

0

▼a

Concepts.
945

▼a

KINS
---
Holdings Information
No.
Location
Call Number
Accession No.
Availability
Due Date
Make a Reservation
Service

No.

1

Location

Science & Engineering Library/Sci-Info(Stacks2)/

Call Number

153.4 A214c4

Accession No.

121146940

Availability

Available

Due Date

Make a Reservation

Service
Contents information
Book Introduction
An updated edition of the best-selling guide to overcoming creative blocks identifies the perceptual, environmental, emotional, and intellectual blocks that obstruct people from correctly perceiving problems and conceiving their solutions and provides games and exercises that limber up mental "muscles." Original. 15,000 first printing.
Information Provided By: :

Author Introduction
제임스 L. 애덤스
(지은이)
스탠포드대학교 명예교수로 기계공학부, 산업공학부, 과학 · 기술 · 사회 통합연구 프로그램에서 연구와 강의를 하고 있다. 캘리포니아 공과대학교에서 학사 학위를, 스탠포드대학교에서 공학 석·박사 학위를 취득했다. 또한 UCLA에서 잠시 예술을 공부하고, 공군에서 복무했으며, 박사 학위를 받기 전에 산업계 이곳저곳에서 디자인과 개발에 몸담았다. 스탠포드대학교 교수로 부임하기 전, 캘리포니아의 제트추진연구소에서 최초의 달, 금성, 화성 탐사 우주선을 디자인하는 일에 참여했다. 스탠포드에서는 기계·상품 디자인, 창의성과 혁신성, 상품 품질, 기술의 본질 등 다양한 주제로 학생들을 가르쳤다. 여러 번 행정직을 맡았고, 재학생과 졸업생 모두에게 교육과 봉사로 크게 기여한 공로를 인정받아 많은 상을 수상했다. 스탠포드에서 연구와 교육 활동을 하는 중에도 기술과 재무 영역을 넘나들며 100여 개의 크고 작은 기업에서 컨설팅과 강연을 하고 연수회를 이끌었으며, 다양한 정부기관, 교육기관, 전문가 집단에 컨설턴트와 강연자로 초빙되고, 여러 최고경영자 프로그램에 교수로 참여했다. 저서로는 창의적 사고법을 소개한 베스트셀러 《아이디어 대폭발Conceptual Blockbusting》, 창의성과 변화를 관리하는 방법을 설파한 《아이디어 보살피고 살찌우기The Care and Feeding of Ideas》, 공학의 본질을 탐구한 《플라잉 버트레스, 엔트로피, 오링 Flying Buttresses, Entropy, and O-Rings》 등이 있다.
Information Provided By: :