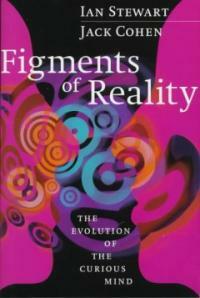 000
01072camuu2200325 a 4500
001
000045331869
005
20070228152524
008
961112s1997 enka b 001 0 eng
010

▼a

96049357
020

▼a

0521571553 (hardcover)
020

▼a

0521663830 (pbk.)
024

3

0

▼a

9780521663830
035

▼a

(KERIS)REF000005786090
040

▼a

DLC

▼c

DLC

▼d

DLC

▼d

211009
050

0

0

▼a

BF311

▼b

.S679 1997
082

0

0

▼a

153.4/2

▼2

22
090

▼a

153.42

▼b

S849f
100

1

▼a

Stewart, Ian ,

▼d

1945-.
245

1

0

▼a

Figments of reality :

▼b

the evolution of the curious mind /

▼c

Ian Stewart and Jack Cohen.
260

▼a

Cambridge ;

▼a

New York :

▼b

Cambridge University Press ,

▼c

1997.
300

▼a

xiii, 325 p. :

▼b

ill. ;

▼c

24 cm.
504

▼a

Includes bibliographical references (p. 313-316) and index.
650

0

▼a

Cognition and culture.
650

0

▼a

Consciousness.
650

0

▼a

Intellect.
650

0

▼a

Genetic psychology.
650

0

▼a

Pluralism (Social sciences)
700

1

▼a

Cohen, Jack.
945

▼a

KINS
---
Holdings Information
No.
Location
Call Number
Accession No.
Availability
Due Date
Make a Reservation
Service

No.

1

Location

Main Library/Western Books/

Call Number

153.42 S849f

Accession No.

111403282

Availability

Available

Due Date

Make a Reservation

Service
Contents information
Author Introduction
이언 스튜어트
(지은이)
영국의 수학자이자 대중 과학 저술가. 영국 케임브리지 대학교에서 수학을 전공하고 워릭 대학교에서 박사 학위를 받았다. 지금까지 200여 편의 논문을 발표하는 활발한 연구와 저술 활동 외에도 BBC 등 텔레비전과 라디오 프로그램에 출연하고 〈뉴 사이언티스트〉, 〈사이언티픽 아메리칸〉 등 신문과 잡지에 꾸준히 기고하며 수학 대중화에 앞장서 왔다. 영국 왕립 학회에서 대중 과학의 발전에 기여한 이에게 수여하는 마이클 패러데이 상(1995), 미국 과학 진흥회가 수여하는 과학 대중화 공로상(2002)을 받았다. 런던 수학 학회(LMS)와 수학 연구소(IMA)가 공동으로 수학에 대한 공로로 수여하는 크리스토퍼 지먼 상(2008)의 첫 수상자였다. 스티븐 스트로가츠와 함께 미국 록펠러 대학교가 뛰어난 책을 쓴 과학자에게 수여하는 루이스 토머스 상(2015), 미국 수학 협회(MAA)가 우수 수학 도서에 수여하는 오일러 도서 상(2017)도 수상했다. 현재 왕립 학회 특별 회원이자 워릭 대학교 수학과 명예 교수로 재직 중이다. 지은 책으로는 《생명의 수학》, 《우주를 계산하다》, 《보통 사람을 위한 현대 수학》, 《아름다움은 왜 진리인가》, 《자연의 패턴》, 《위대한 수학문제들》, 《교양인을 위한 수학사 강의》, 《세계를 바꾼 17가지 방정식》 등이 있으며, 그의 연구와 책은 수학과 대중의 사이를 가깝게 만드는 데 큰 기여를 하고 있다.
Information Provided By: :

Table of Contents
Preface; Prologue; 1. The origins of life; 2. The reductionist nightmare; 3. Ant country; 4. Winning ways; 5. Universals and parochials; 6. Neural nests; 7. Features great and small; 8. What is it like to be a human?; 9. We wanted to have a chapter on free will, but we decided not to, so here it is; 10. Extelligence; 11. Simplex, complex, multiplex; Epilogue; Notes; Further reading; Index.
Information Provided By: :